Reading
The Importance of Reading
There can be few things as powerful as regularly reading to a young child. It has astonishing benefits for children: comfort and reassurance, confidence and security, relaxation, happiness and fun. Giving a child time and full attention when reading them a story tells them they matter. It builds self-esteem, vocabulary and feeds imagination. The National Literacy Trust https://literacytrust.org.uk/blog/reading-children-so-powerful-so-simple-and-yet-so-misunderstood/
Intent
We believe that reading is at the centre of learning. We base our reading on well-known authors and children are given the time to immerse themselves in stories.
We ensure that early language development is key to opening up a whole new world of vocabulary, provide age-appropriate phonics provision and promote a love of reading by immersing children in books and bring reading to life.
We LOVE reading!
Below are photographs of the children enjoying reading both at home and at school.
There is no friend as loyal as a book. – Ernest Hemingway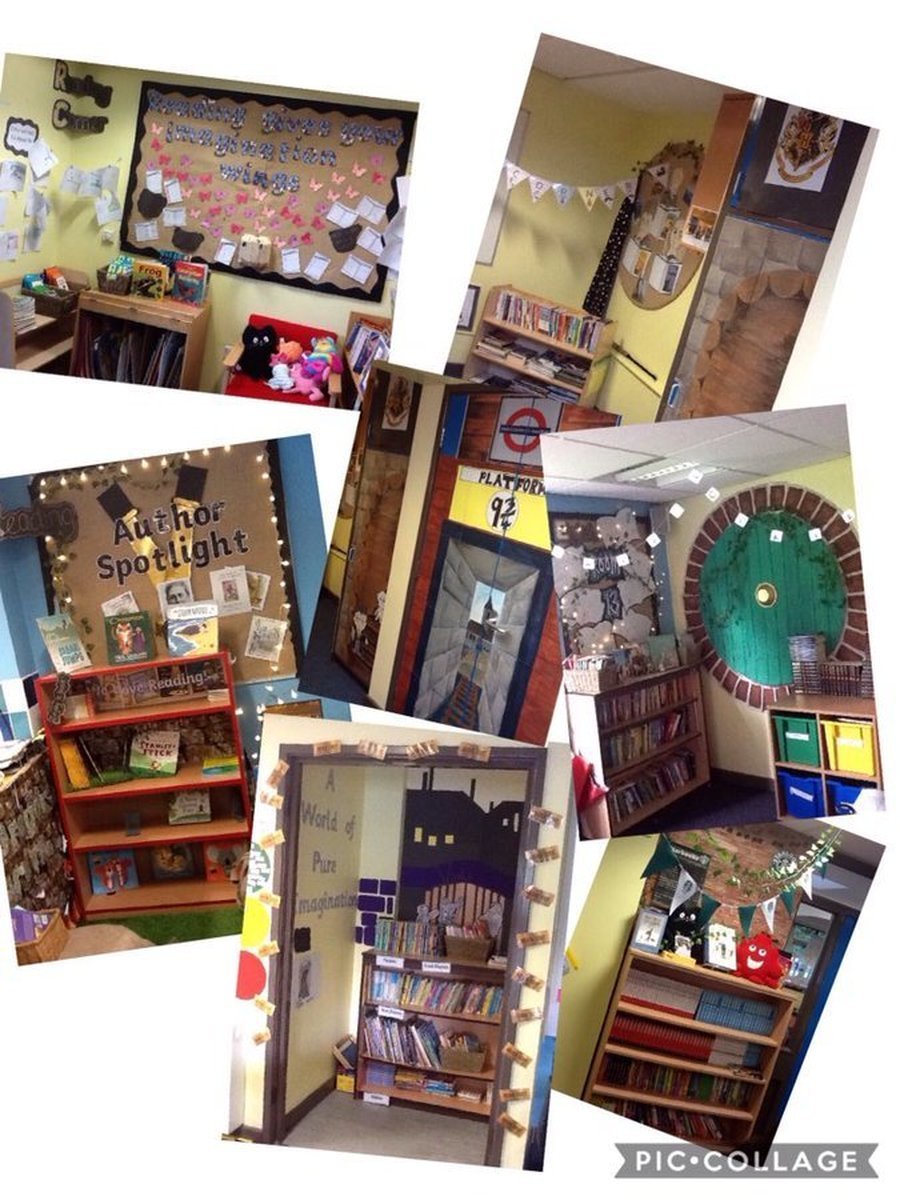 Implementation
Reading is an important part of our curriculum and is an integral part of all of our lessons. At Brierley Primary, we teach reading through:
Discreet comprehension lessons: At Brierley Primary, we teach lessons which focus on developing pupils' level of understanding of the text, through discussion, written and oral tasks; and the exploration of new vocabulary. Pupils will be taught to retrieve, infer, predict, summarise, analyse and evaluate a whole class text. The texts that teachers will use will be linked, as much as possible, to the topics being studied in class. For example, Year 4 study Romans in history and comprehension tasks can be linked to the study of Romans to support subject knowledge and reading comprehension skills. It is important to link comprehension to topics studied to provide a context for children's reading and prior knowledge. In turn, this will support their understanding of the text and allow them to answer questions with increased independence and skills.
Reading for pleasure: At Brierley Primary, we encourage our pupils to read for pleasure and to read widely. During this time, pupils explore a book of their choice, developing their reading skills and their ability to understand the author's intent, connections and links to their own experiences. Children will be able to change their books regularly once they have read the book fully and are able to explain what the book is about. Children are able to choose a book from the appropriate year group basket (children are assessed using the Salford Reading Age test, NFER and teacher/ TA on-going assessment). Children will be listened to on a weekly basis, with some individuals listened to daily. A record of this is kept in the class reading folder and a short summary written in to the children home reading log.
Each classroom has a reading corner and children are able to choose a book from it that they may read for pleasure. Within the reading corner, there are a range of genres to support and enable children to read a range of different texts. The school library is available for children to use as a reference tool for supporting their learning in the curriculum. For example, if children are studying rivers in geography, they can borrow a book to help them learn about the the different stages of a river, current and/or natural disasters such as flooding.
Independent Reading: At Brierley Primary pupils are tested each half term to assess their reading age, ensuring that pupils are reading the most appropriate books. Reluctant readers, or those pupils who struggle with reading are heard reading every day to ensure that they make expected progress. Each Key Stage within the school focuses on age appropriate skills and uses a range of strategies and interventions to support the pupils. In EYFS Reading is taught through shared reading, using large print books and picture books. Pupils are taught the process of reading; learning that words and pictures have meaning. Through a range of practical activities children learn familiar stories. Pupils explore skills such as sequencing, prediction and retrieval. Using the Read, Write Inc phonics programme our pupils are taught the initial sounds. In Key Stage 1, we use Read, Write Inc for our phonics programme. Phonic awareness helps the development of reading by segmenting and blending sounds (please see phonics for more in depth explanation). The children will be heard reading individually and in groups. Reading is taught through a shared reading approach using large print books that are rhythmical and have repetitive patterns. Pupils explore vocabulary, prediction, sequencing, making inferences and retrieving information. In Year 2-6, pupils are taught reading through a whole class Comprehension lesson each week. Pupils explore vocabulary, prediction, sequencing, making inferences and retrieving information. In Key Stage 2, we teach reading through guided reading approach focusing on the curriculum domains. Pupils explore vocabulary, prediction, sequencing, making inferences and retrieving information, ensuring that they are able to make justified responses using evidence from the text. Each year group will have 3 main books each academic year. Year 1 - The Tale of the Naughty Little Rabbit, The Storm Whale, The Tiger Child, Where the Wild Things Are and The Emperor of Absurdia, Year 2 - Toby and the Great Fire of London, Hodgeheg and Flat Stanley, Year 3 Charlie and the Chocolate Factory, Iron Man and Charlotte's Web Year 4 The Butterfly Lion, Why the Whales Came and The War Horse, Year 5 - The Hobbit, Who Let the God's Out and Room Thirteen, Year 6 - Macbeth, Once, Now, Then (Series of three short stories) and The Nowhere Emporium. These books are then used to engage the children in their writing. For example, in Year 4 the children will write a narrative incorporating the vivid descriptions of African Veld from the Butterfly Lion in Autumn and non-chronological reports about whales in Spring. Pupils also have the opportunity to explore a wide range of fiction and non-fiction texts in their foundation lessons, which are based around age appropriate texts linked to the topic being studied.
Impact
Formative assessment is ongoing throughout each lesson. It judges progress and enables the teacher to make flexible adaptations to their planned teaching.
Effective formative assessment, daily marking and feedback and adult interaction within lessons is firmly embedded into our approach to teaching and learning of reading. All pupils are supported to develop, progress and move their learning forward through support, questioning and feedback. Pupils demonstrate the impact this has on improving their learning through editing and response. Reading is assessed by teachers who use Insight for their year groups to allocate a level for each pupil.
They will read widely and for pleasure immersing themselves in different authors and text types. Our children will be able to: read fluently, retrieve, infer, predict, summarise, analyse and evaluate texts from a wide range of genres. By the time our children leave us at Year 6, they will be confident readers ready to move in to secondary school with skills to articulate what they have learnt and how they feel about a text.
Useful Websites for parents and careers
https://literacytrust.org.uk/parents-and-families/ The National Literacy Trust
https://www.bbc.co.uk/bitesize/subjects/zt3rkqt BBC Bitesize English
https://www.bbc.co.uk/bitesize/articles/zbxby9q BBC Bitesize Reading
https://www.booktrust.org.uk/books-and-reading/tips-and-advice/reading-tips/ Book Trust