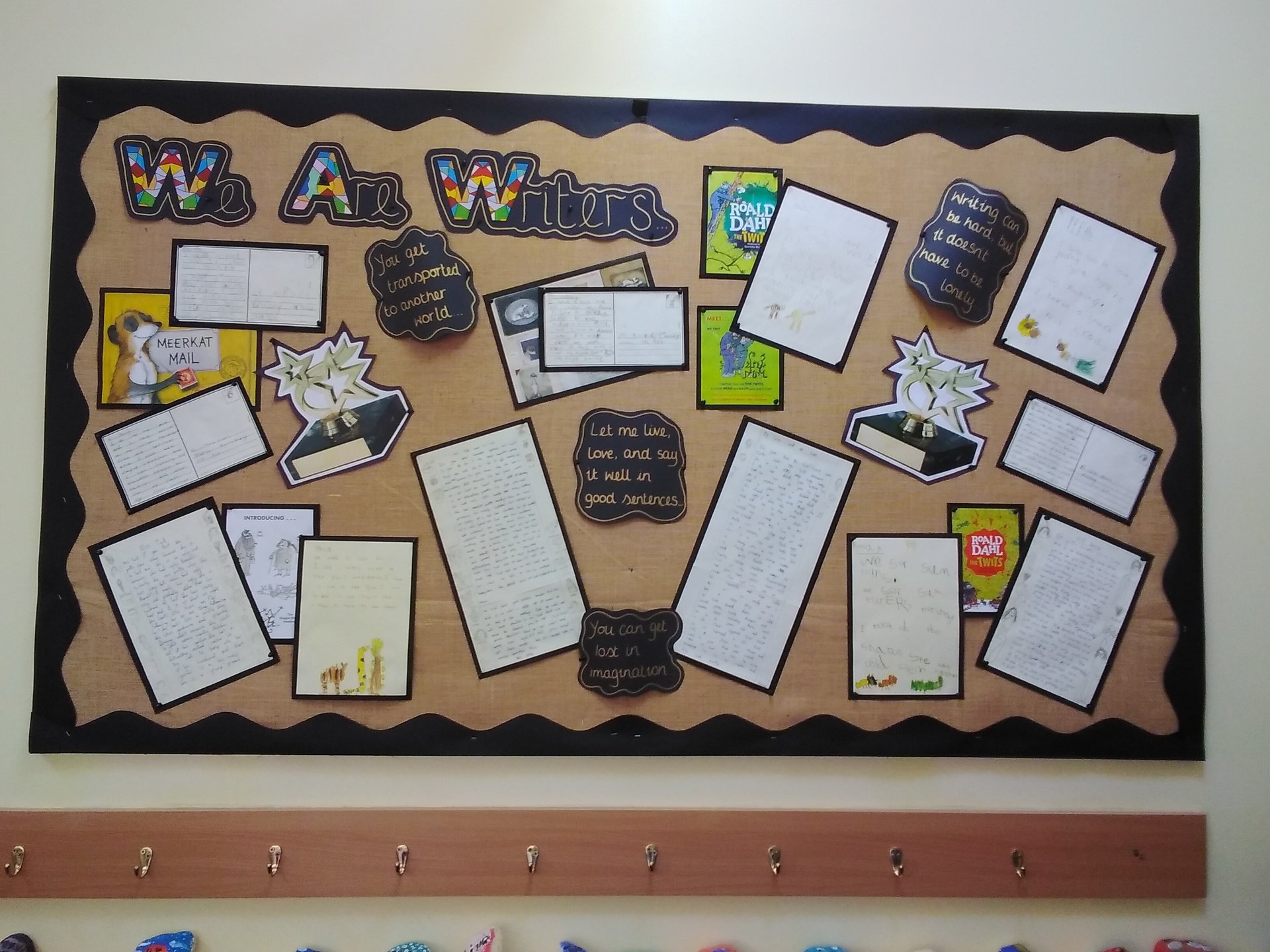 We are Writers
You can make anything by writing.
--C.S. Lewis
At Brierley we believe that all pupils should be able to confidently communicate their knowledge, ideas and emotions through their writing. We want pupils to acquire a wide vocabulary, a solid understanding of grammar and be able to spell new words by effectively applying the spelling patterns and rules they learn throughout their time in primary school using the Spelling Shed as a tool to support the teaching and learning of spelling. We want them to write clearly, accurately and coherently, adapting their language and style in and for a range of contexts, purposes and audiences. We believe that all pupils should be encouraged to take pride in the presentation of their writing, in part by developing a good, joined, handwriting style by the time they move to secondary school. We believe that children should refine and edit their writing over time, so we want them to develop independence in being able to identify their own areas for improvement in all pieces of writing, editing their work effectively during and after the writing process. We do not put ceilings on what pupils can achieve in writing and we do not hold pre-conceptions about any pupils' ability to make progress.
Please click below to see some of the wonderful things that the Children at Brierley do in their English lessons. We have drama in Year 5, writing cards to say thank you to the smartest and friendliest giant in town in Reception and practising spellings in Year 4.
Our Writing Gallery
Below are photographs of the amazing writing taking place throughout school from Reception to Year 6.
Writing Curriculum Pathway
Classroom organisation: We teach English as whole class lessons, so that all children have access to the age-related skills and knowledge contained in the National Curriculum. Within lessons, teachers and teaching assistants target support for targeted children to enable them to achieve at an age-related level wherever possible. This may involve a greater level of scaffolding and access to additional support materials such as Writers Toolkits, Word Banks or a greater level of modelling. Children who are aspiring for greater depth are given opportunities to extend their writing in a variety of ways, including through showing greater control in their writing, a deeper understanding of the impact that their writing has on the reader and by using a higher level of vocabulary and grammar features.
Spellings: Spellings are taught according to the rules and words contained in Appendix 1 of the English National Curriculum. The statutory words are taught first, followed by words belonging to the same word family and those containing the same spelling rule. Each class has a discrete spelling lesson at the beginning of the week to explicitly teach the spelling rules and patterns. Children are then given the spellings to learn and are tested at the end of the week. When marking work, teachers identify words that children have spelled incorrectly from within that child's known ability. Children are then encouraged to identify these incorrect spellings in their own writing and correct them.
Click below for the spellings for each year group.
Grammar and Punctuation: Teachers focus on particular grammar and punctuation skills linked to the genre type being studied, to embed and develop pupil's understanding or to consolidate skills. Grammar and punctuation knowledge and skills are taught through English lessons to help consolidate and put it in to context. Teachers plan to teach the required skills through the genres of writing that they are teaching, linking it to the genre to make it more connected with the intended writing outcome.
Handwriting: Click here for our handwriting progression map.
How writing is taught at Brierley
The writing units taught at Brierley are linked to the book being studied for guided reading/class author as much as possible. This is known as the class text. This is to ensure that the children are fully immersed in the author's style and language as much as possible so that their writing reflects what they are reading. Each teacher, alongside the English writing lead, will plan the units being covered in each term (a balance of fiction and non-fiction), making sure that all areas of the Writing National Curriculum are covered and revisited for each year group.
Class Texts Overview - click here
Writing Unit Structure.
Part 1 Engage
This aims to get the children excited about the unit of work to follow. It is chosen by the class teacher and can be anything from a drama based lesson, to a Design Technology activity or an educational visit.
Text to analyse – using an example of the genre, children will unpick the skills and knowledge needed to write in that particular style (Upper Key Stage 2).
Part 2 Imitate
Practise skills – this will cover the specific SPAG and knowledge needed for that particular genre and will allow the children to build up their knowledge needed. The children will use the teacher model as a scaffold to write their own piece. For example, in Year 3 Adventure Stories there will be a SPAG focus on powerful verbs and adverbs, followed by teaching of organisational features - Story structure (Introduction, build up, problem, action, conclusion) – focus on writing problem and action, simple paragraphs, create structure through time openers / adverbials (Next, Later, Then, Suddenly) and composition - describing character's thoughts and opinions, describing character's feelings and reactions. The length of time needed to teach the knowledge all depends on the genre and children and will vary in each year group. Children will not be moved on to new learning until the curriculum learning goal has been mastered.
Part 3 Invent
Plan
The children will then spend a lesson planning for their own Proud Piece. They will use a similar theme as the previous teaching lessons e.g. a children writing a non-chronological report about spiders during their study of Charlotte's Web and then a non-chronological report about Africa (studied in geography) for their Proud Piece. This is to enable children to showcase the knowledge learnt in a familiar text. Homework can be used to research and build knowledge ready for Proud Pieces.
Part 4 Invent
Draft
Children will then have a lesson in order to draft their writing using the plan from the previous lesson. The children will be encourages to peer and self-assess to ensure that this is accurate. The teacher/TA can read it with the child and support them to edit and improve where necessary.
Edit
The children will then edit/up-level their draft to ensure that it is ready for their proud piece. Teacher may wish to model how to up-level their writing as whole class so that the children learn the necessary skills to up-level their own writing independently.
Part 5 Invent
Proud Piece.
The children will then spend time publishing their edited draft to make sure that it their Proud Piece of work. This will be completed on paper so that it can be put into their Proud Folders. This means that if they are producing a leaflet for example, they can decide how it is folded and presented to best make use of the organisational features.
Please click the link below to see the writing progression document ( this includes the writing of phonic and spelling rules)
Whole school English writing progression
Writing in EYFS
Below is a document to show the coverage of knowledge throughout the year and texts studied. EYFS is different in the sense that the knowledge is not linked to a specific text as in other years. Children learn, revisit and master knowledge and skills in writing and spelling in other areas of the curriculum. The learning is achieved through both adult directed and child led activities.
Writing in Years 1 to 6
Below are documents linked to each individual year group. These include long term plans to show coverage throughout the year and schemes of work for each unit that are being taught (coming soon ). These are being added to throughout the year and clearly show exactly what will be taught and how. They are working documents and may be modified by the English subject leader if needed.
Year 1
Year 2
Year 3
Year 4
Year 5
Year 6
Pupils will enjoy writing across a range of genres

Pupils of all abilities will be able to succeed in all English lessons because work will be appropriately scaffolded

Pupils will have a wide vocabulary that they use within their writing

Pupils will have a good knowledge of how to adapt their writing based on the context and audience

Pupils will leave primary school being able to effectively apply spelling rules and patterns they have been taught

We aim to produce at least 2 assessed pieces of writing per half term. Moderation occurs in school every half term and pieces are gathered for a model portfolio. Moderation across trust and the LA support this process for Year 2 and 6.
Useful Websites for Parents
https://www.bbc.co.uk/bitesize/topics/zkxxsbk BBC Bitesize SPaG
https://www.edshed.com/en-gb/login Spelling Shed
https://literacytrust.org.uk/parents-and-families/ The National Literacy Trust
https://www.bbc.co.uk/bitesize/subjects/zt3rkqt BBC Bitesize English