Class Donaldson 2022-23
Reception Class (FS2)
Welcome to Class Donaldson.
We are looking forward to an amazing year in FS2 as you begin your learning journey here at Brierley C.E. Primary School.
Curriculum Information 2022/23
Please click on the link below for the learning in Class Donaldson:
Autumn 1 Class Donaldson 2022 Curriculum Letter to Parents
Read Write Inc phonics
At Brierley we follow the Ruth Miskin Read Write Inc scheme to deliver phonics.
Please see the links below to some videos for parents explaining how phonics and early reading is taught and how you can support your child at home.
Welcome to Class Donaldson 2021-22
We are looking forward to an amazing year in FS2 as you begin your learning journey here at Brierley.
Curriculum Information 2021/21
Please click on the link below for the learning in Class Donaldson:
Autumn 1 Class Donaldson 2021 Curriculum Letter to Parents
Autumn 2 Class Donaldson 2021 Curriculum Letter to Parents
Spring 1 Class Donaldson 2022 Curriculum Letter to Parents
Spring 2 Class Donaldson 2022 Curriculum Letter to parents
Summer 1 Class Donaldson 2022 Curriculum Letter to Parents
Summer 2 Class Donaldson 2022 Curriculum Letter to Parents
Please see the link below on how to access Google Classroom to receive and upload your child's homework.
Read Write inc phonics
At Brierley we follow the Ruth Miskin Read Write Inc scheme to deliver phonics.
Please see the links below to some videos for parents explaining how phonics and early reading is taught and how you can support your child at home.
HALF TERM 6
Our topic this half term is 'Rainforest Adventures'.
YORKSHIRE WILDLIFE PARK VISIT
On our visit to the Yorkshire Wildlife Park we got to see and meet animals from different parts of the world.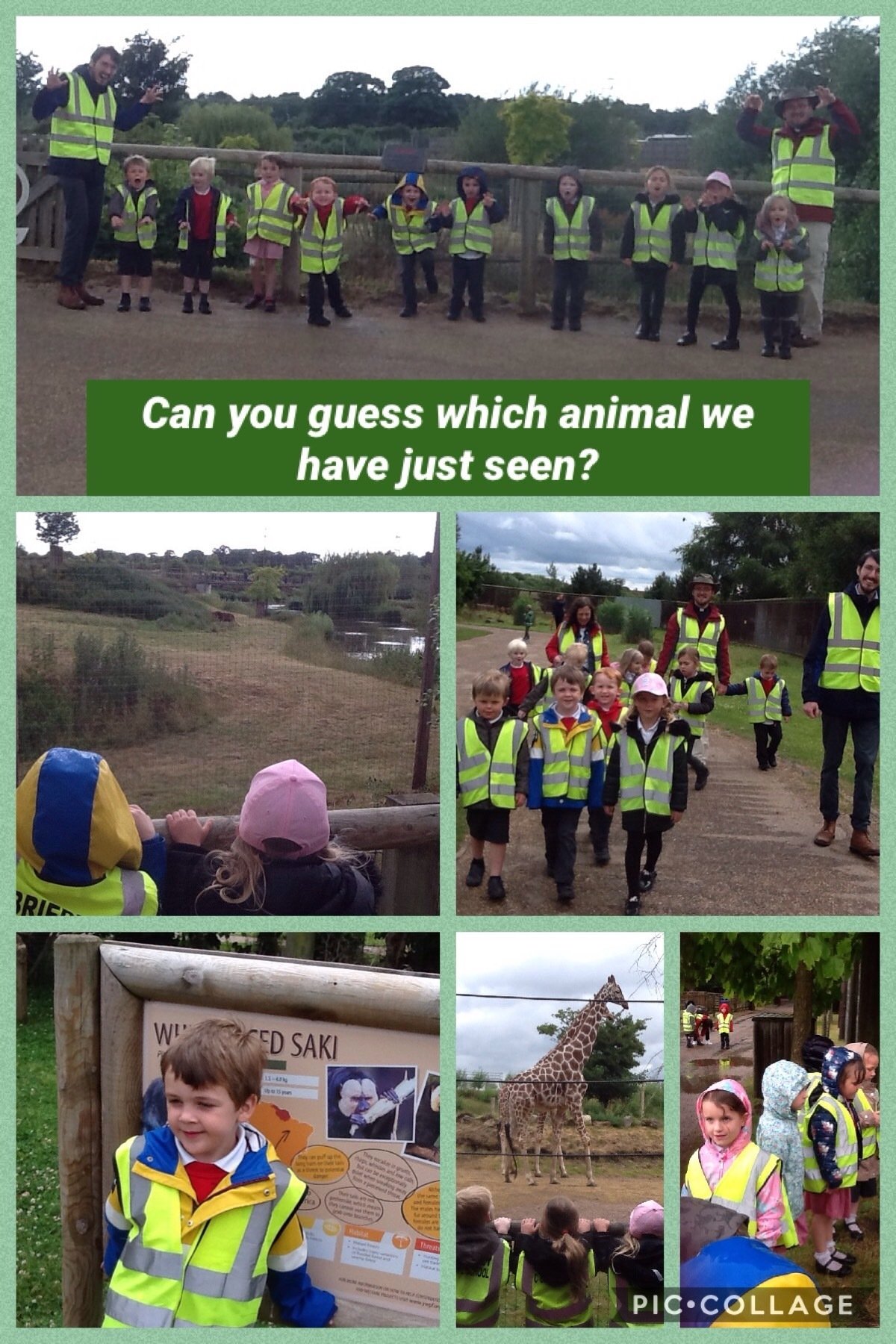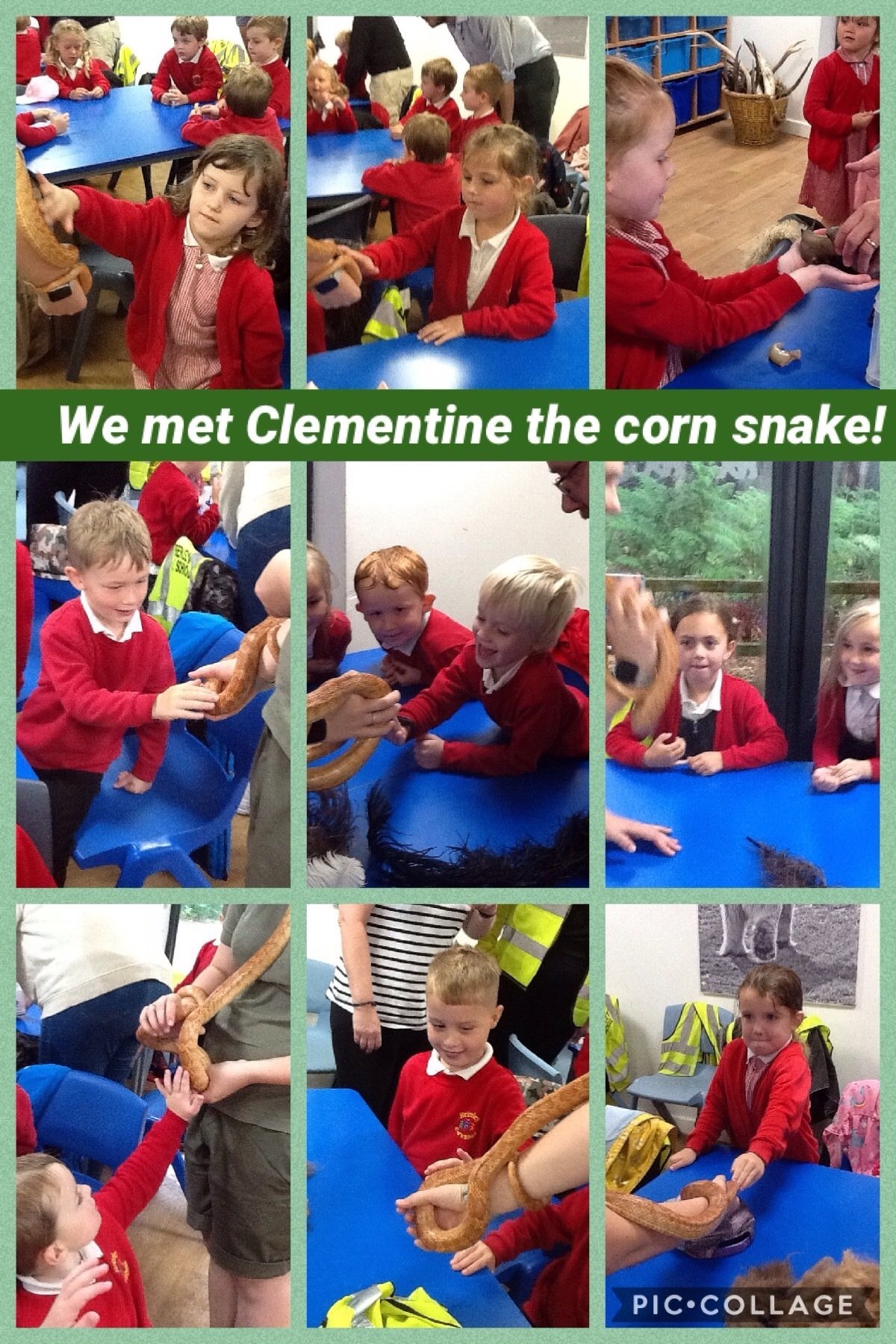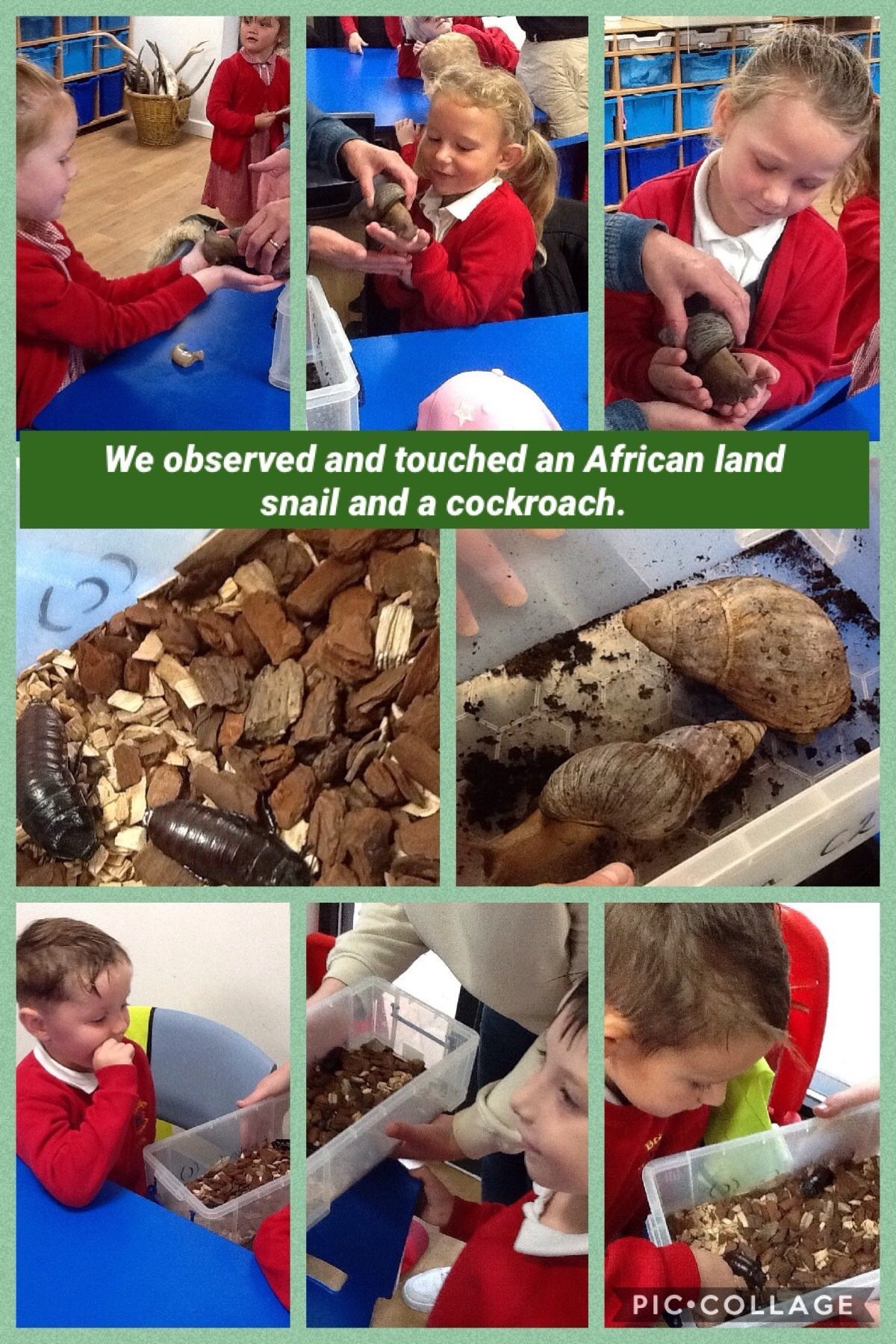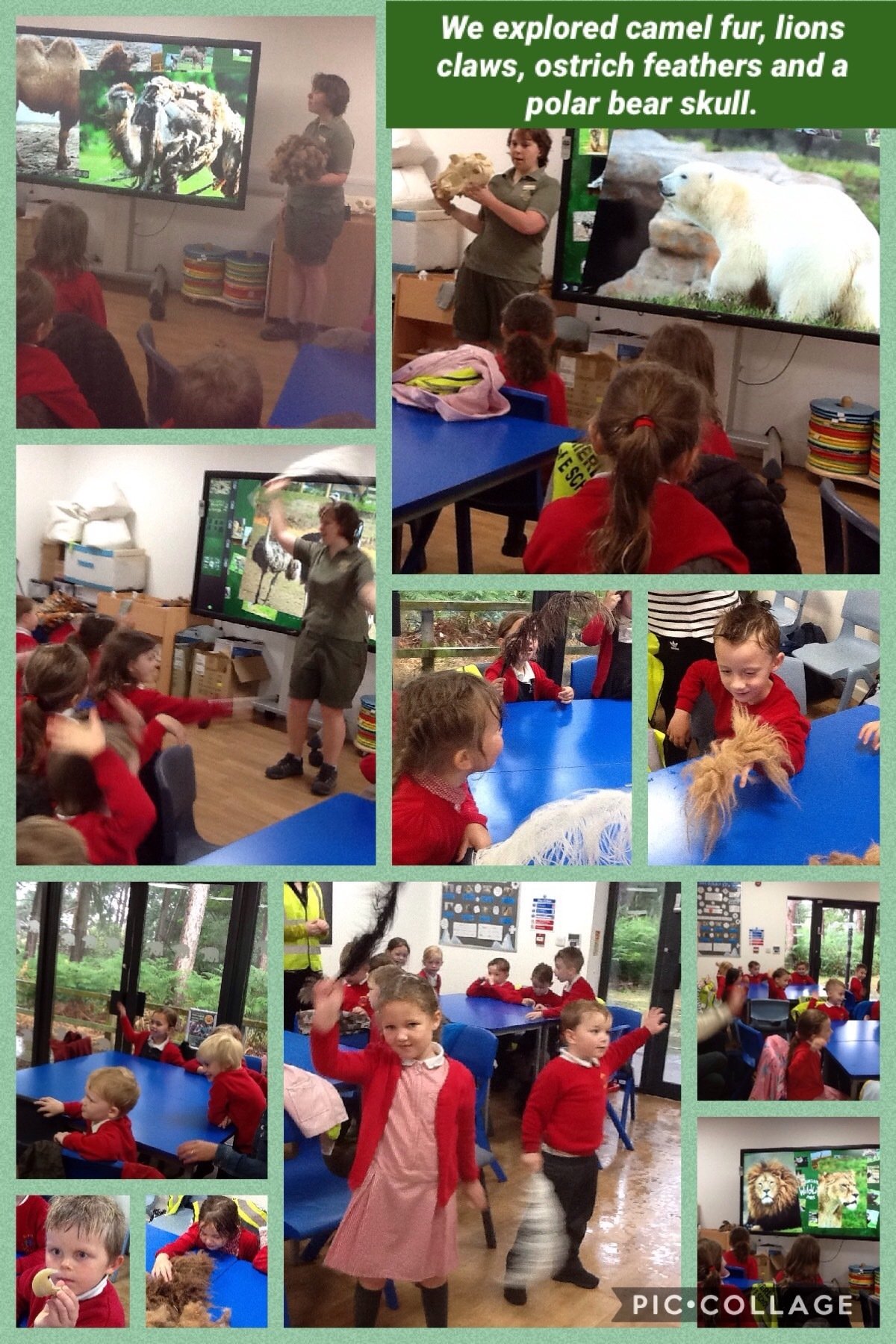 HALF TERM 5
Beautiful Brierley is our topic for this half term and we are enjoying learning about all the plants and animals in our village Brierley. On our walk around Brierley we identified many features of the village which make it beautiful. This half term we have also embraced 'Wellbeing Week' and engaged in activities to promote our own wellbeing. We also celebrated the Queen's Jubilee.
THE PLATINUM JUBILEE
To celebrate Queen Elizabeth II's Platinum Jubilee we had a fun afternoon playing games and having a picnic. We enjoyed learning all about Queen Elizabeth II, painting her portrait and making decorations for the classroom.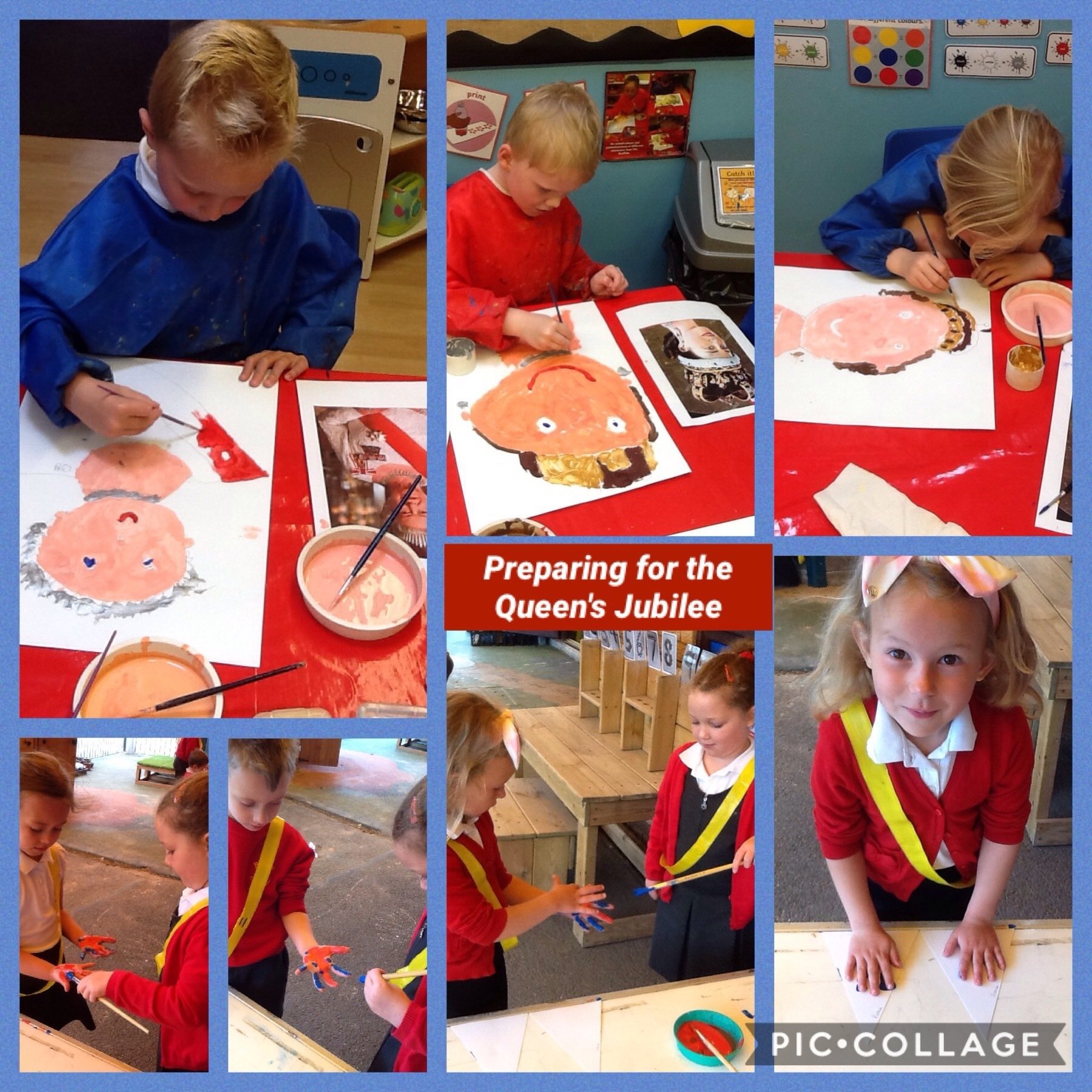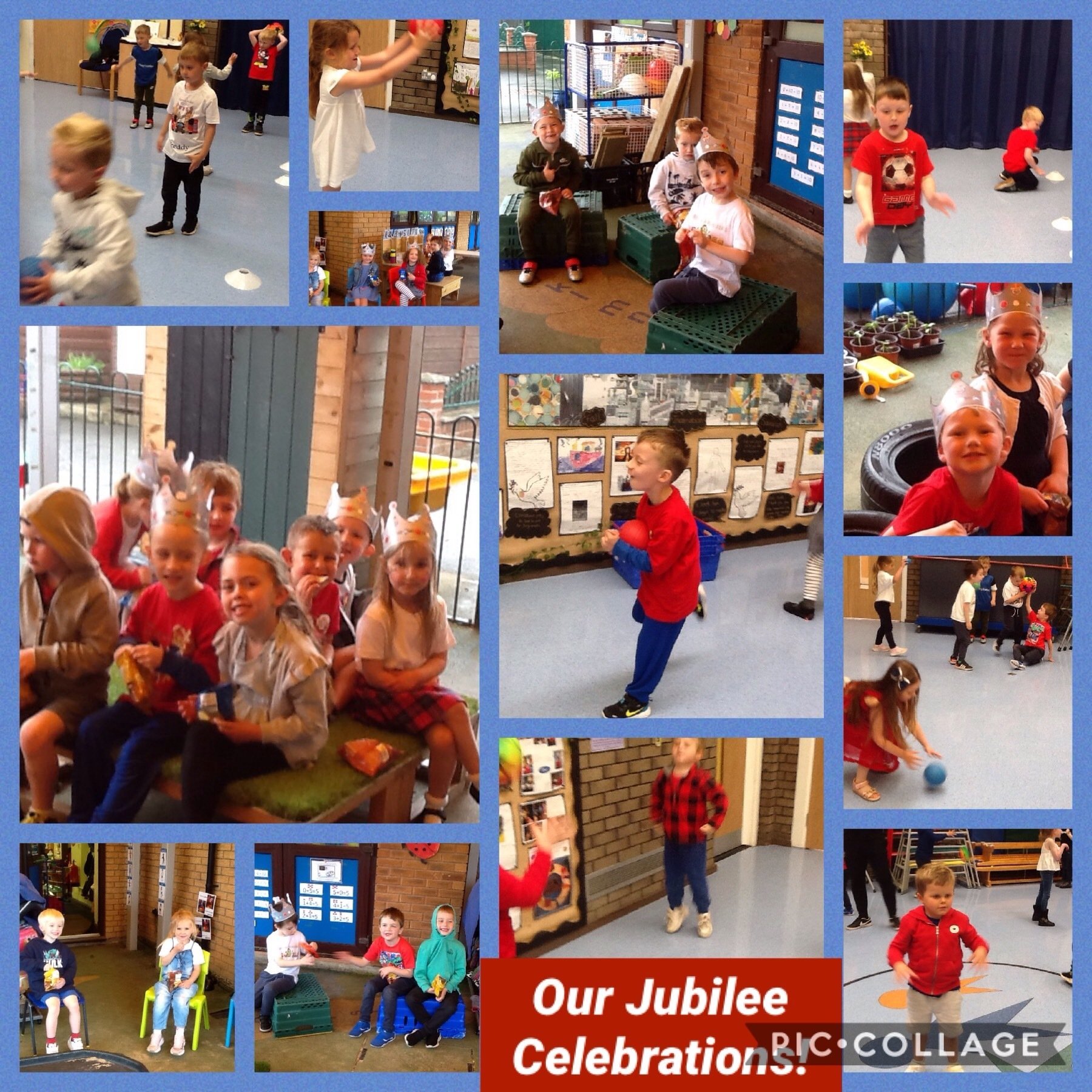 WELLBEING ACTIVITIES
We know how important it is to look after our bodies and mind to keep healthy. During Wellbeing Day we enjoyed taking part in yoga sessions, mindfulness colouring and painting, outdoor play and explored our feeling and emotions. We also found time to sit together and enjoy an ice lolly!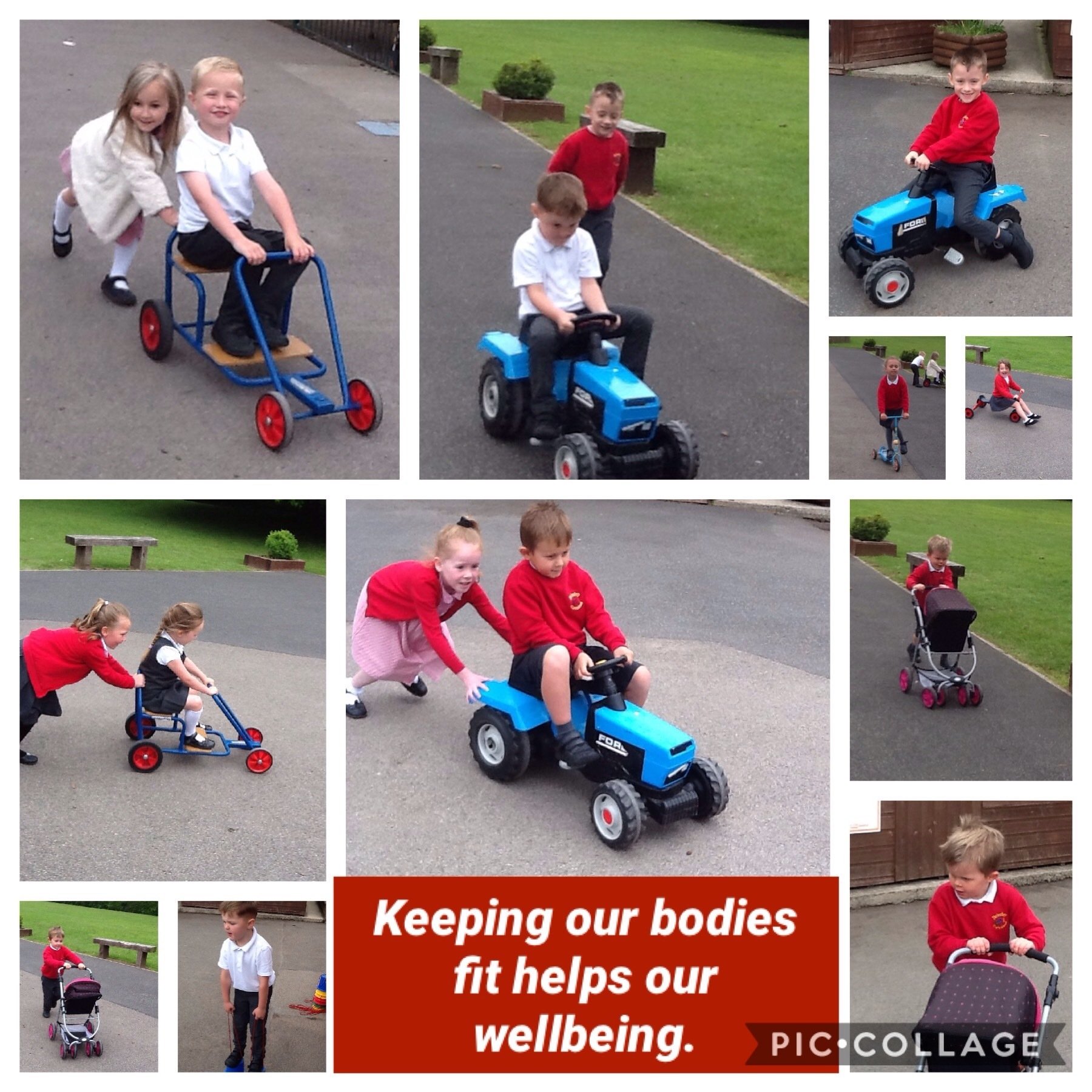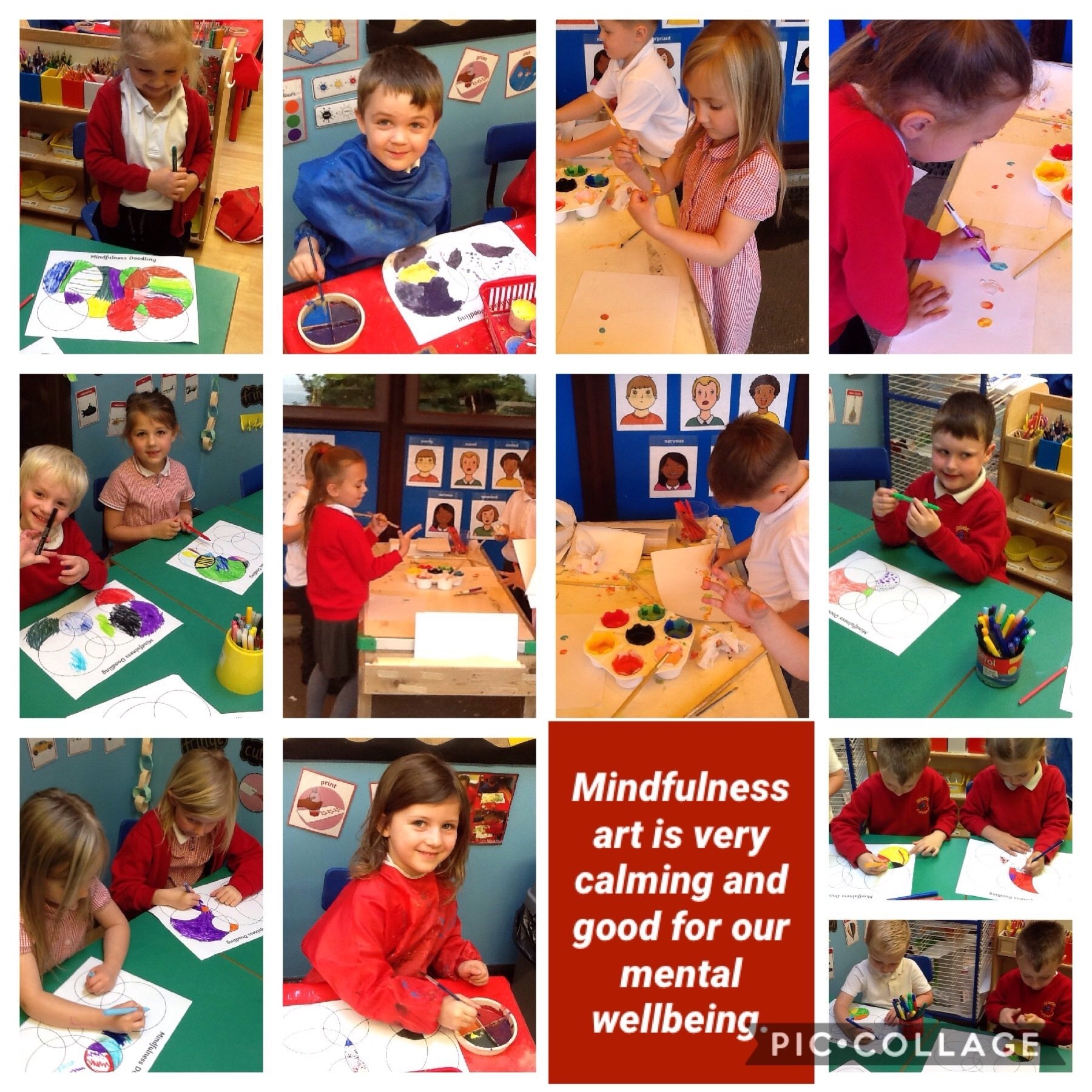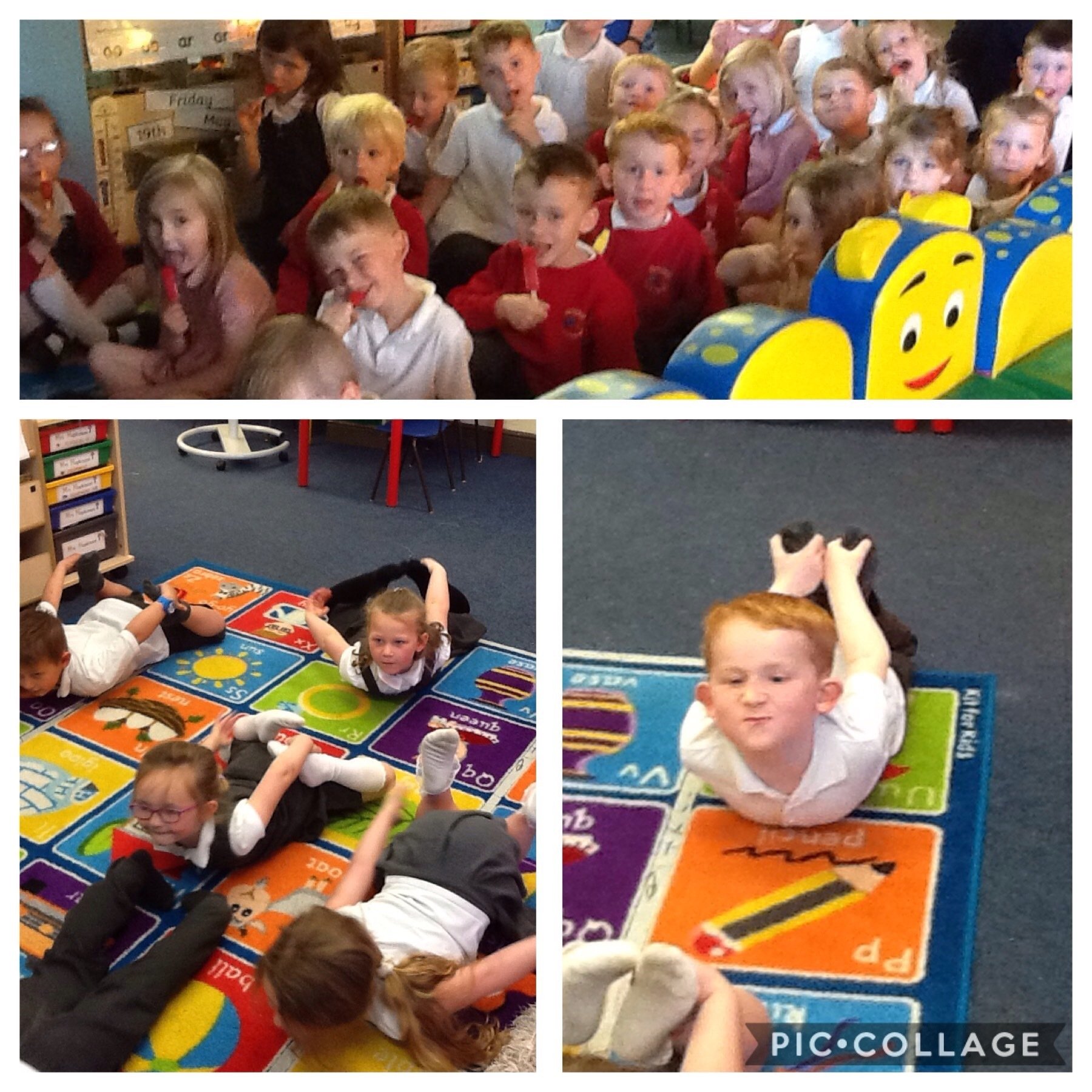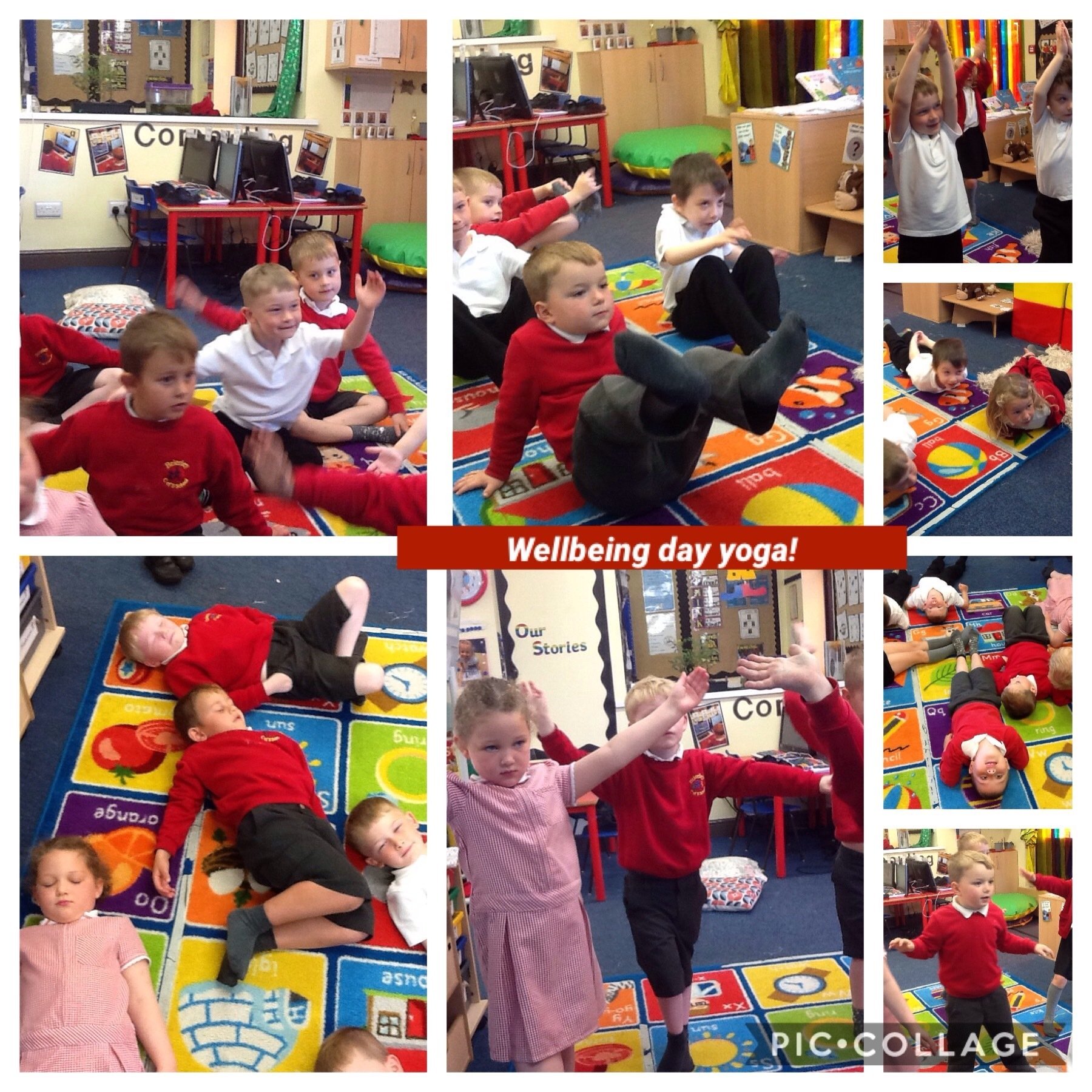 OUR WALK AROUND BRIERLEY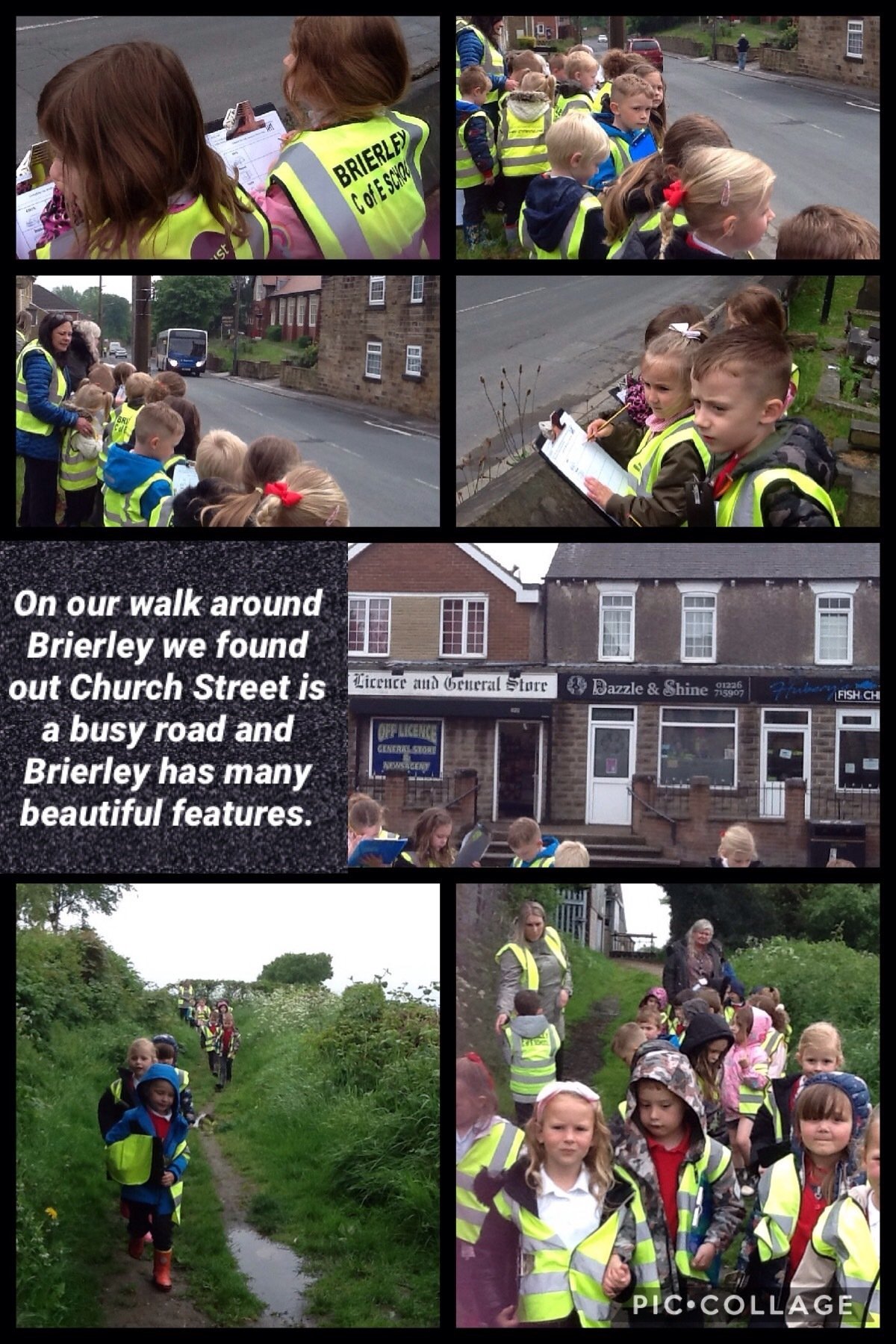 MARVELLOUS MATHEMATICIANS
This half term we have been learning how to add and subtract in maths and write number calculations.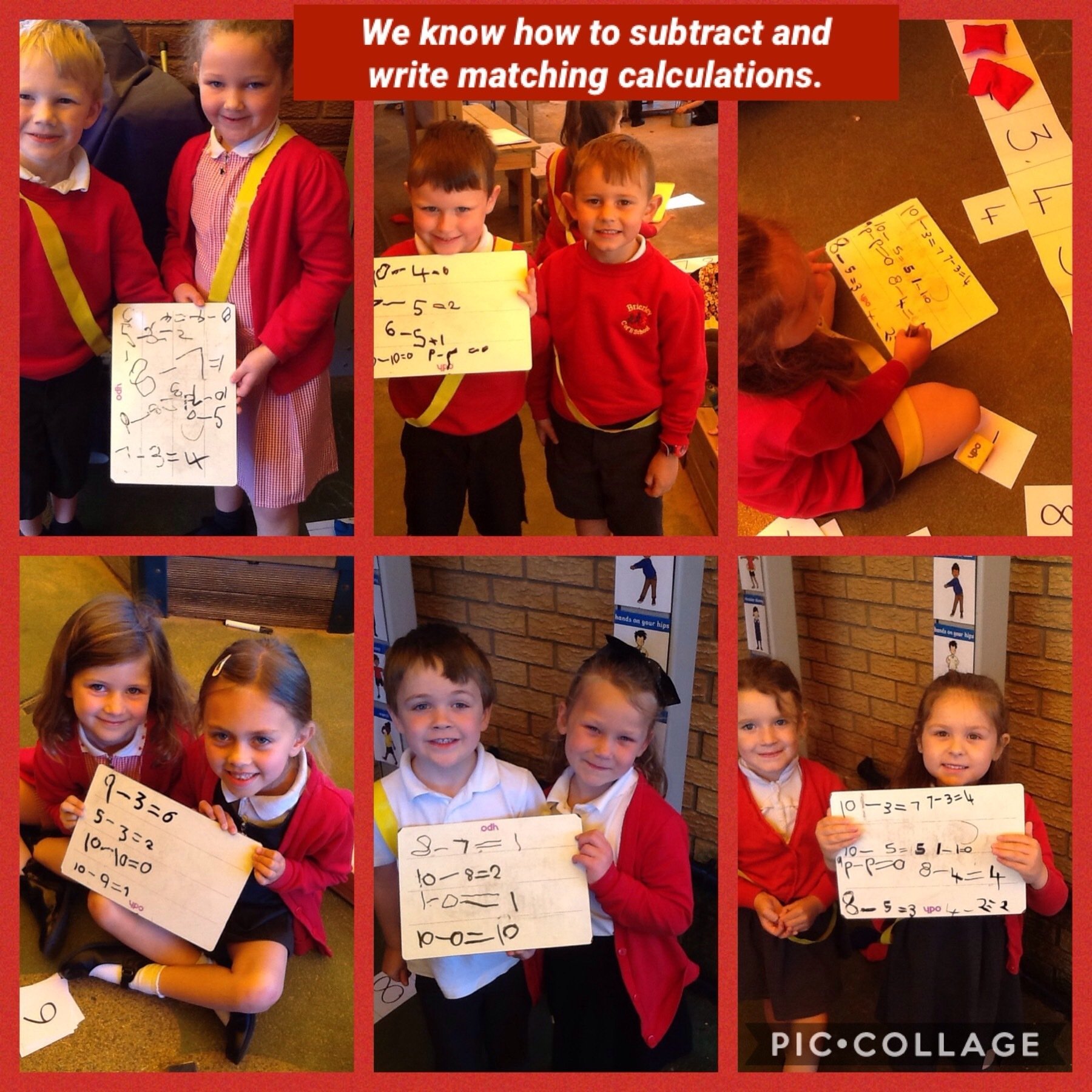 PLANTING BEAN SEEDS
The Jack and the Beanstalk story inspired us to plant and care for our own bean seeds. We can name the main parts of the plant including seed, roots, stem, leaves, flowers and bean pods.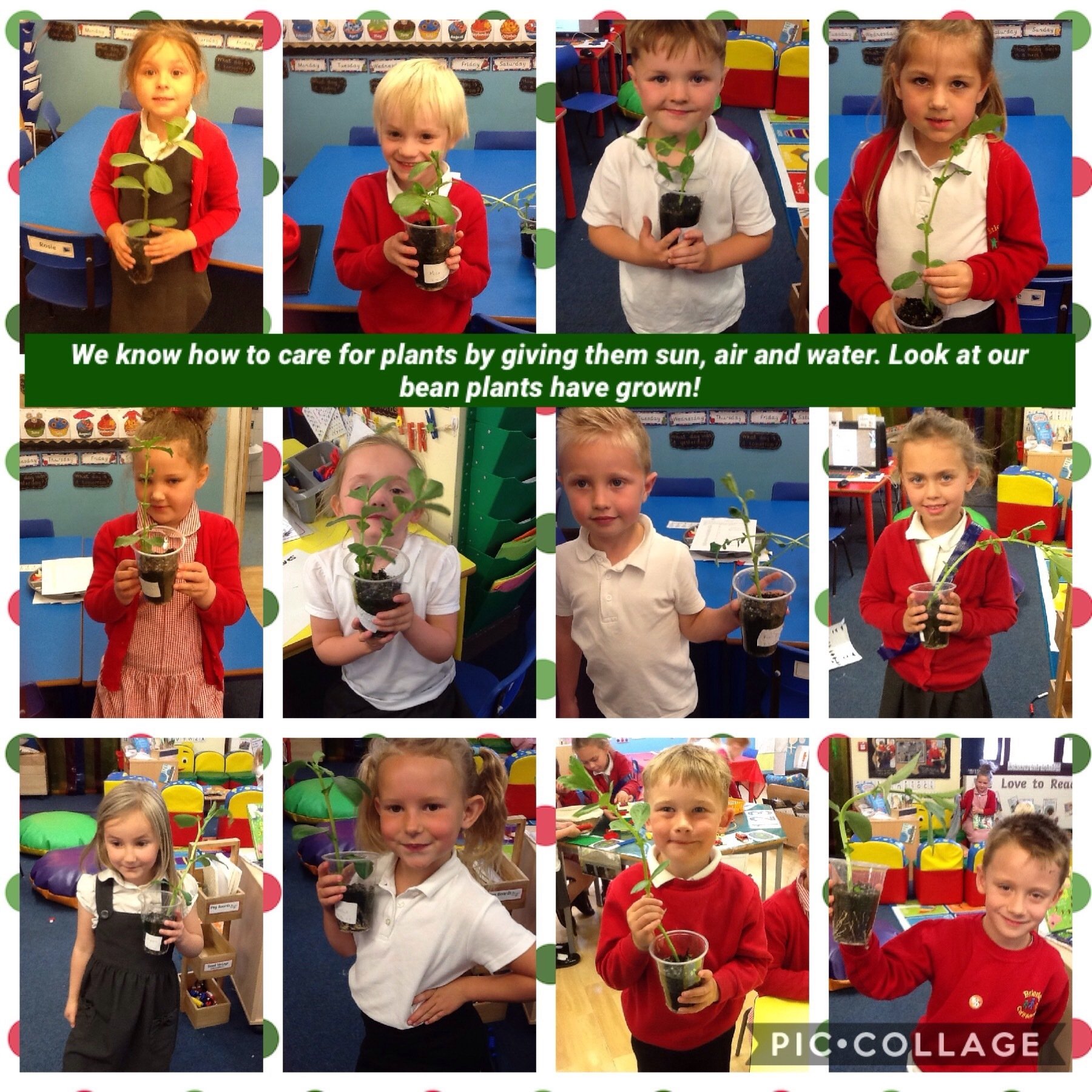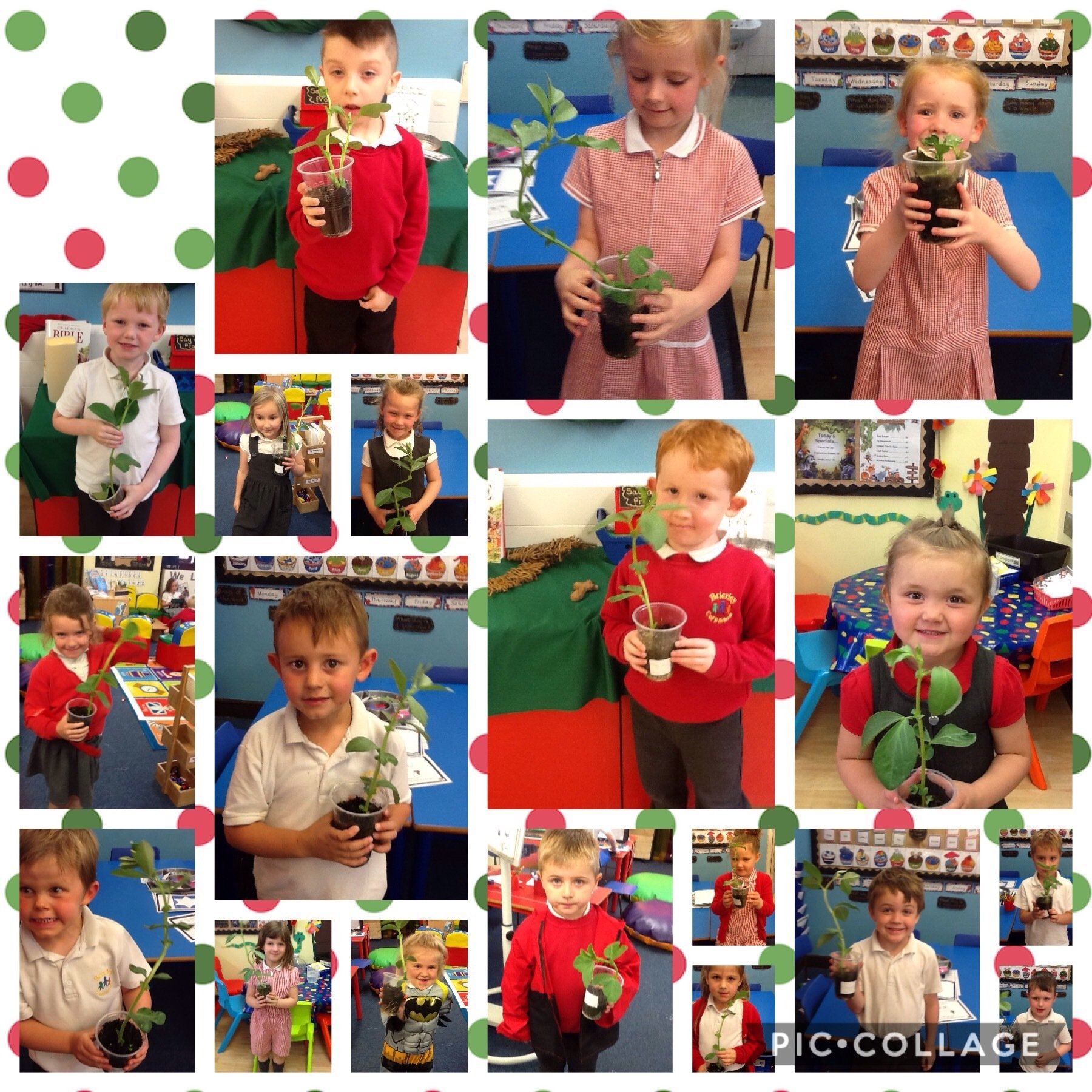 HALF TERM 4
Our topic this half term is 'On the Move'. Please see the Curriculum letter above for our teaching and learning during this topic.
EASTER CELEBRATIONS
We have been learning all about the Easter story starting with Palm Sunday. We acted out the moment Jesus came into Jerusalem to all the crowds waving palm leaves and shouting 'Hosanna!' We made Easter cards, baskets and Easter gardens.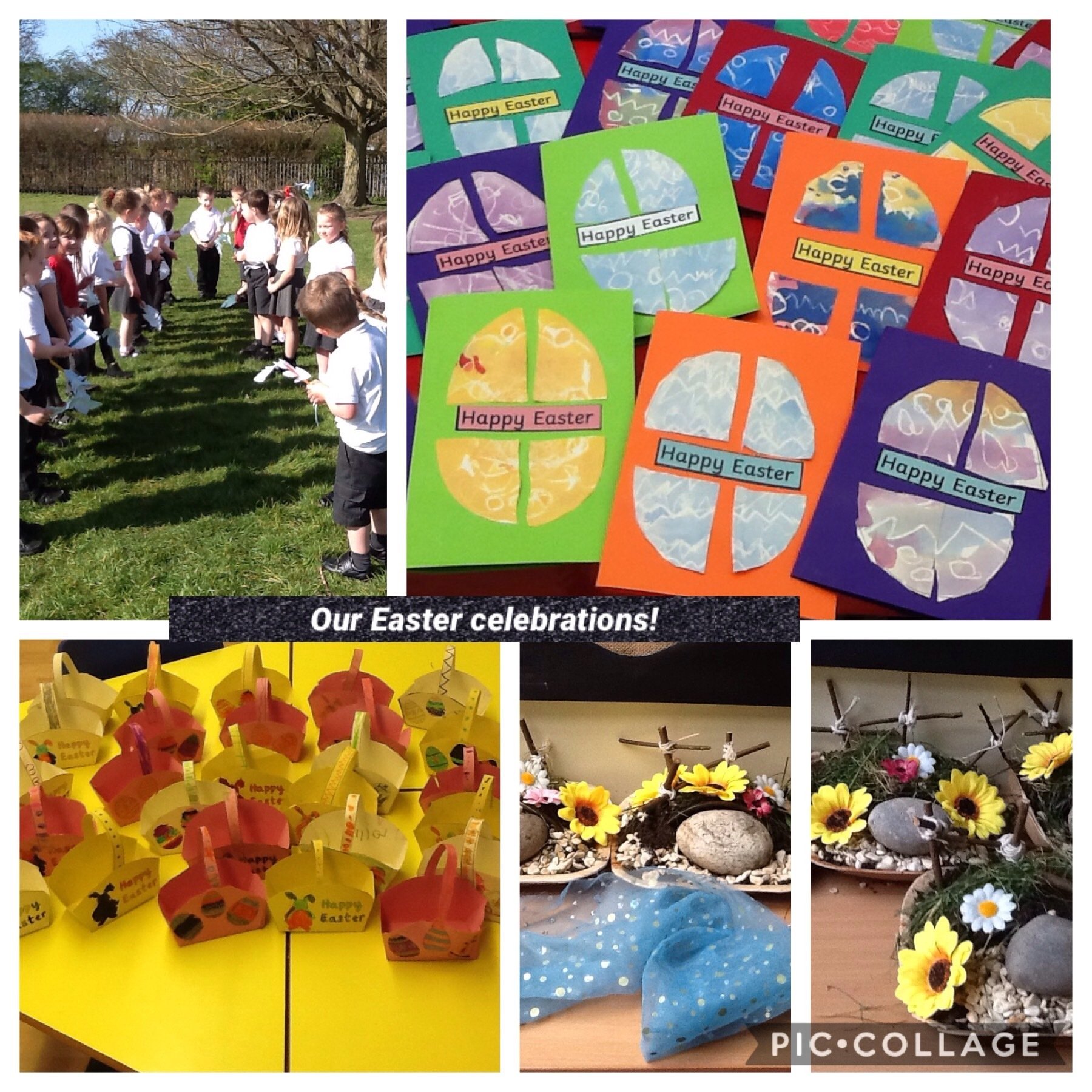 Comic Relief - Red Nose Day
We all enjoyed Red Nose day and made our own superhero masks.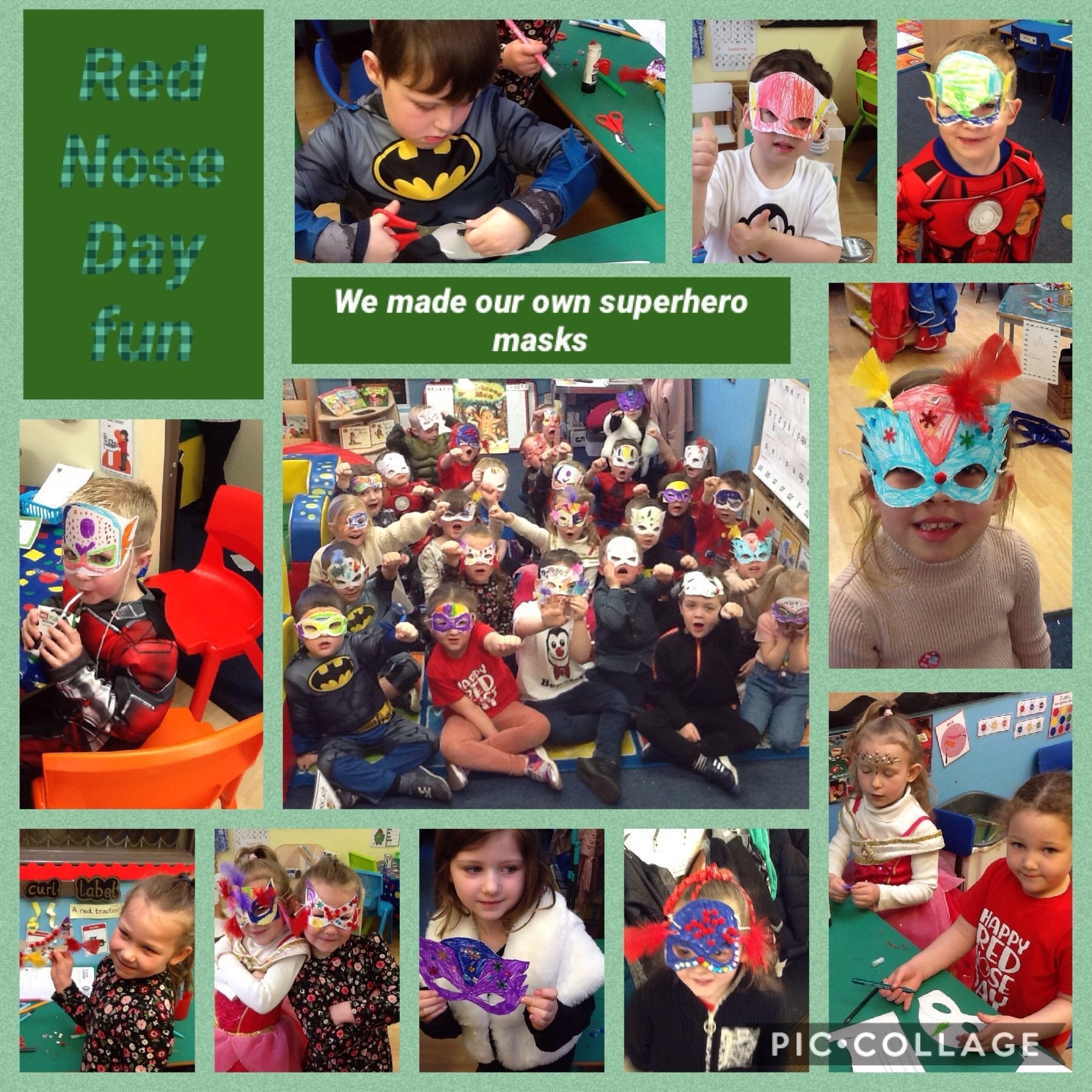 World Book Day
Class Donaldson enjoyed dressing as their favourite book characters for World Book Day.
We enjoyed a day full of learning based around one of Julia Donaldson's book 'The Gruffalo'. We are continuing with this story book for the next couple of weeks.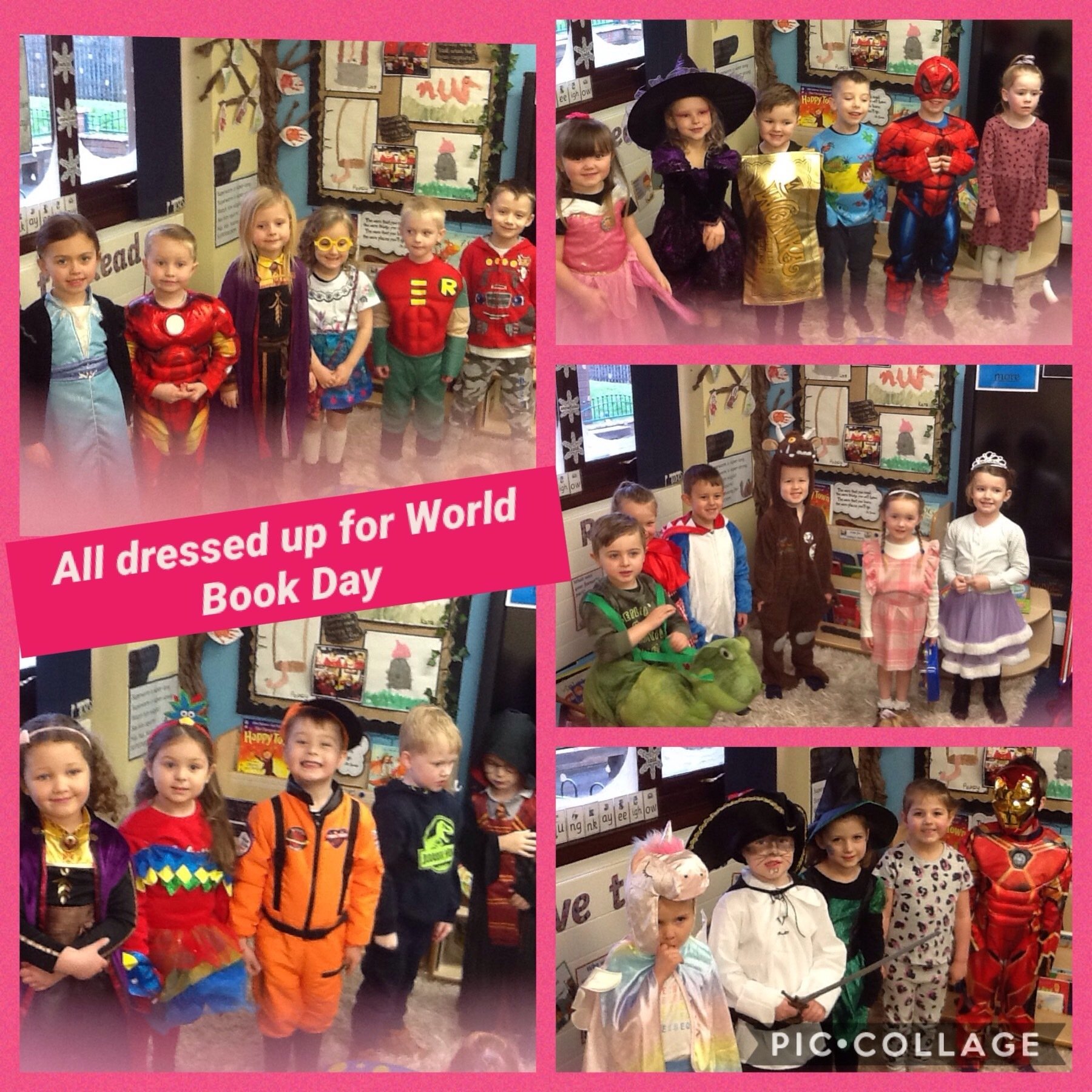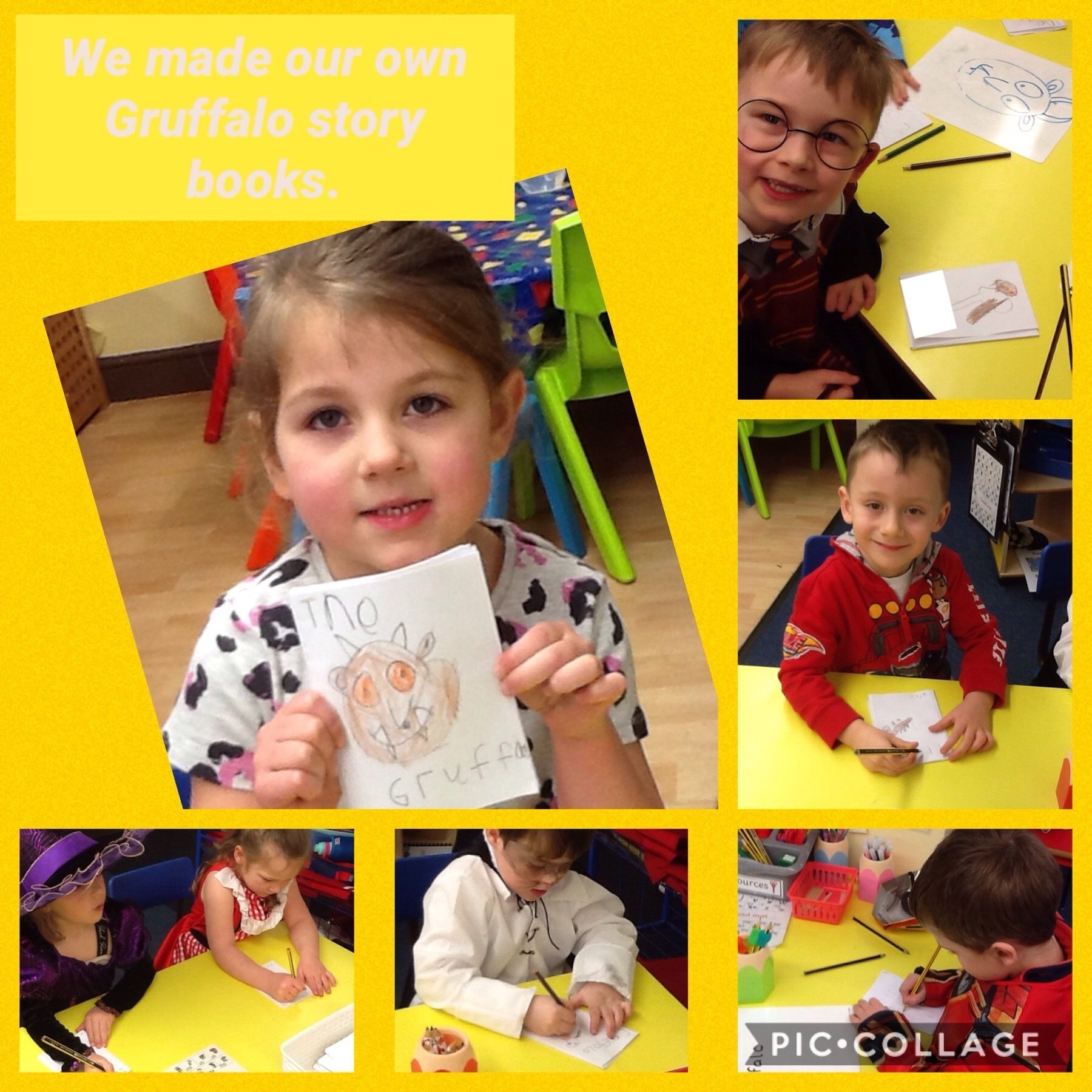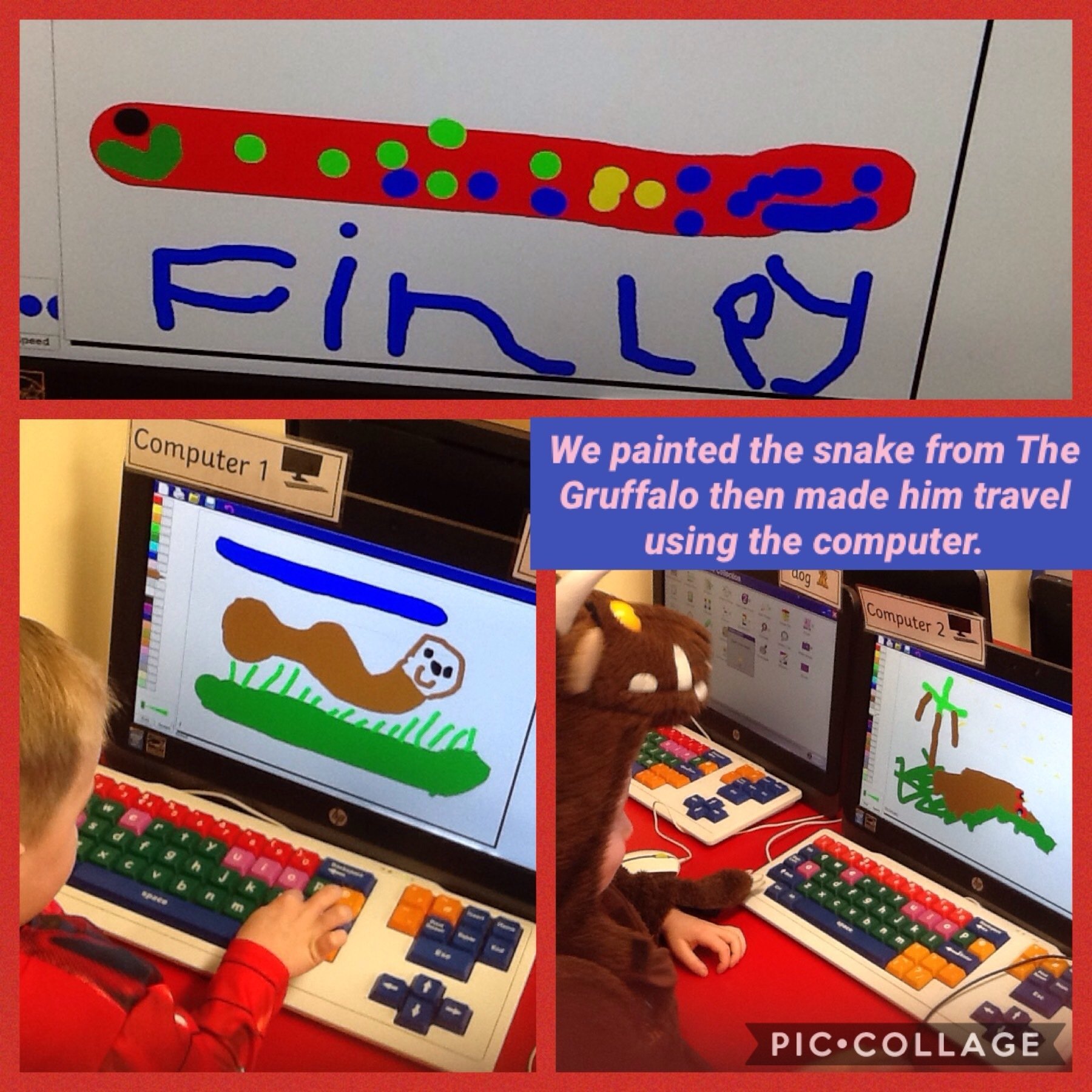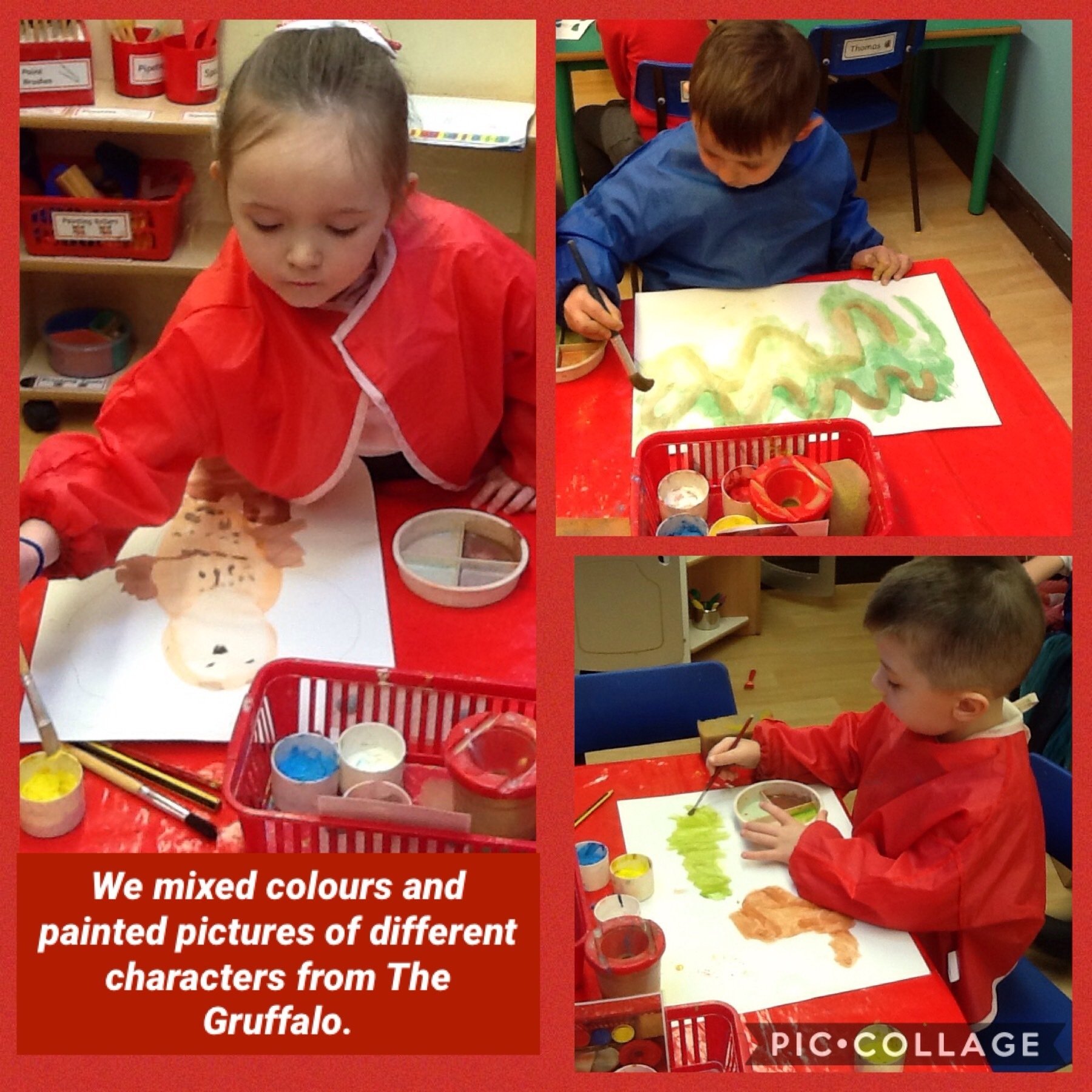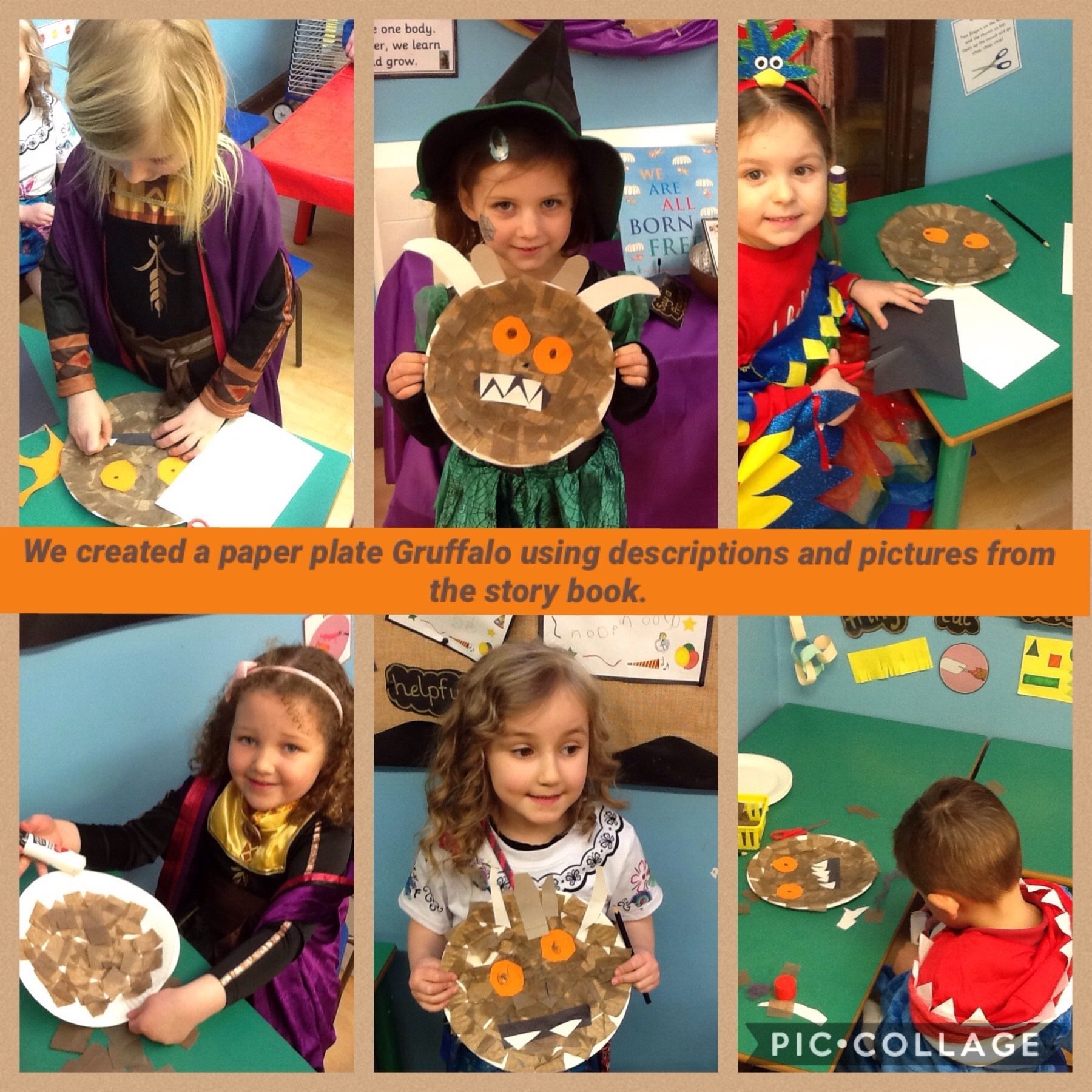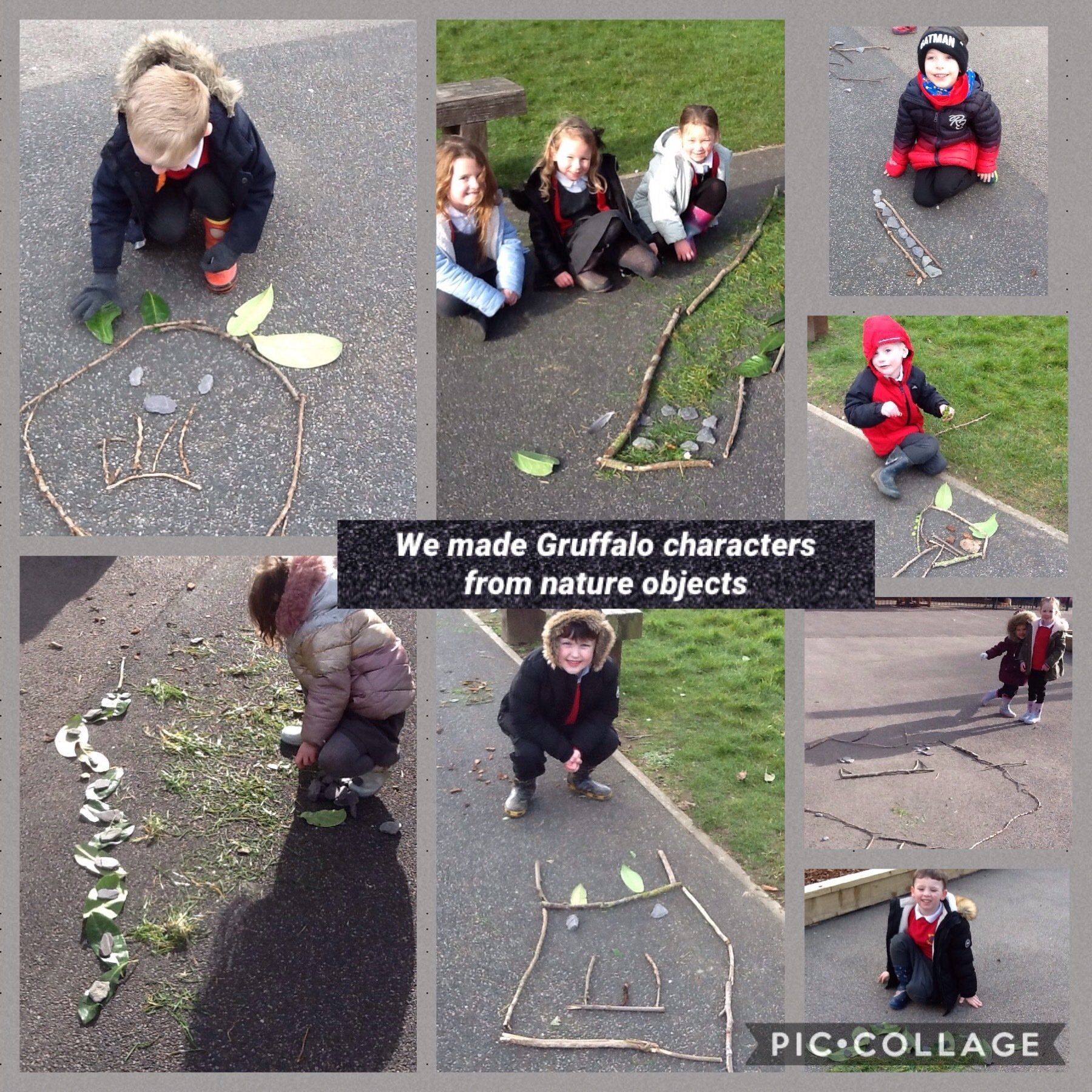 HALF TERM 3
We have worked really hard this half term and would like to share some of our learning, experiences and classroom displays and areas with you. Our topic is 'Something Special'.
Our New Year Resolutions are on display.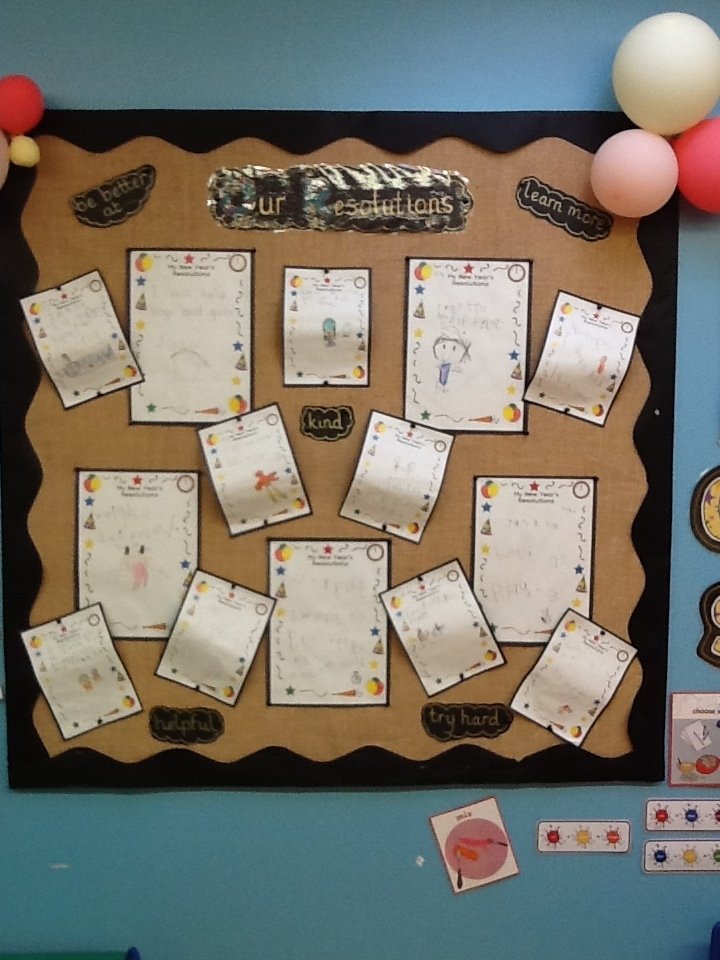 Valentine's Day inspired our art display based on 'Concentric Circles' by Kandinsky.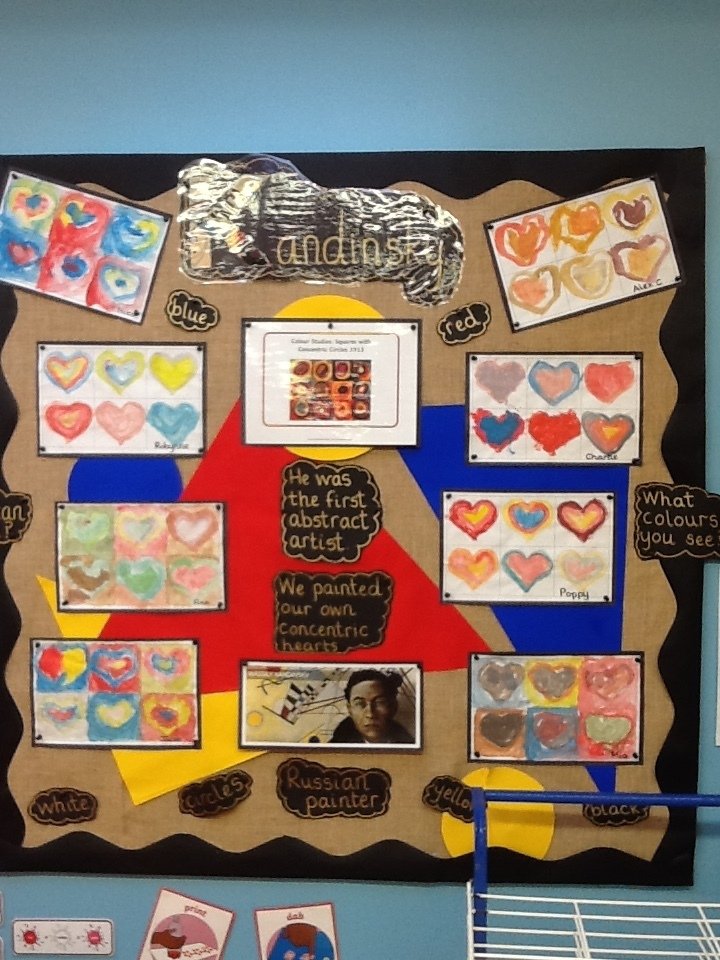 Our Chinese Restaurant snack area links to Chinese New Year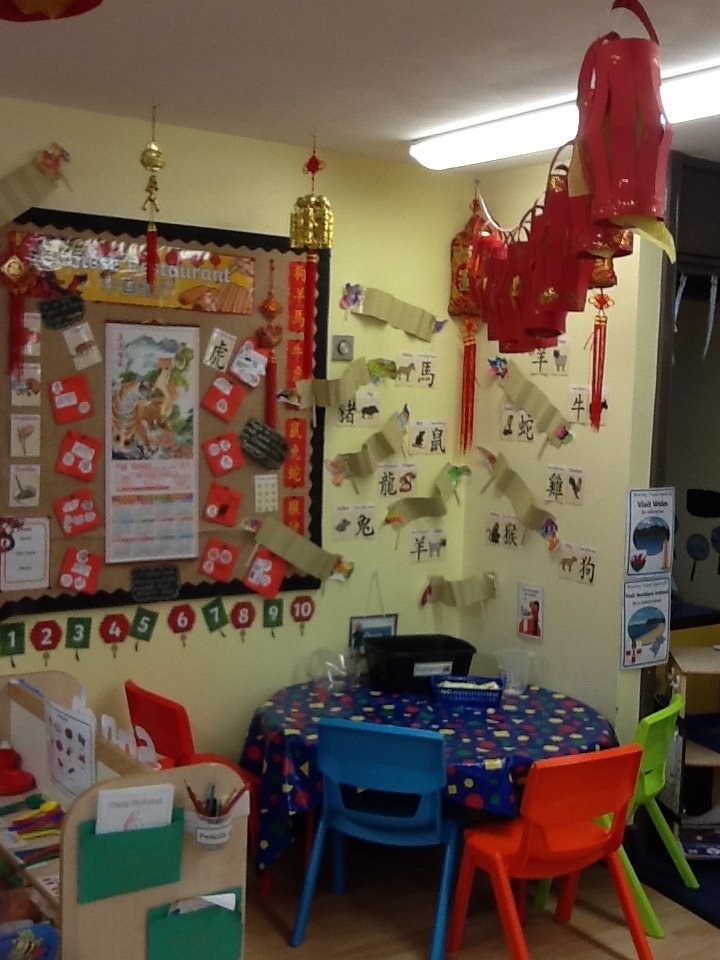 Celebrating special times in the role play area and on display on the RE display board.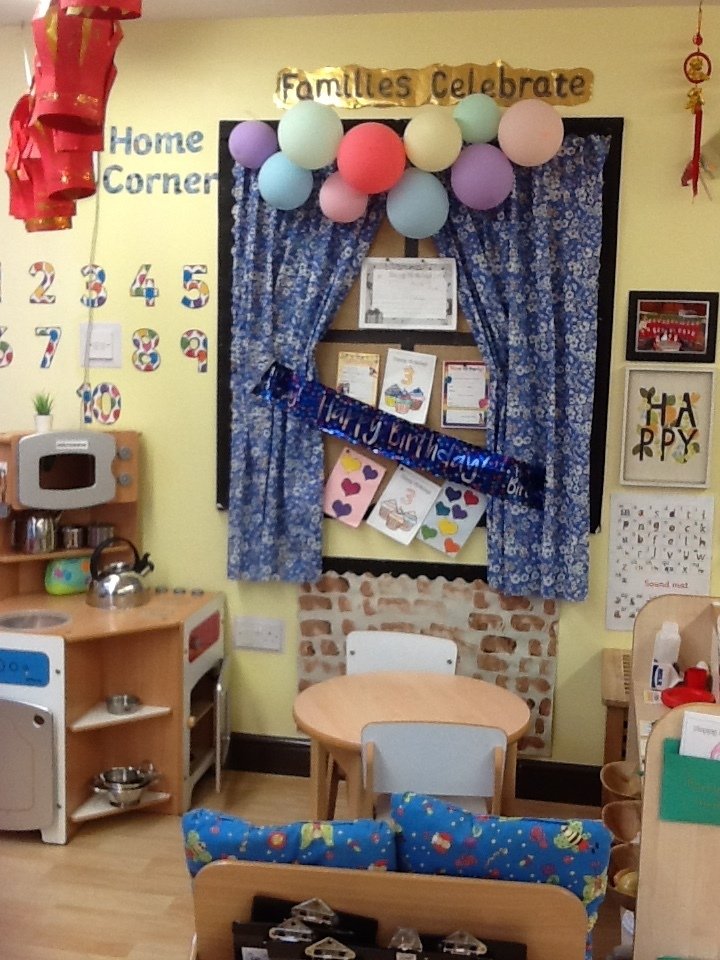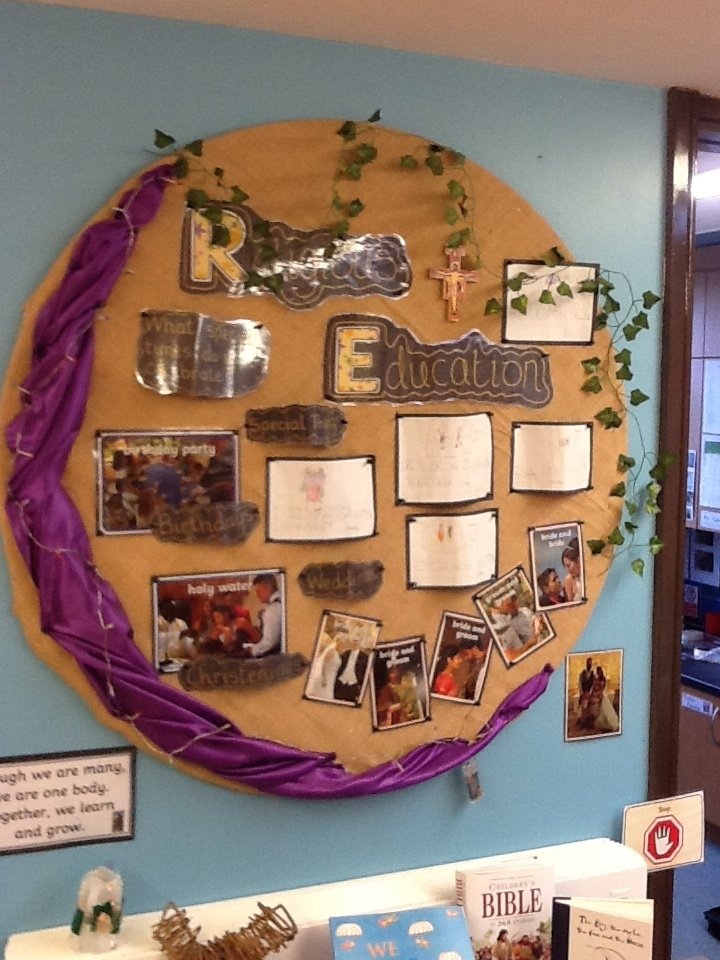 The cold frosty mornings inspired us to create winter art for our display.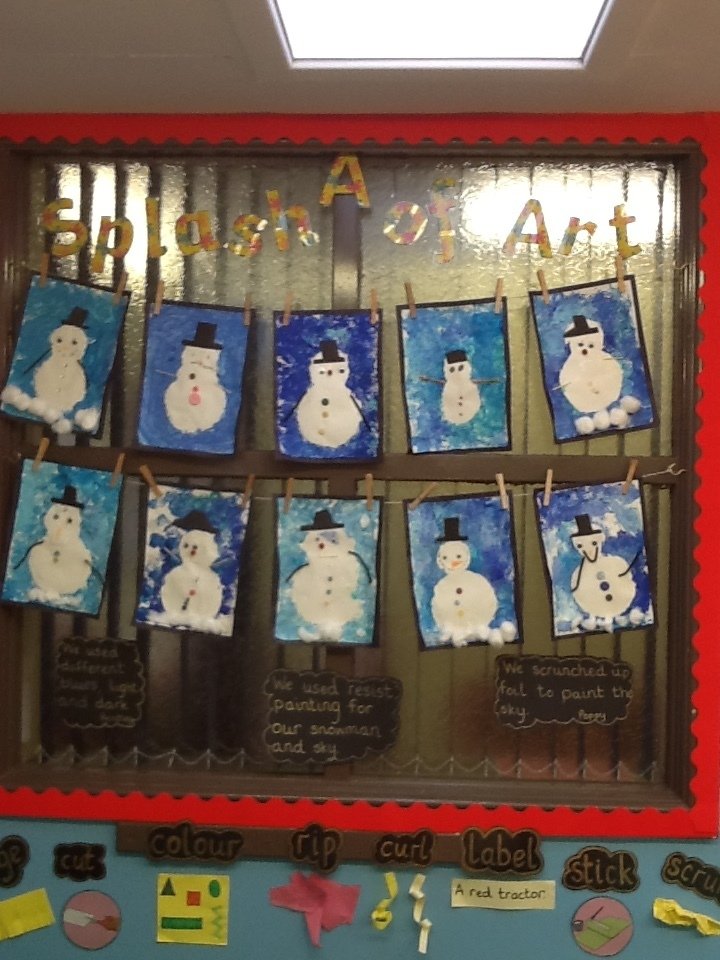 We love reading in our reading area.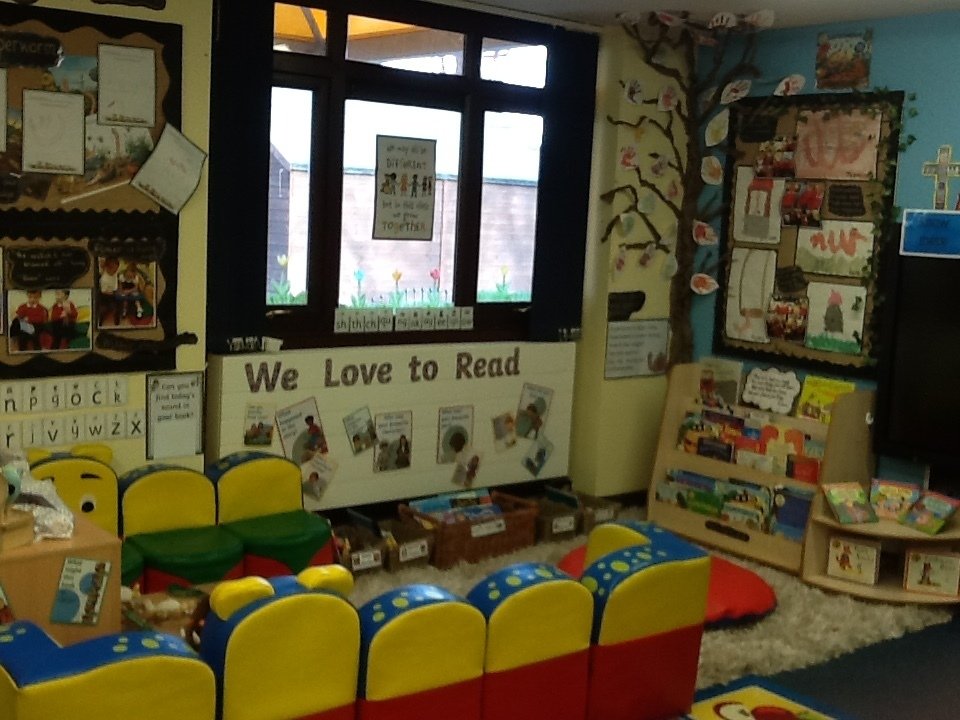 Darwin Day
Our science day this half term was based around the famous scientist and explorer Charles Darwin. Like Darwin we studied a creature close to us - the common earth worm. We explored where worms like to live. The photos show us doing our worm dance to encourage them to come out. We observed them closely and can now explain their life cycle.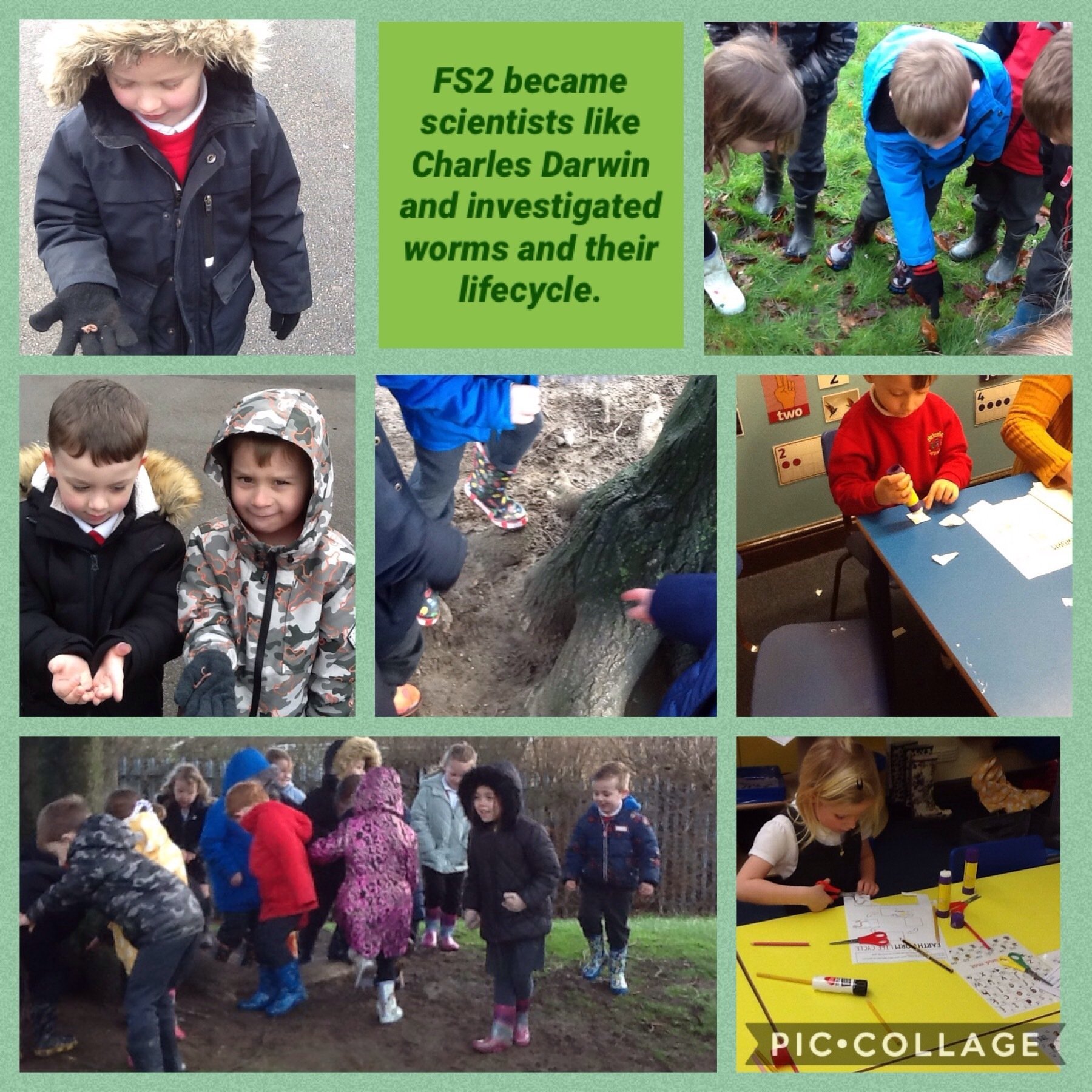 We have also focused on the season of Winter.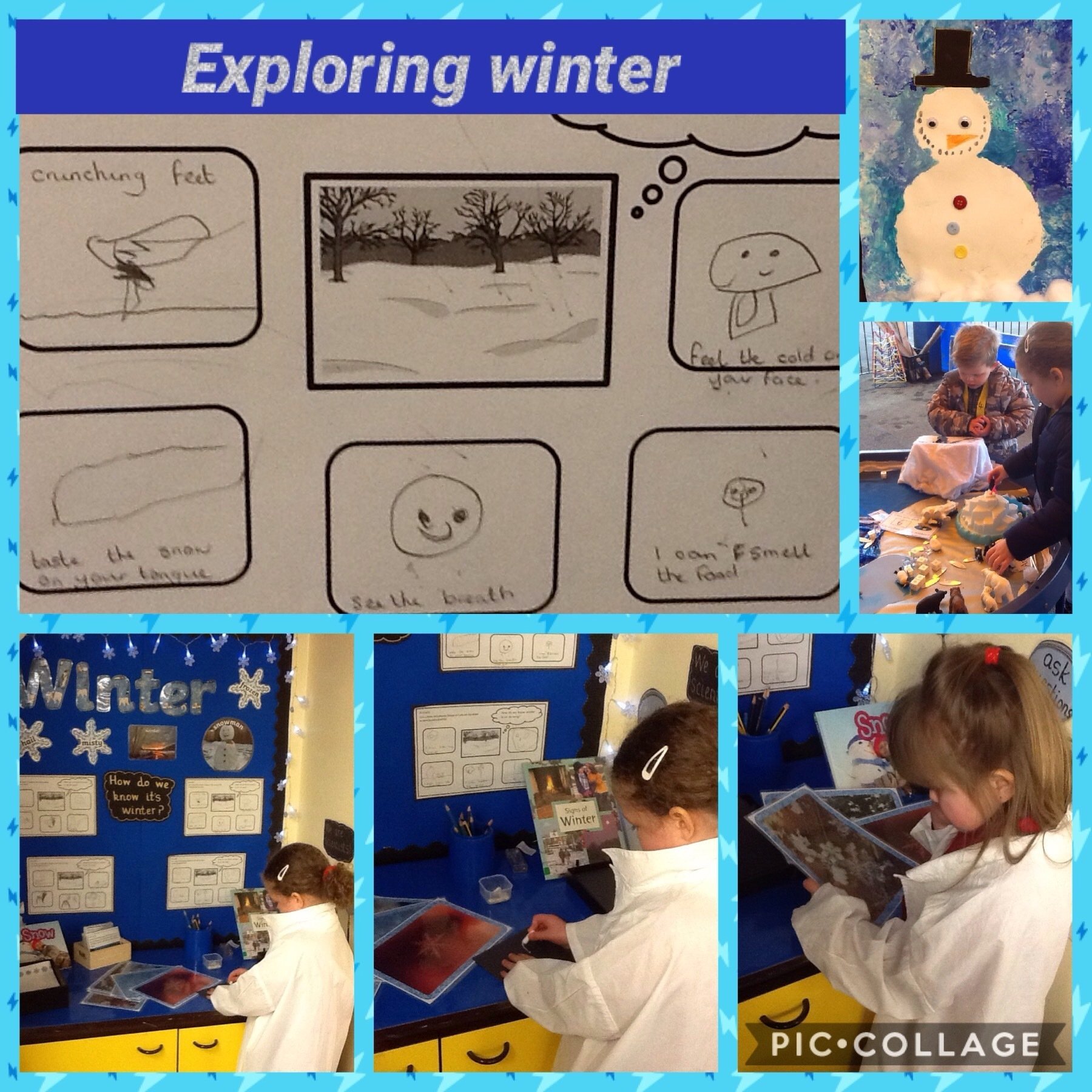 We love exploring the outdoors and nature on Muddy Monday's and Wellie Wednesday's. We also use natural objects to help us with our maths.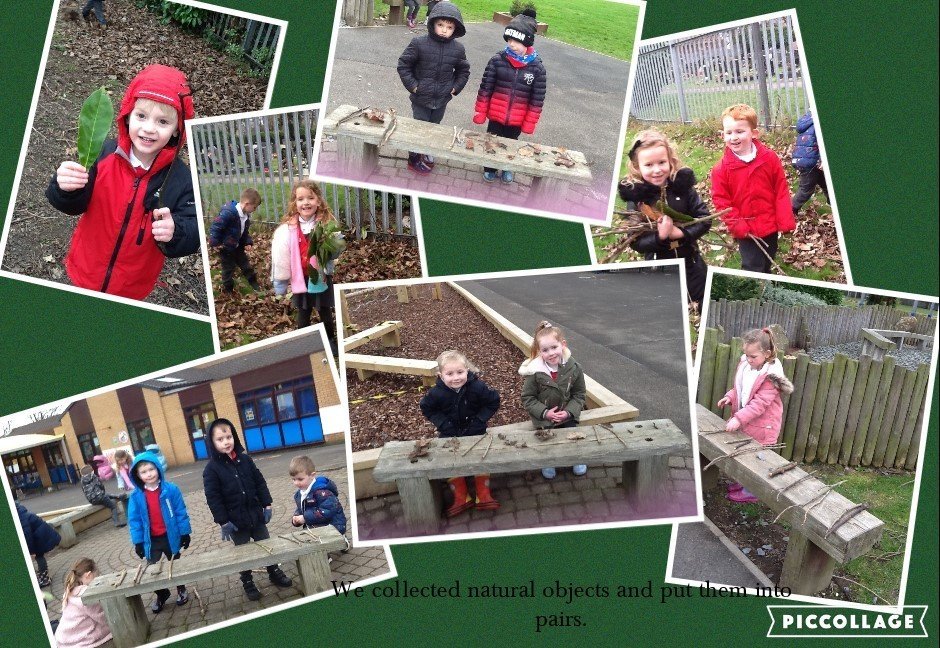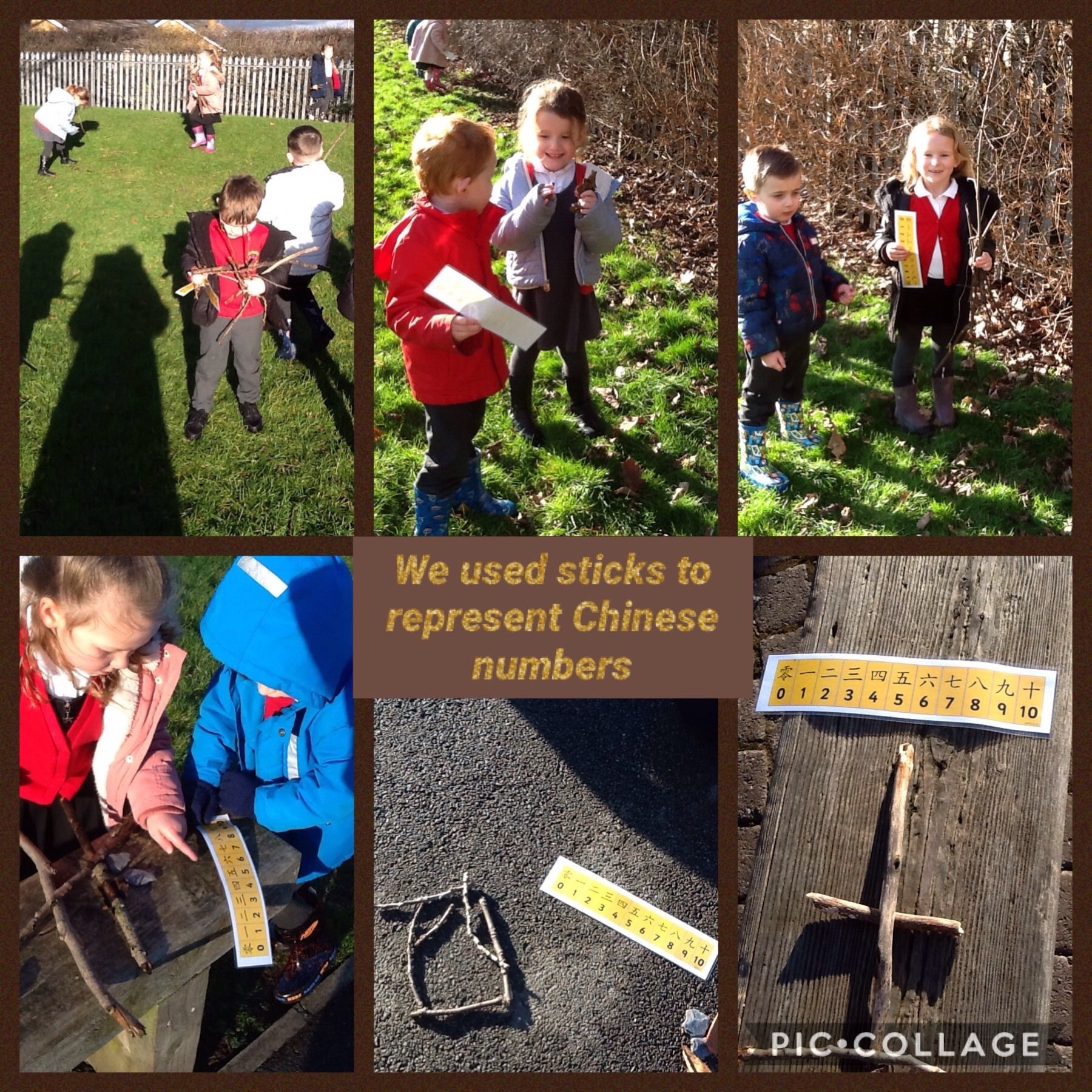 In class Donaldson we are artists. We learn new techniques, mix colours with confidence and study the work of different artists recreating our own versions of their artwork.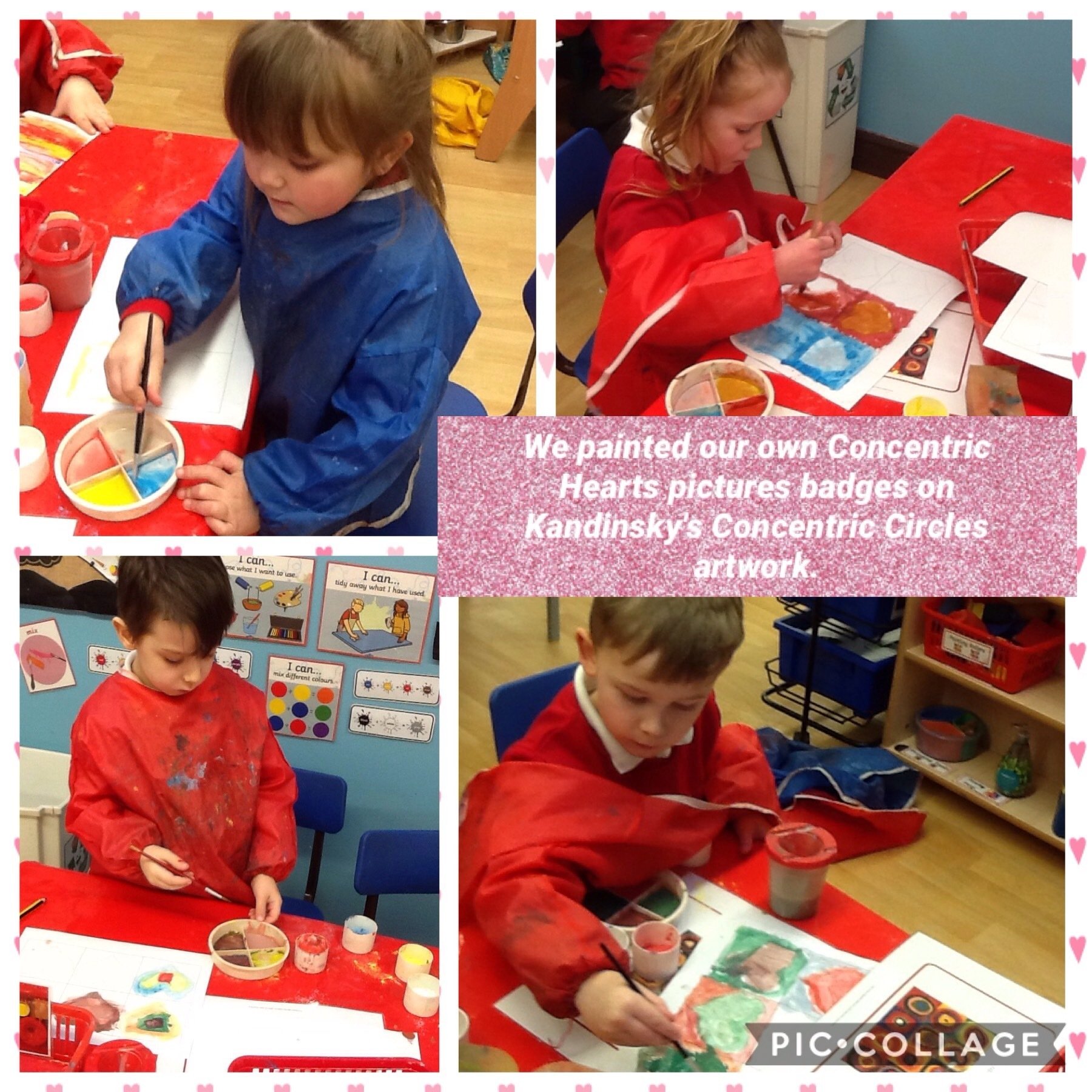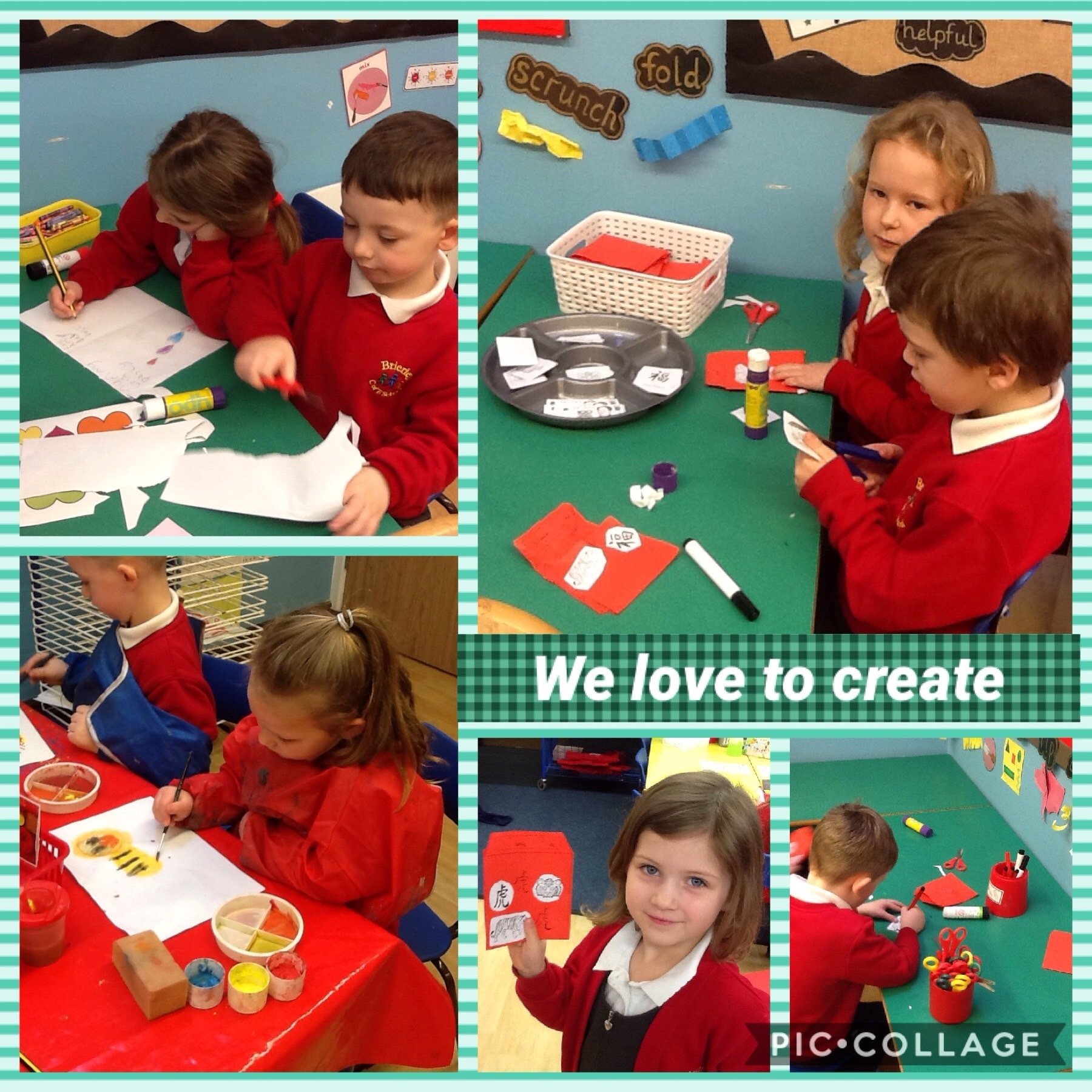 In Class Donaldson we love to read and write.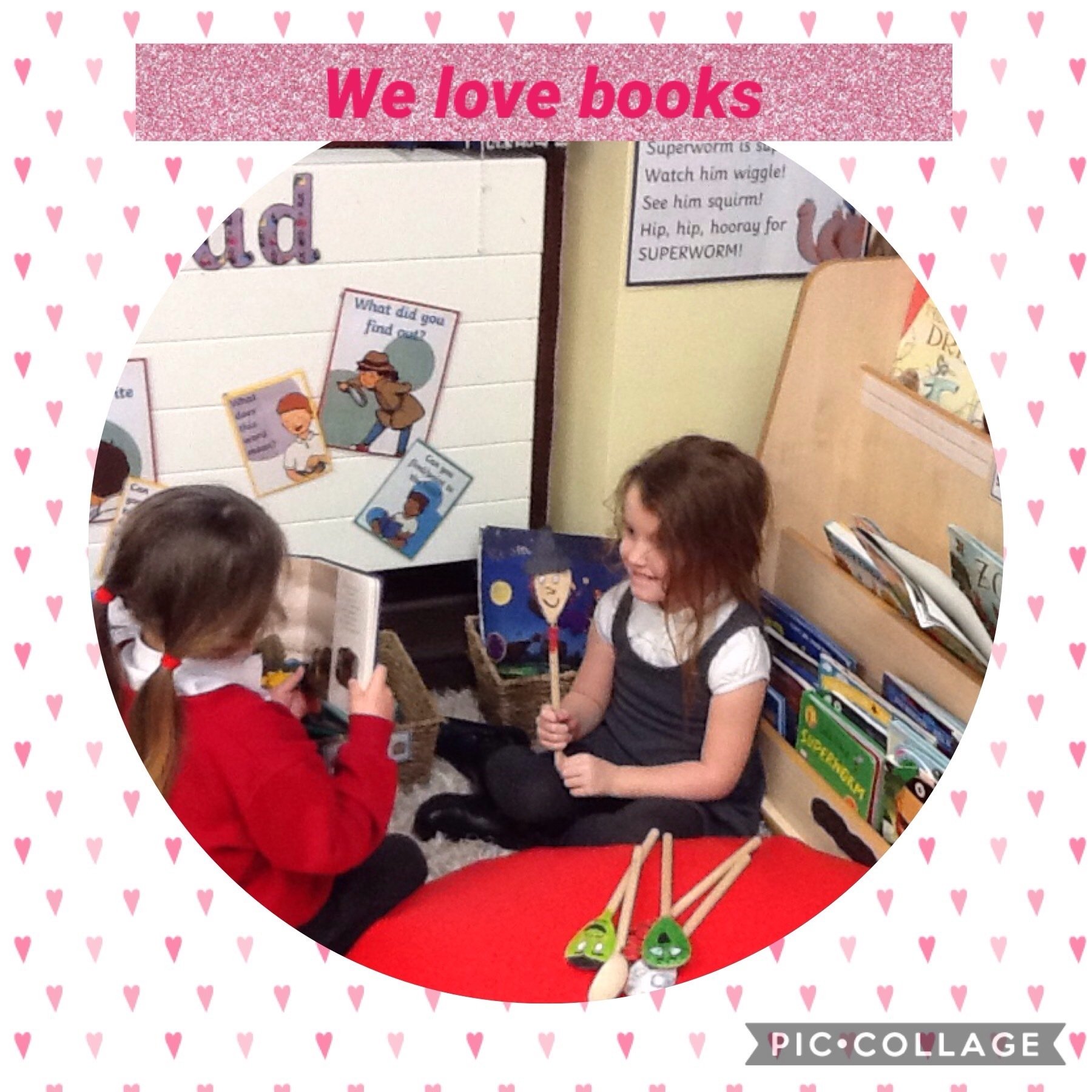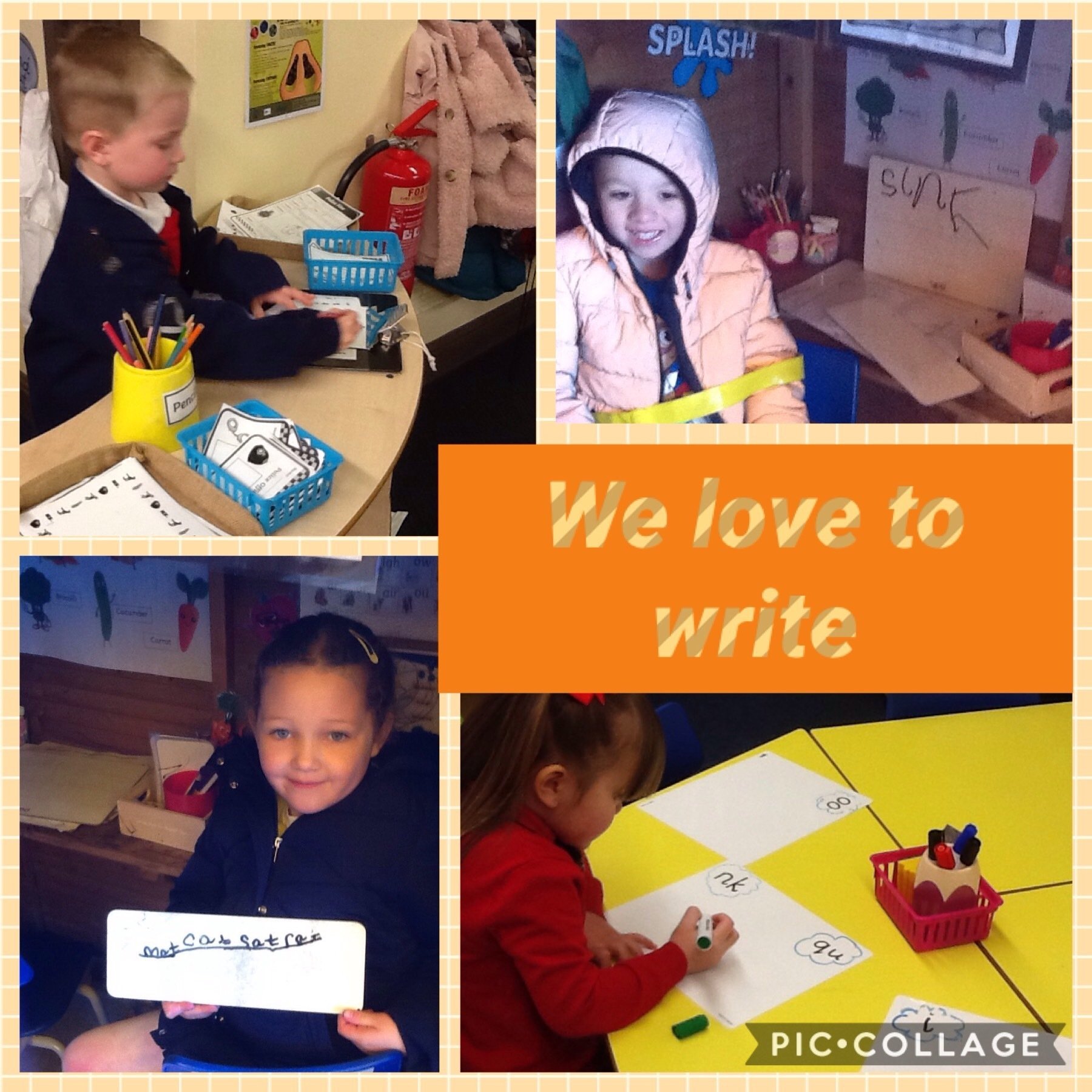 HALF TERM 2
Our topic this half term is 'Superheroes' whereby we will be learning about the jobs and lives of real life superheroes today and in the past. We will also continue exploring Autumn and watch out for signs of Winter. Bonfire Night, Diwali, Advent and Christmas are celebrated during this half term and we will be learning all about them too.
Balance Bikes
We had great fun learning how to ride balance bikes with our special visitor. We started off steady but wow, it didn't take us long before we were racing through and under obstacles and over ramps.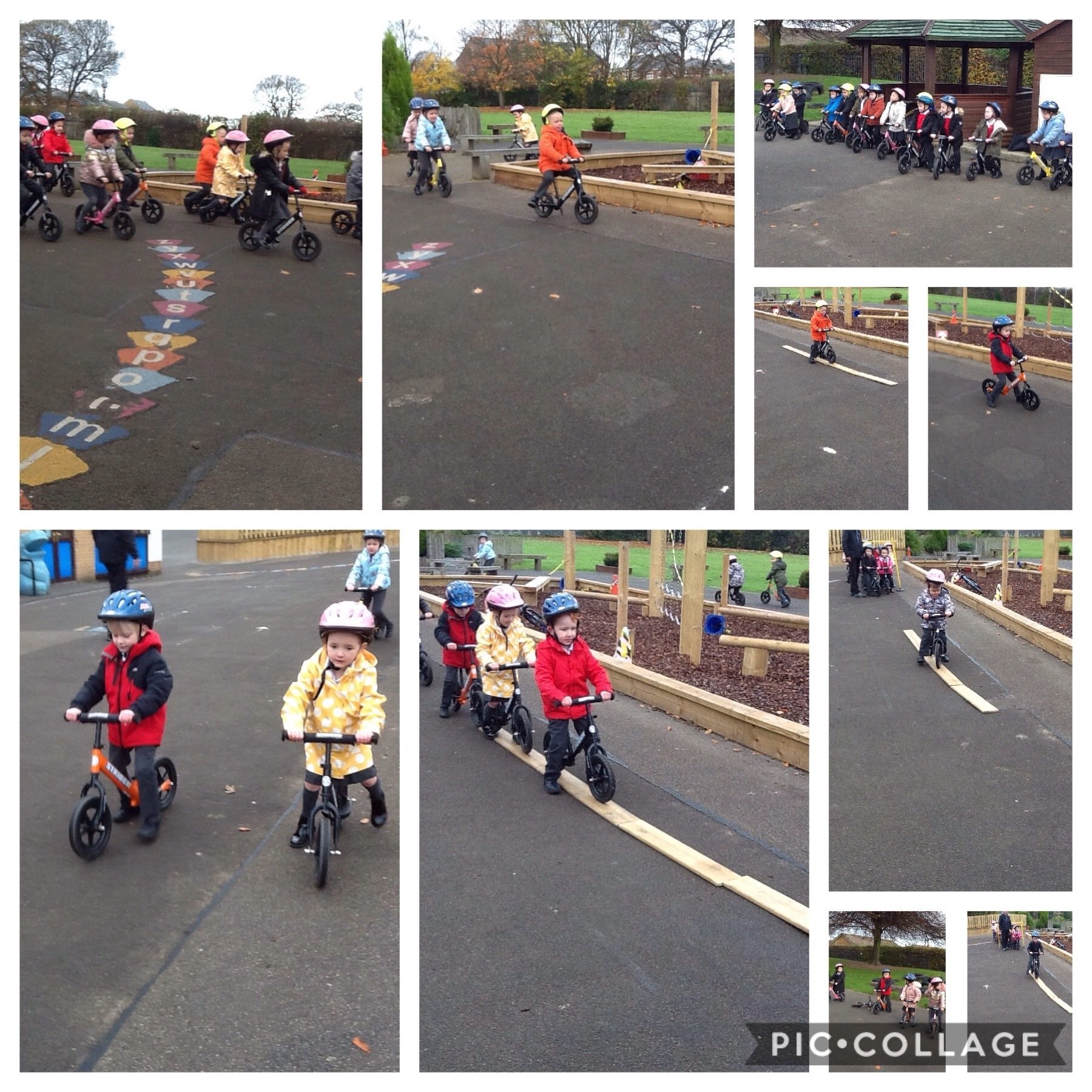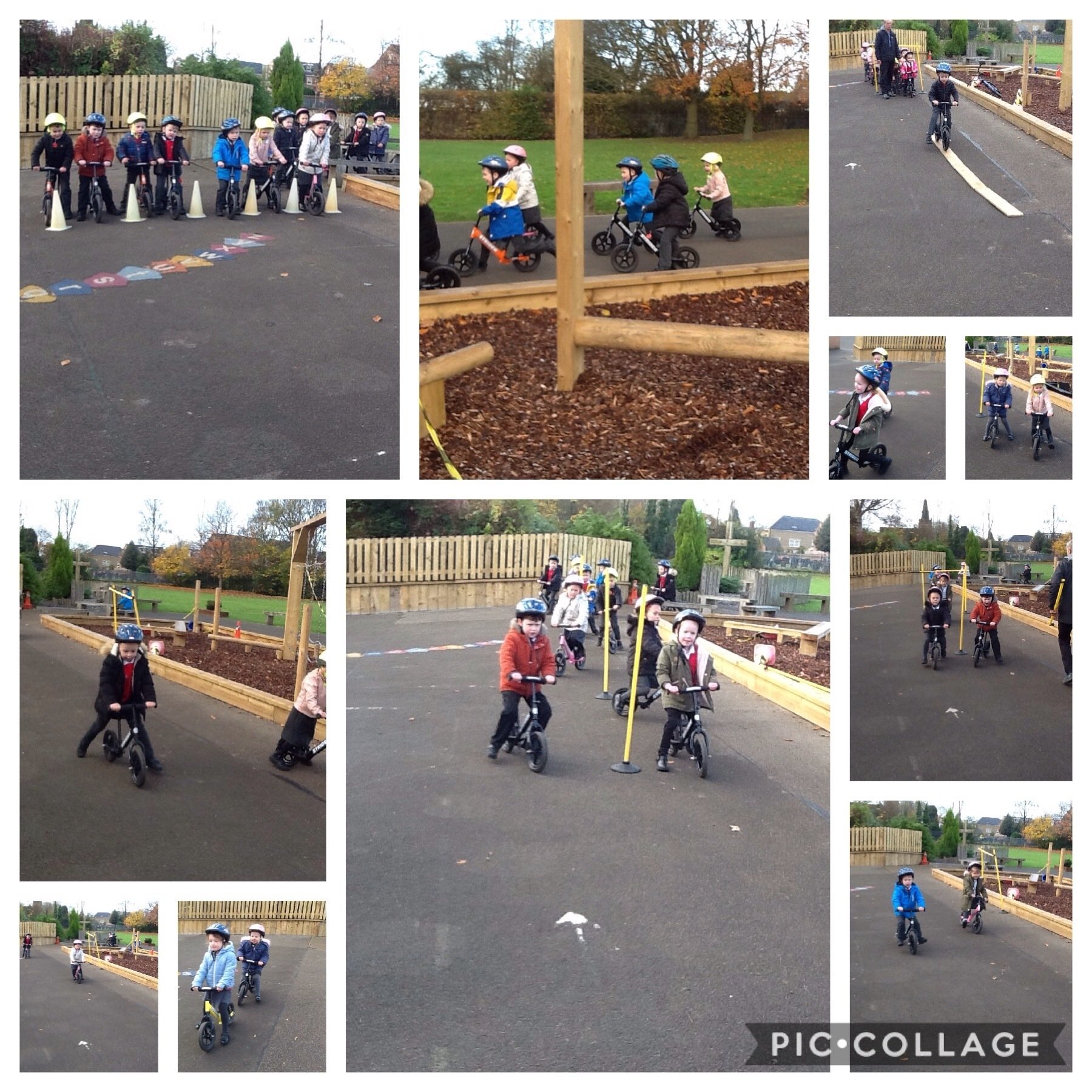 Children in Need
We all looked fantastic wearing yellow today to support children who are not as lucky as us.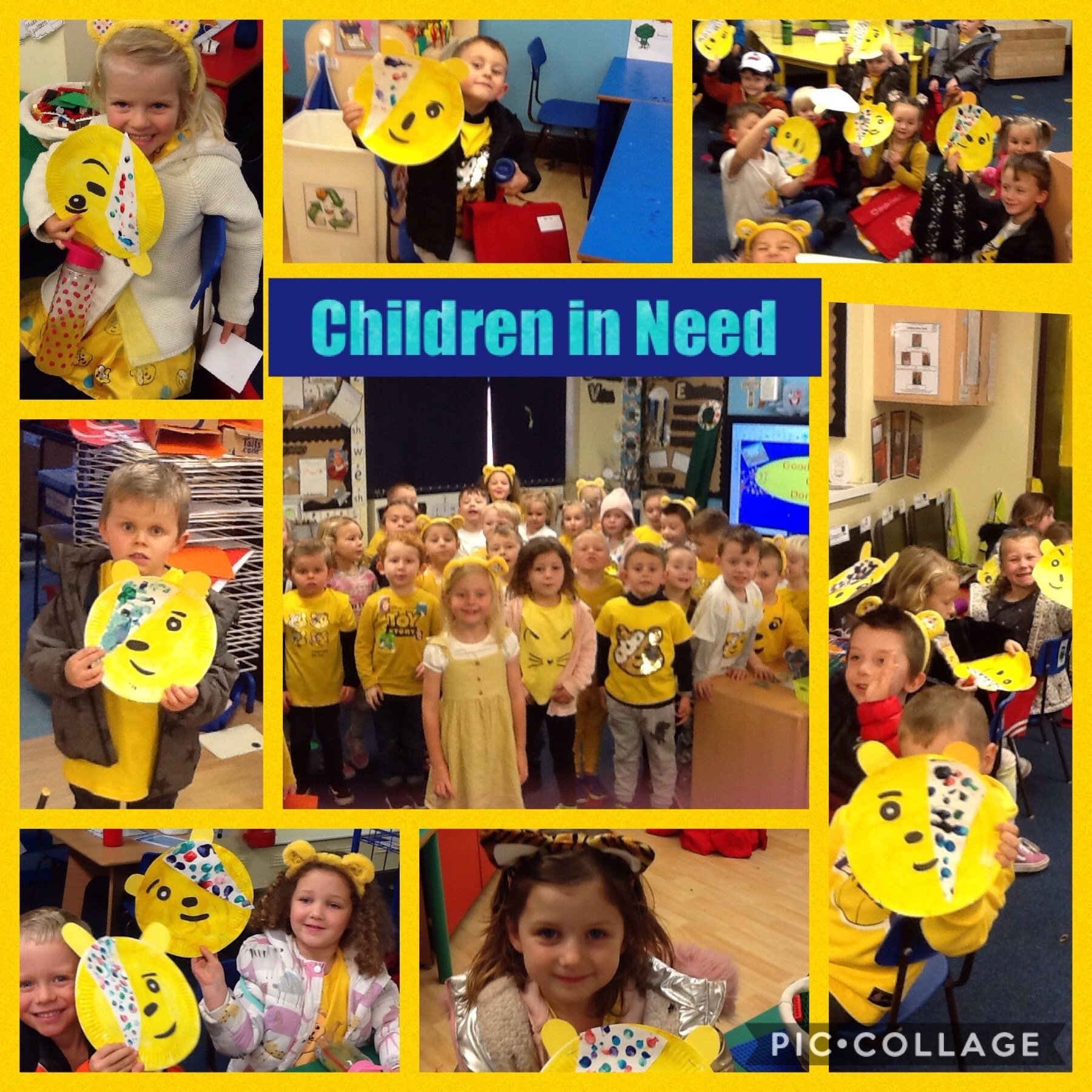 Supertato by Sue Hendra
One of our favourite books that we shared this half term was Supertato. Supertato was the hero in the story protecting the fruit and vegetables from Evil Pea. We painted Supertato using a computer programme and made him move across the screen and created 'Wanted posters' to help capture Evil Pea.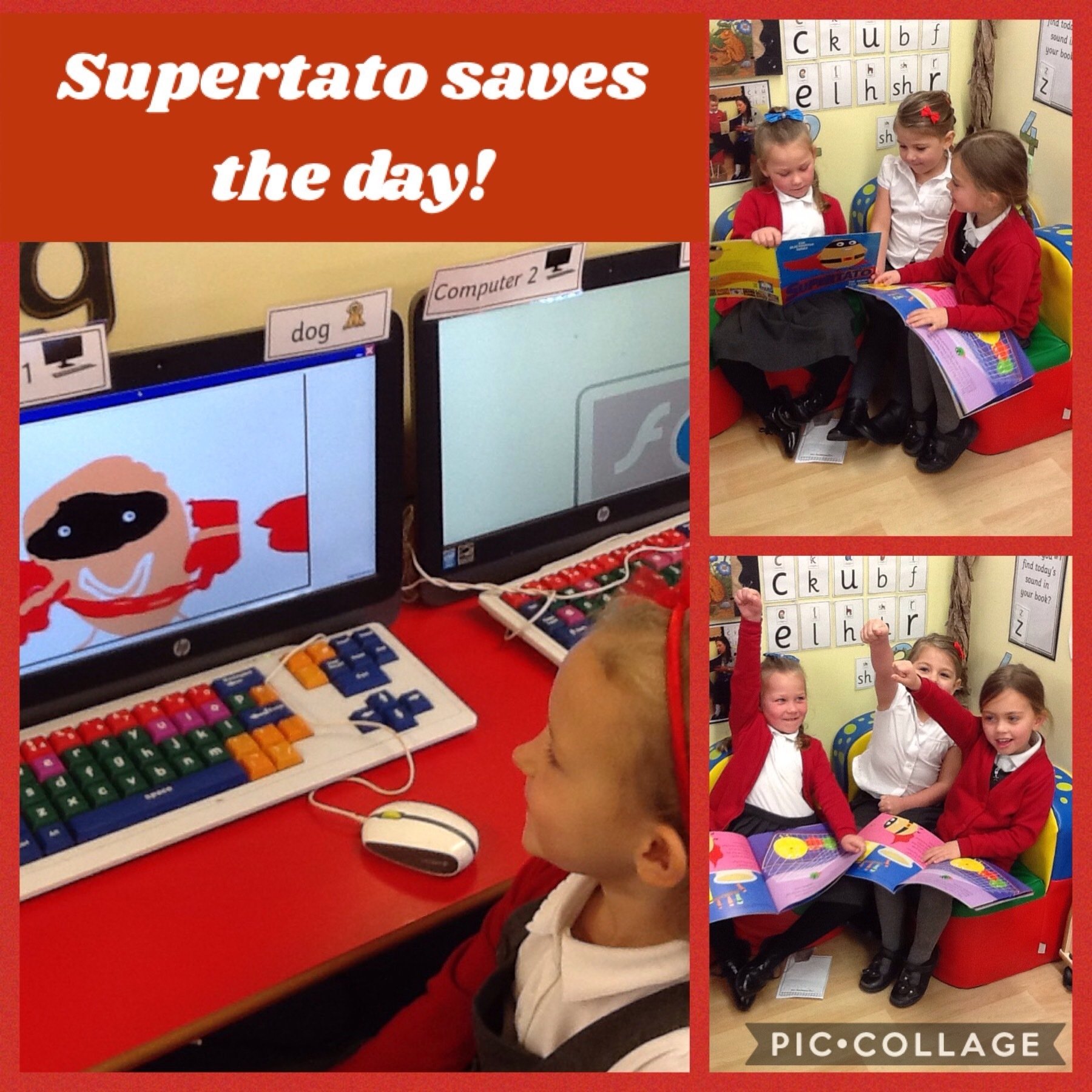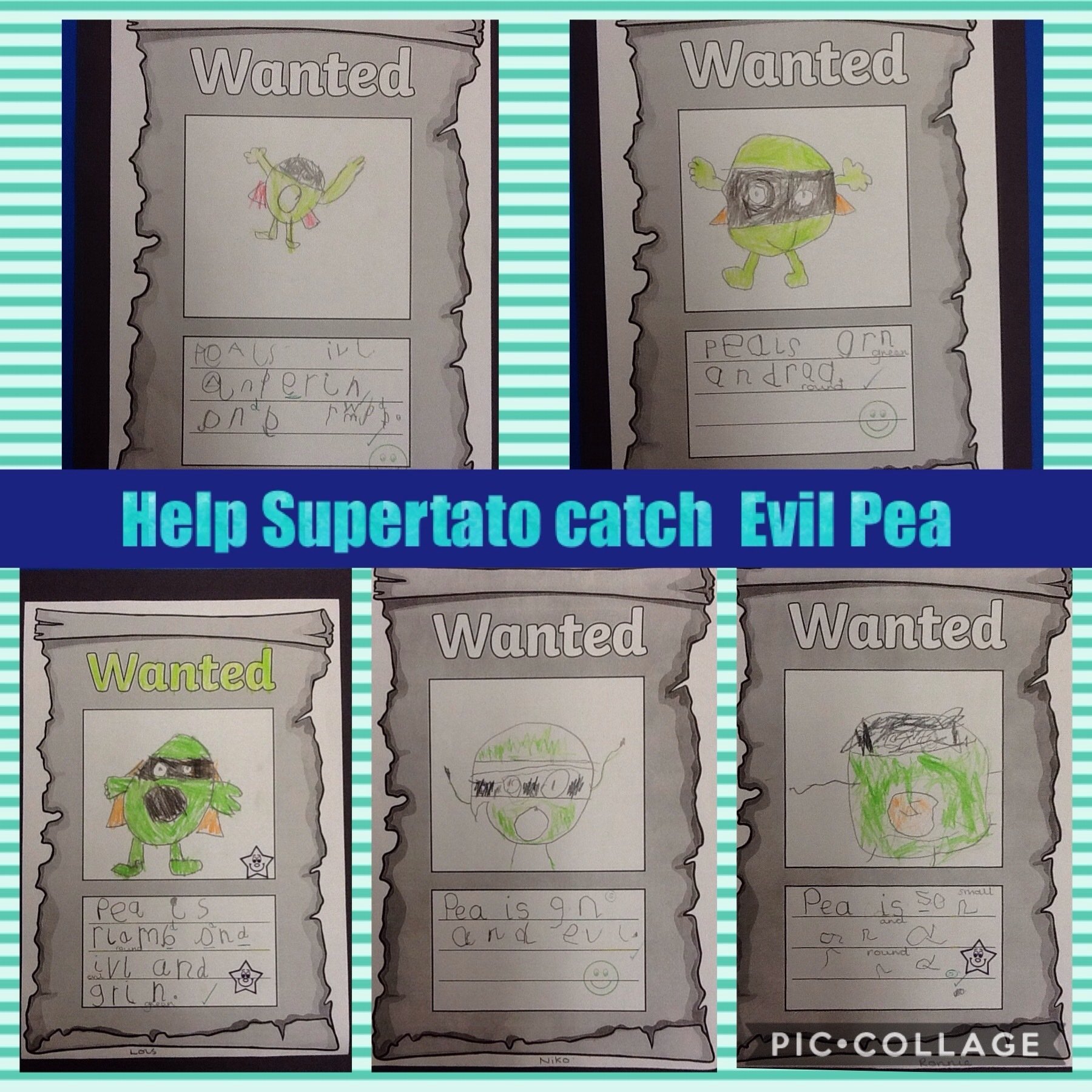 Superworm by Julia Donaldson
We really enjoyed sharing the story of Superworm and joined in well with all the repeated phrases. Lots of different emotions were felt by the characters in the story and we represented them using drama.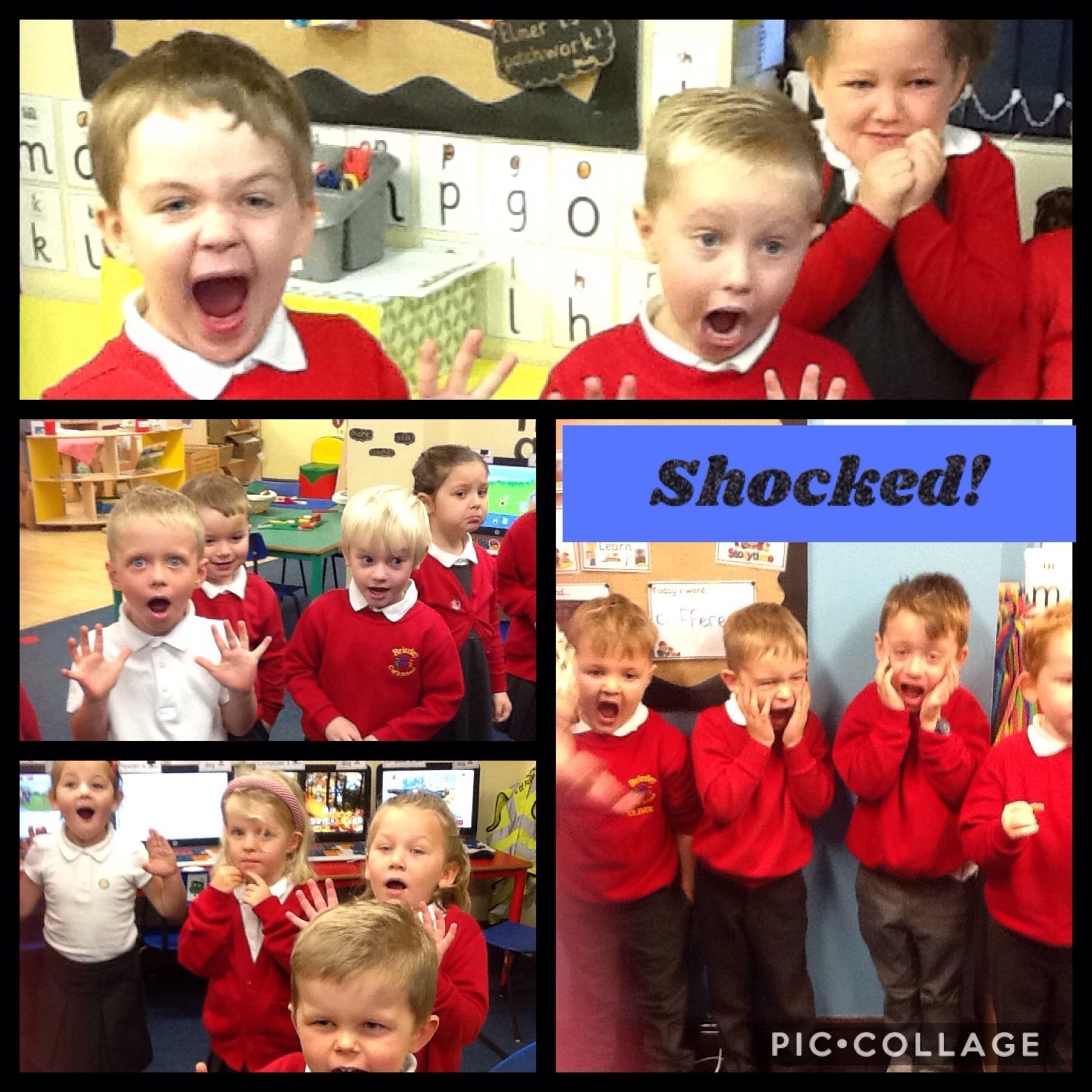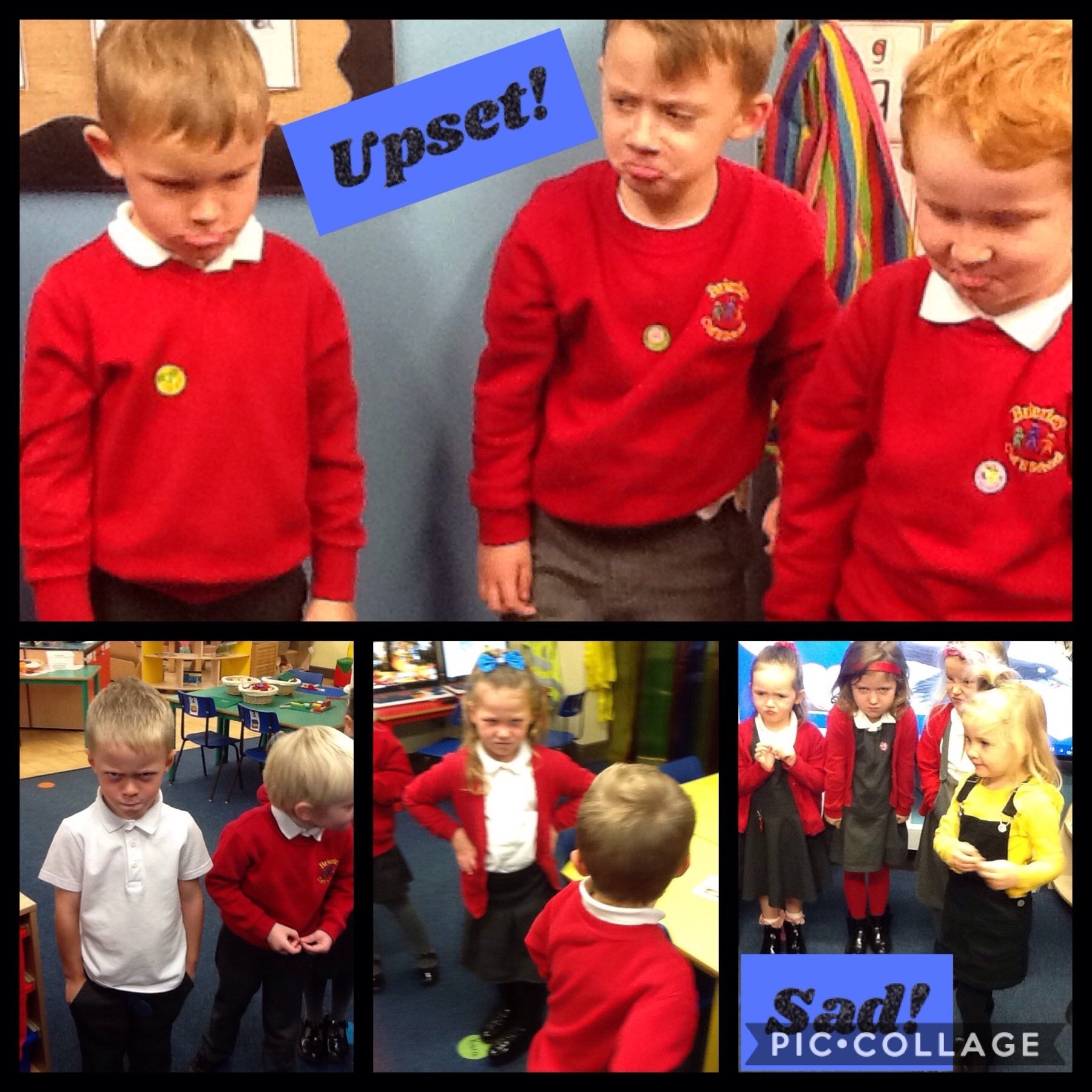 Writer's Awards
Congratulations to our 'Star Writers'. Class Donaldson are proud of you!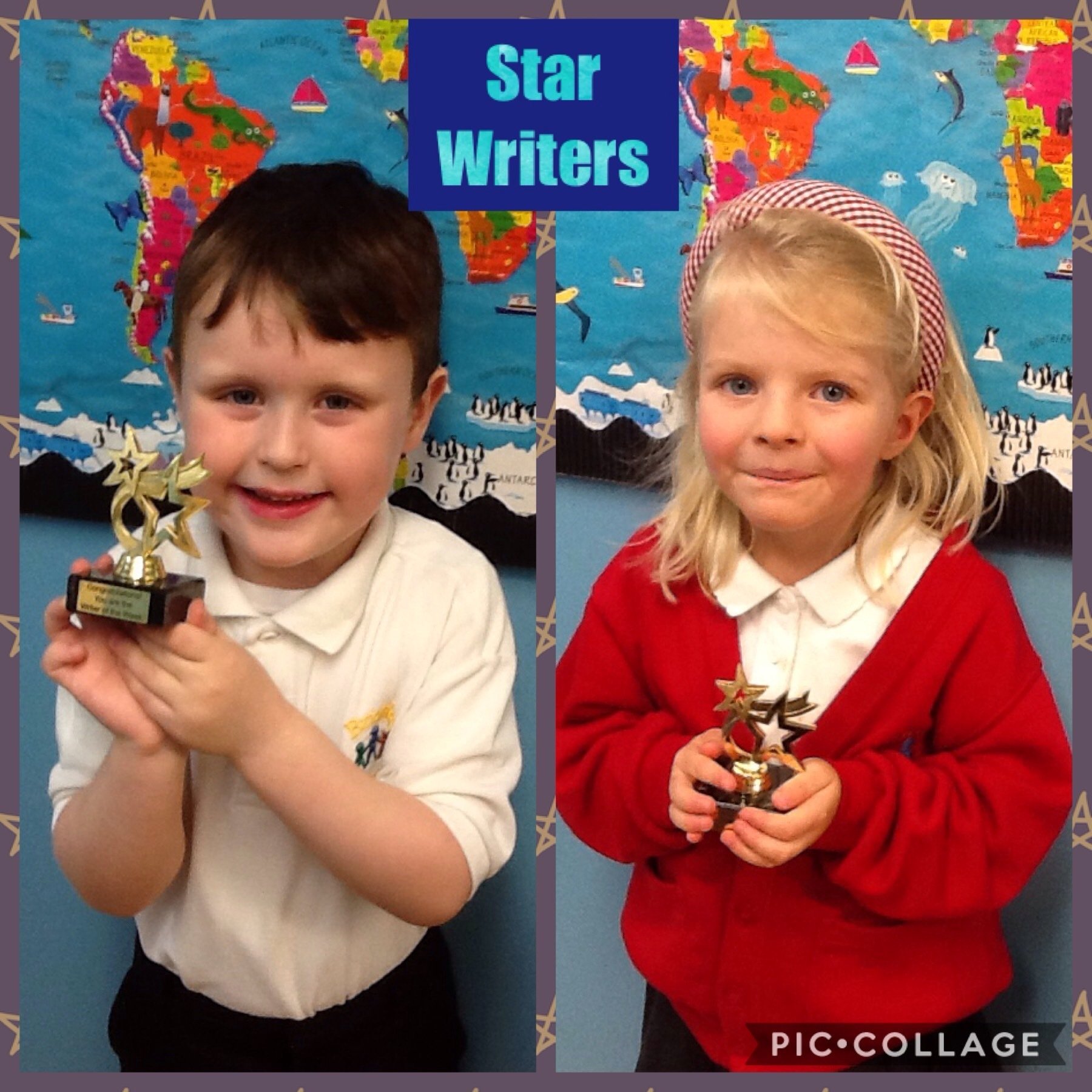 More Discovering and Learning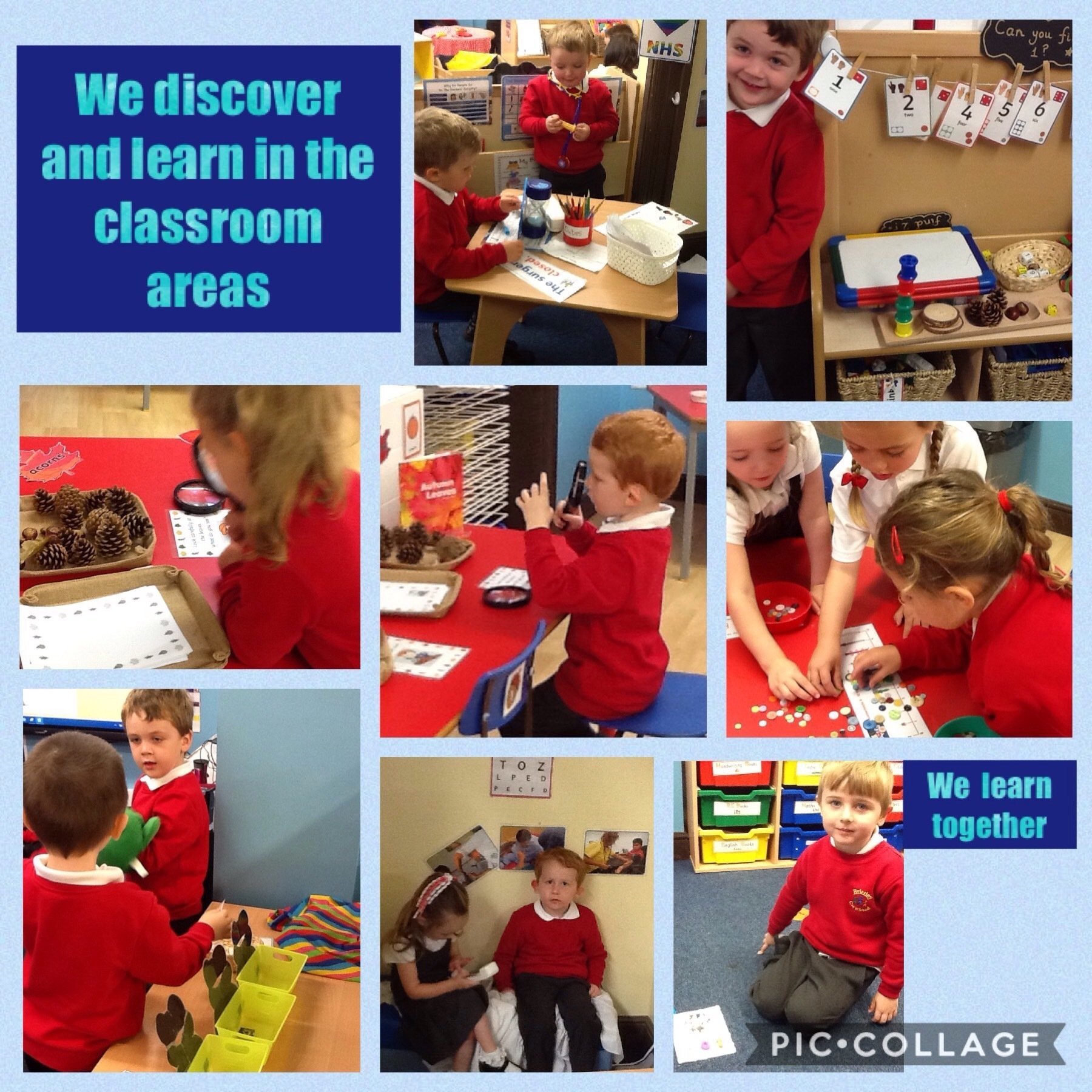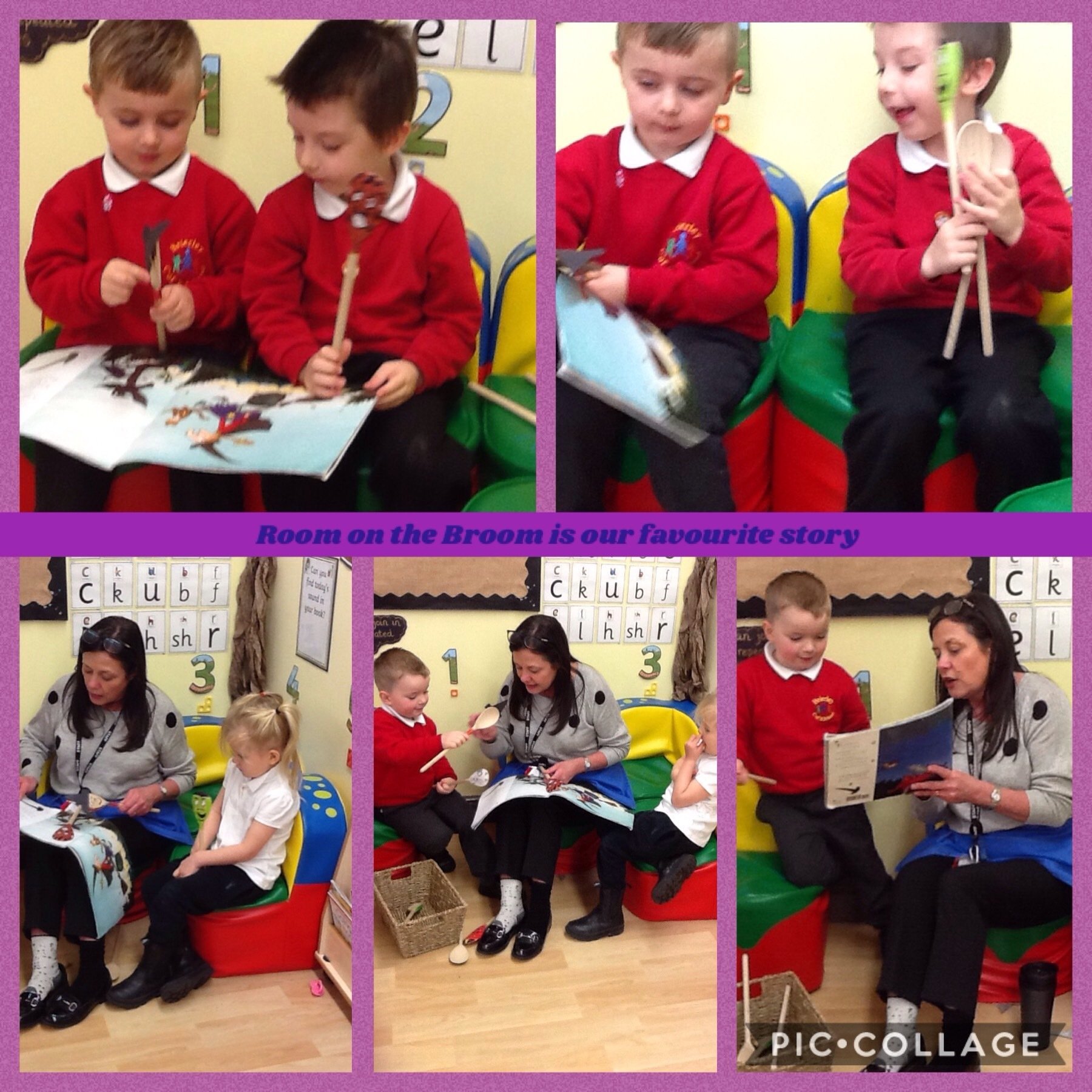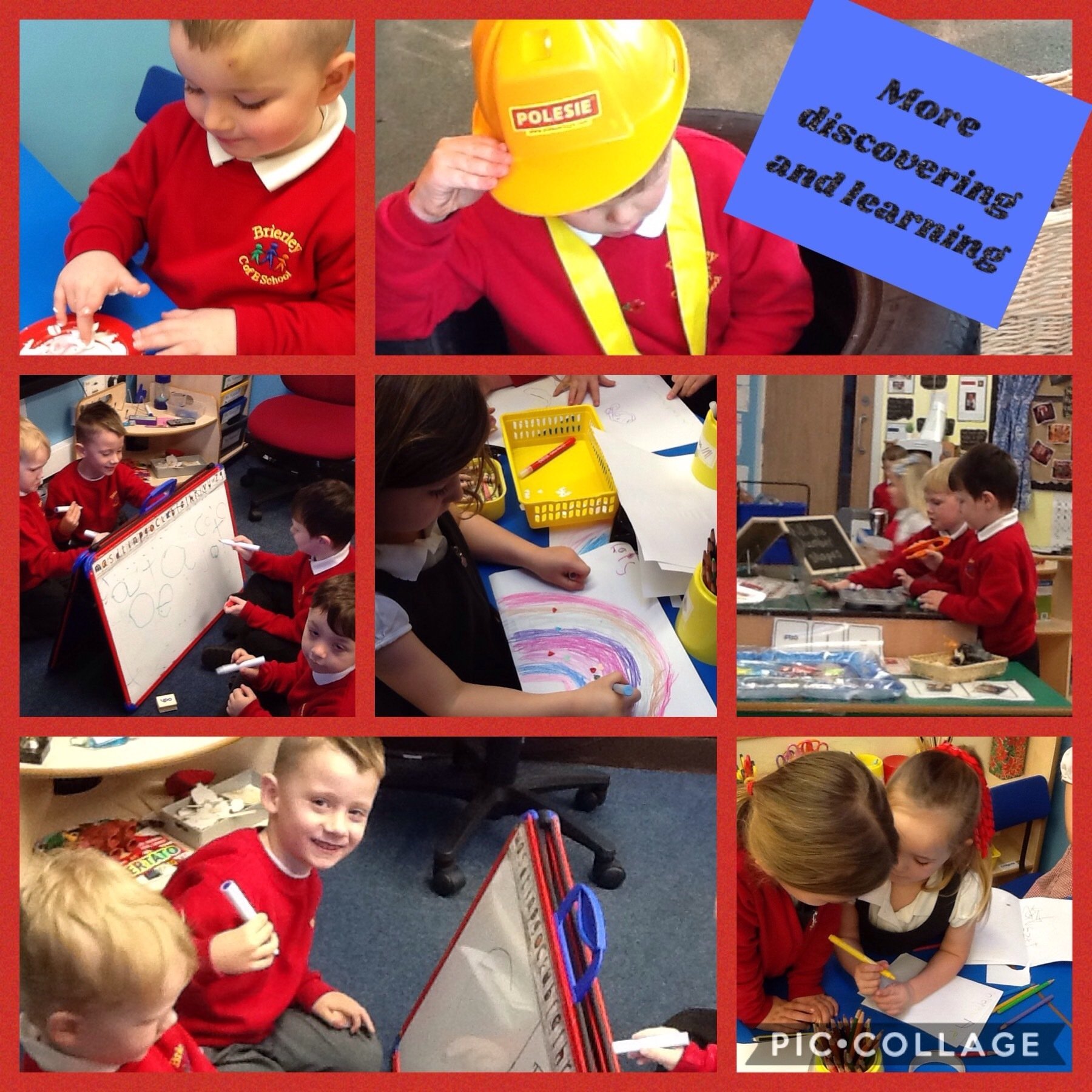 Science Day
During Diwali and on Bonfire Night lots of colourful fireworks can be seen in the night sky, this inspired the theme for our 'Science Day'.
During the day we put on our lab coats and began working as scientists. We carried out experiments, asked questions, made careful observations, recorded our observations and talked about what we had seen and learned using our new science words.
Experiment 1: Can you make fireworks in a jar using oil, food colouring and water?
Children worked in small groups to mix oil with drops of different coloured food colouring then pored the liquid in to a jar of warm water. We were amazed to see the oil float on the water and the colouring sink down to the bottom, swirling like fireworks.
Experiment 2: What happens when you paint onto salt?
We created firework pictures by dropping food colouring onto salt. We spread glue over our sheet in the shape of a firework in the sky then poured salt over it. We then dropped food colouring onto the salt. The salt absorbed the colouring and changed to that colour. We noticed some of the colours mixed too.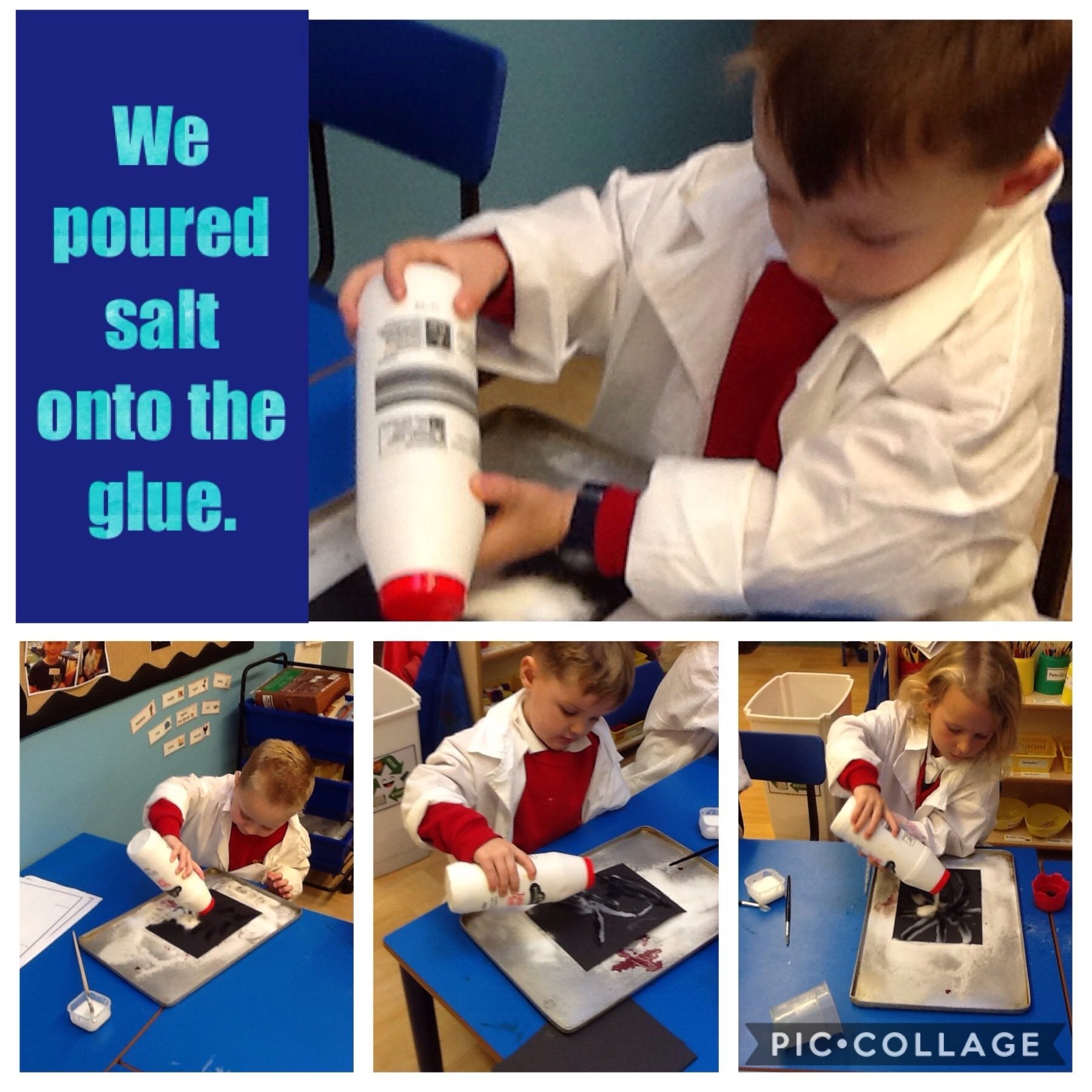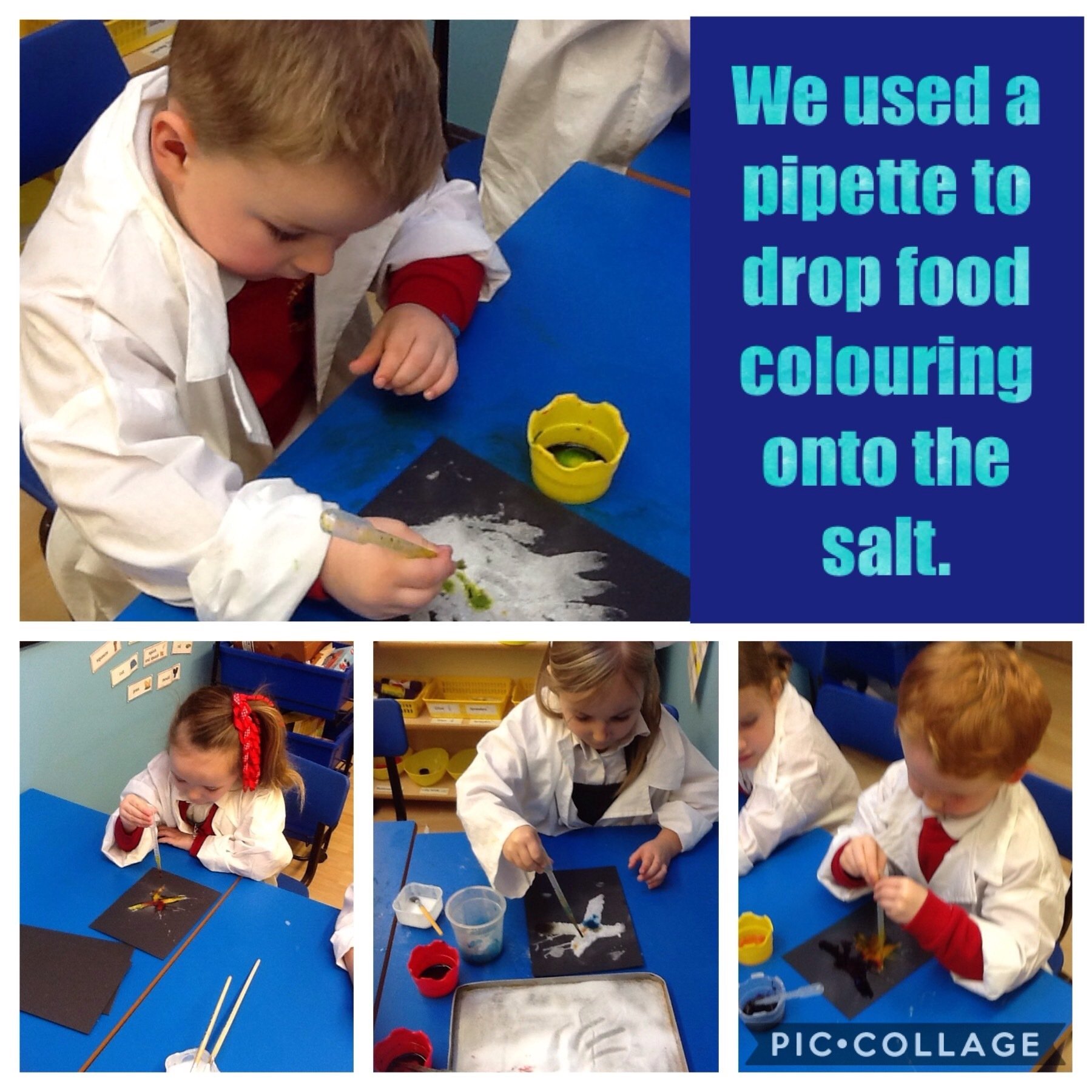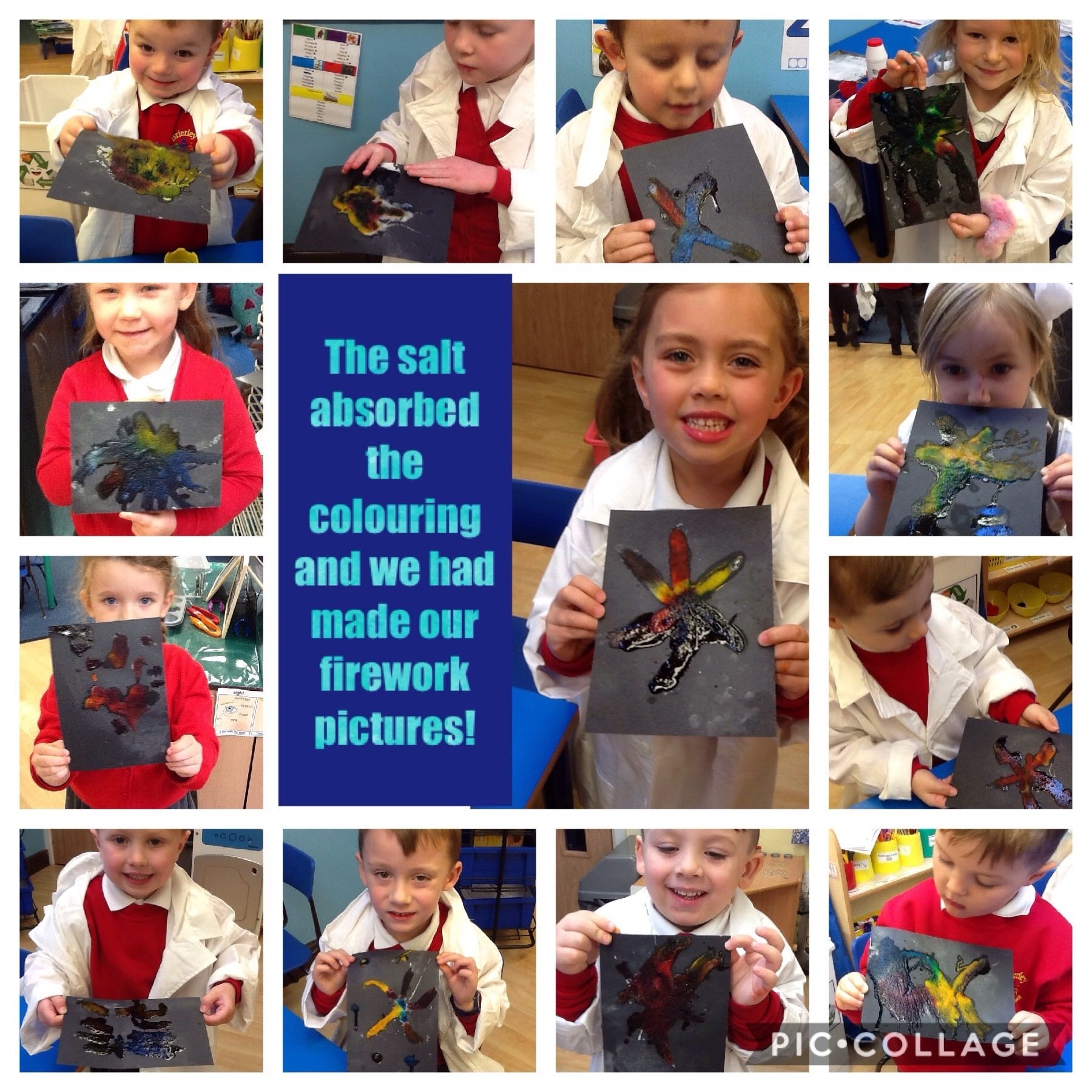 HALF TERM 1
The children have made a fantastic start in their new class and school and are making good friends. They are familiar with our class rules and routines and have enjoyed our topic 'This is Me!'(incorporating Autumn).
We have shared some of our learning and achievements below.
Harvest Festival
The children have been learning about 'Harvest' and 'Harvest Festivals'. They have been singing songs, painting their favourite fruits and vegetables, making 'Harvest Wreaths' and saying thank you to God.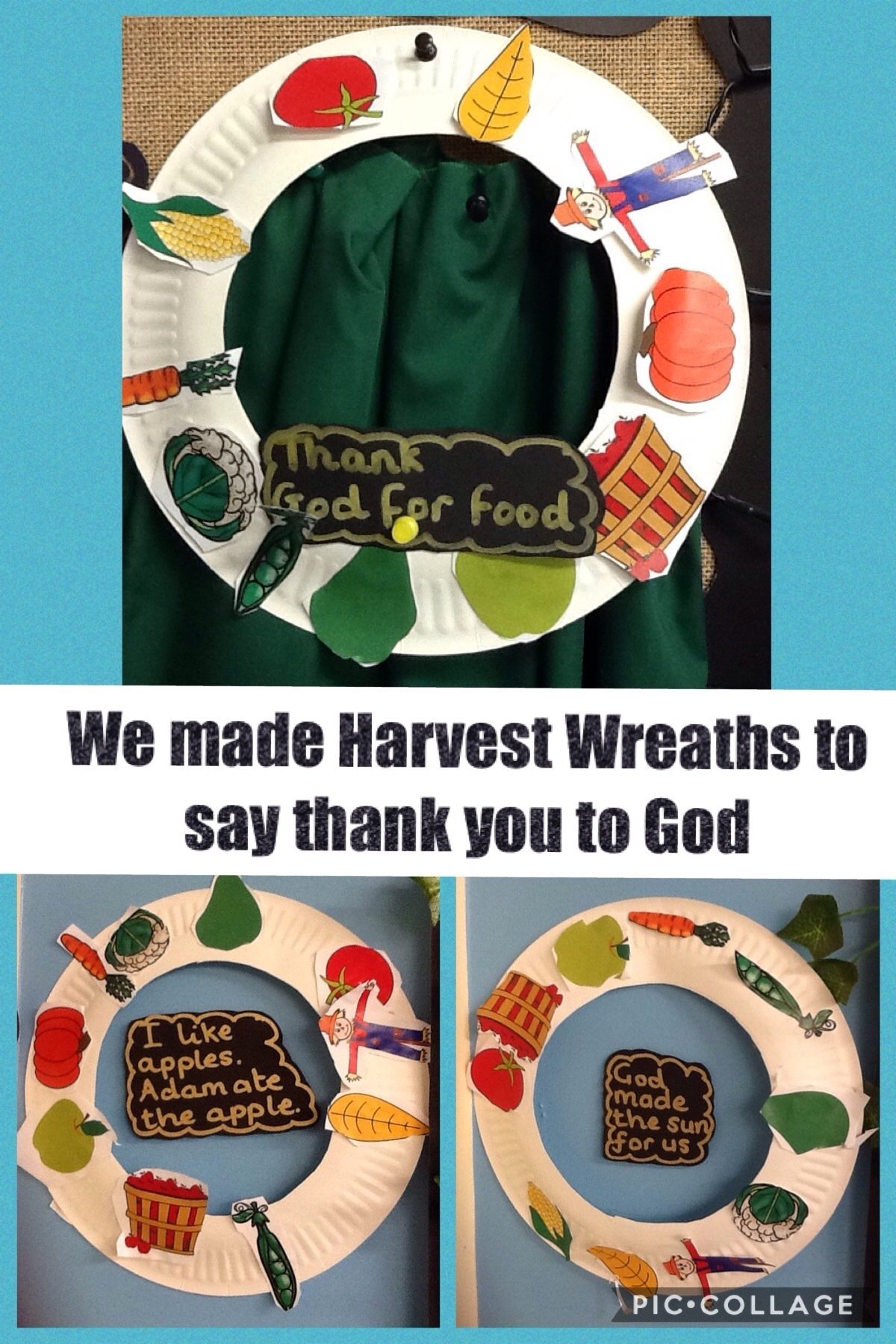 English in FS2
At Brierley we teach systematic phonics through daily Read Write Inc lessons. In addition, reading and/or writing opportunities are evident in all areas of provision for children to apply their phonics skills and develop a love of reading and writing.
We are nurturing a love of books and stories in FS2 and share different focus books throughout the terms. Our books this half term have been Leaf Man, We're going on a Leaf Hunt, Elmer, The Little Red Hen and Room on the Broom. Many of our activities have been linked to these books.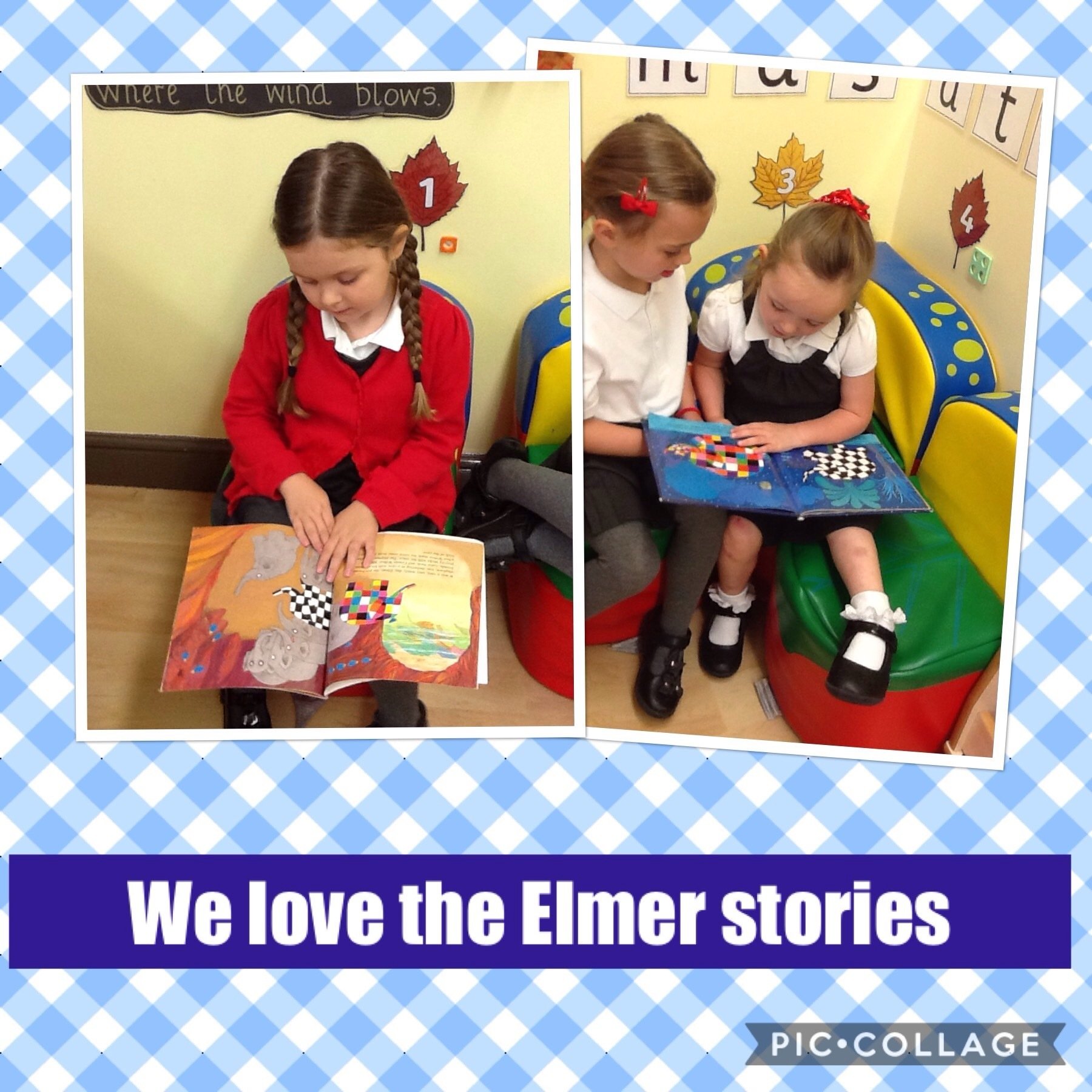 We're Going on a Leaf Hunt
The story 'We're going on a Leaf Hunt' was one of our focus books. We went on our very own leaf hunt around the school grounds and were able to identify some leaves. We gathered lots of different shaped, coloured and sized leaves and used them to create our very own Leaf Man.
Enter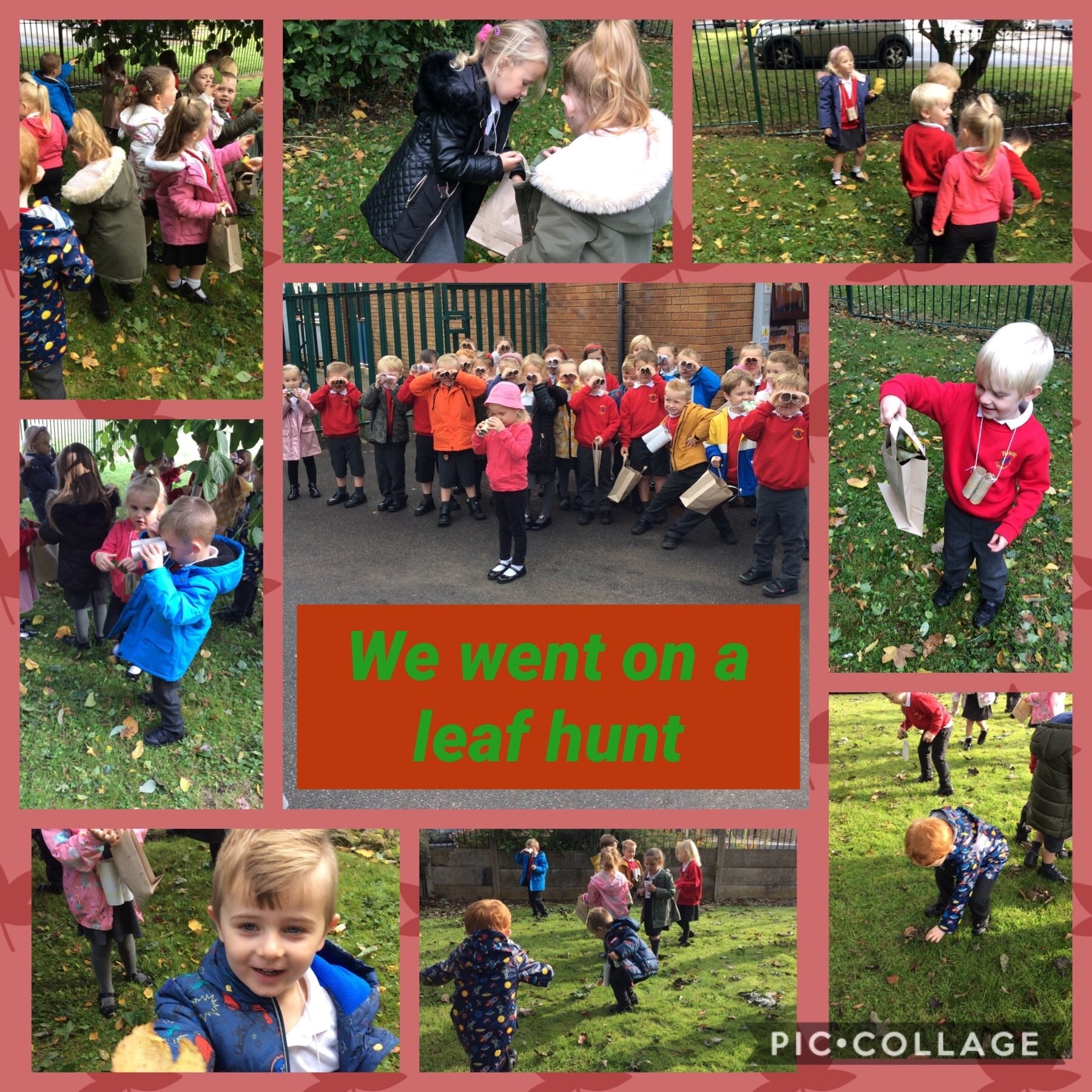 We love writing and practising our letters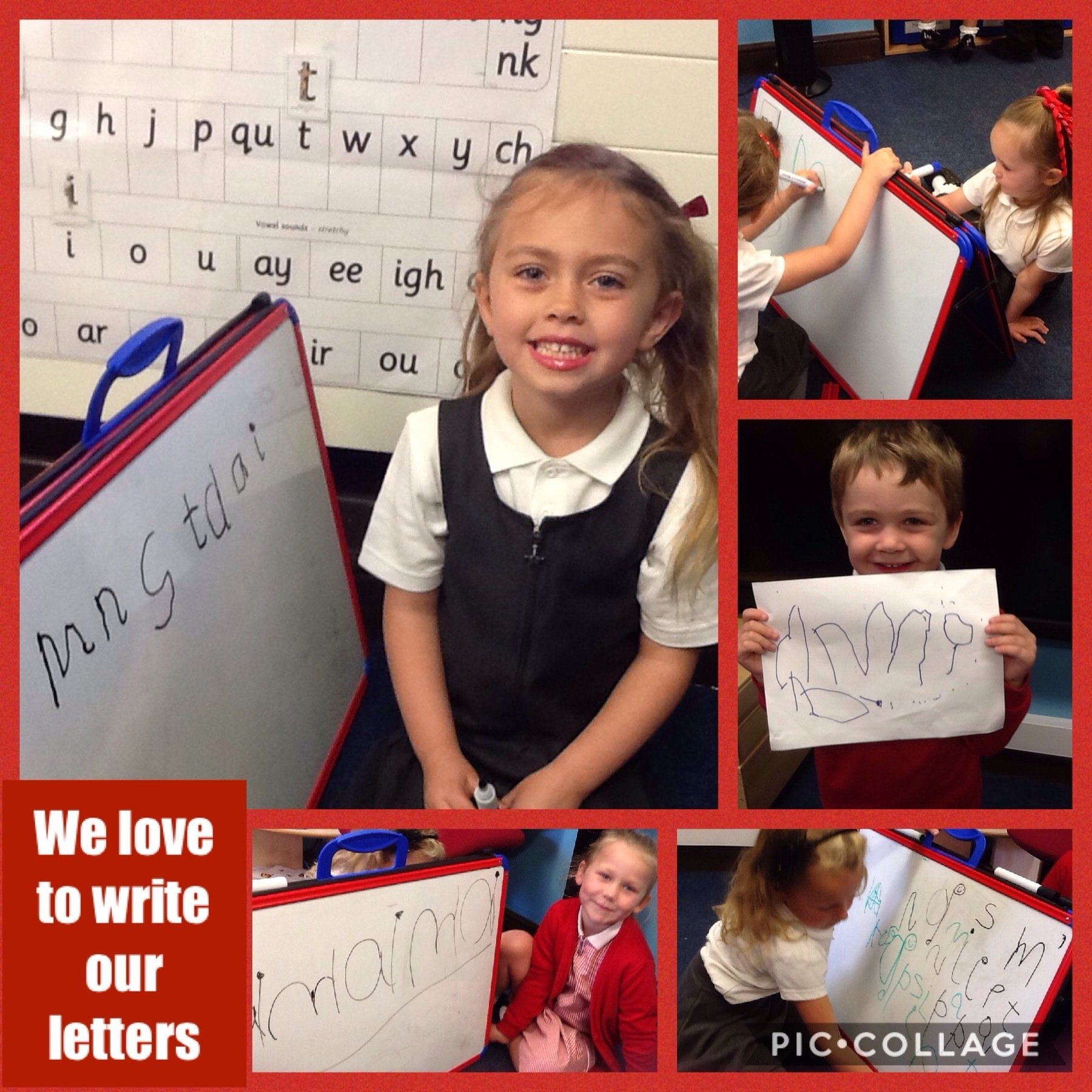 Maths in FS2
In maths we complete tasks with our teachers then develop our skills in the provisions areas within the classroom and outdoors.
We have been matching, sorting and making patterns.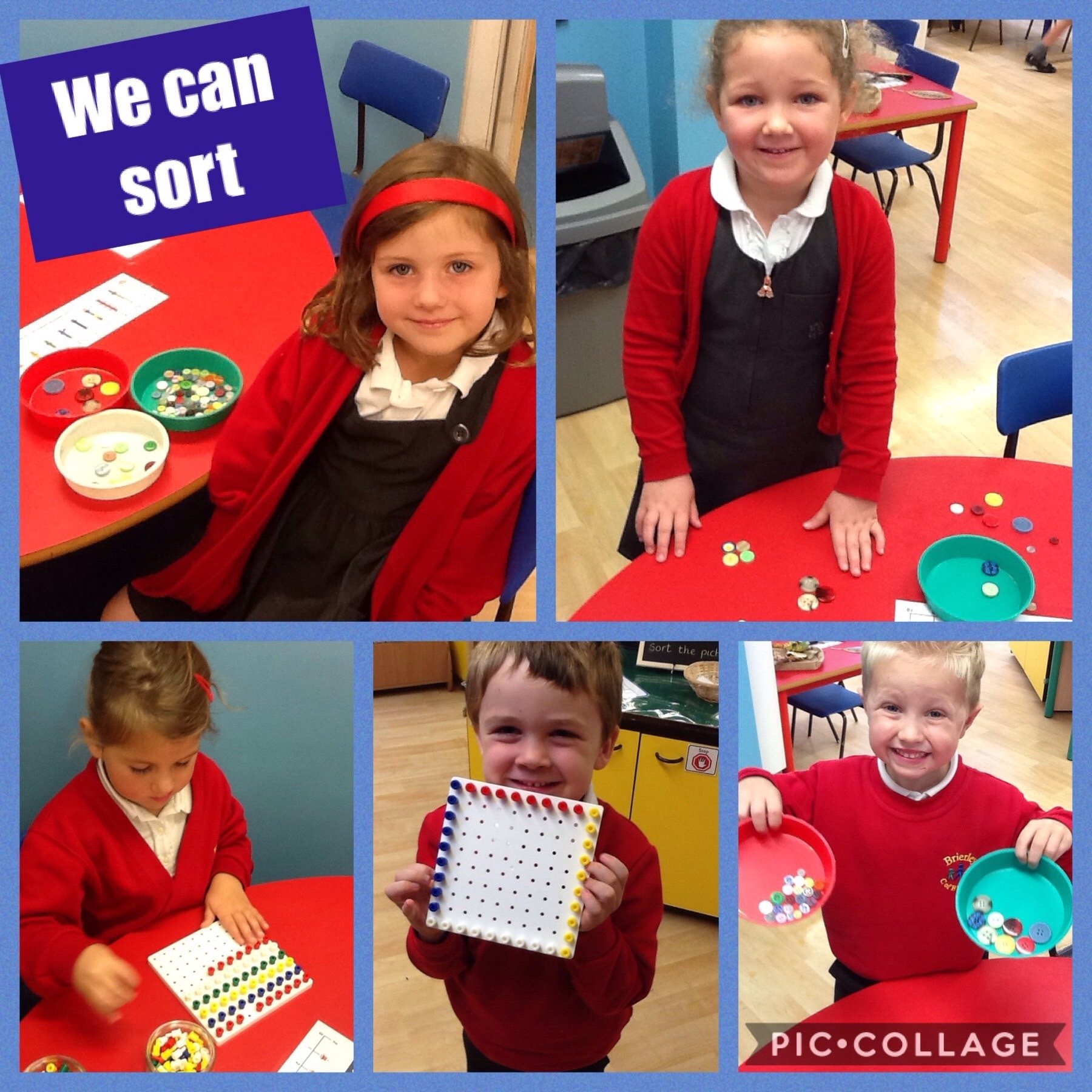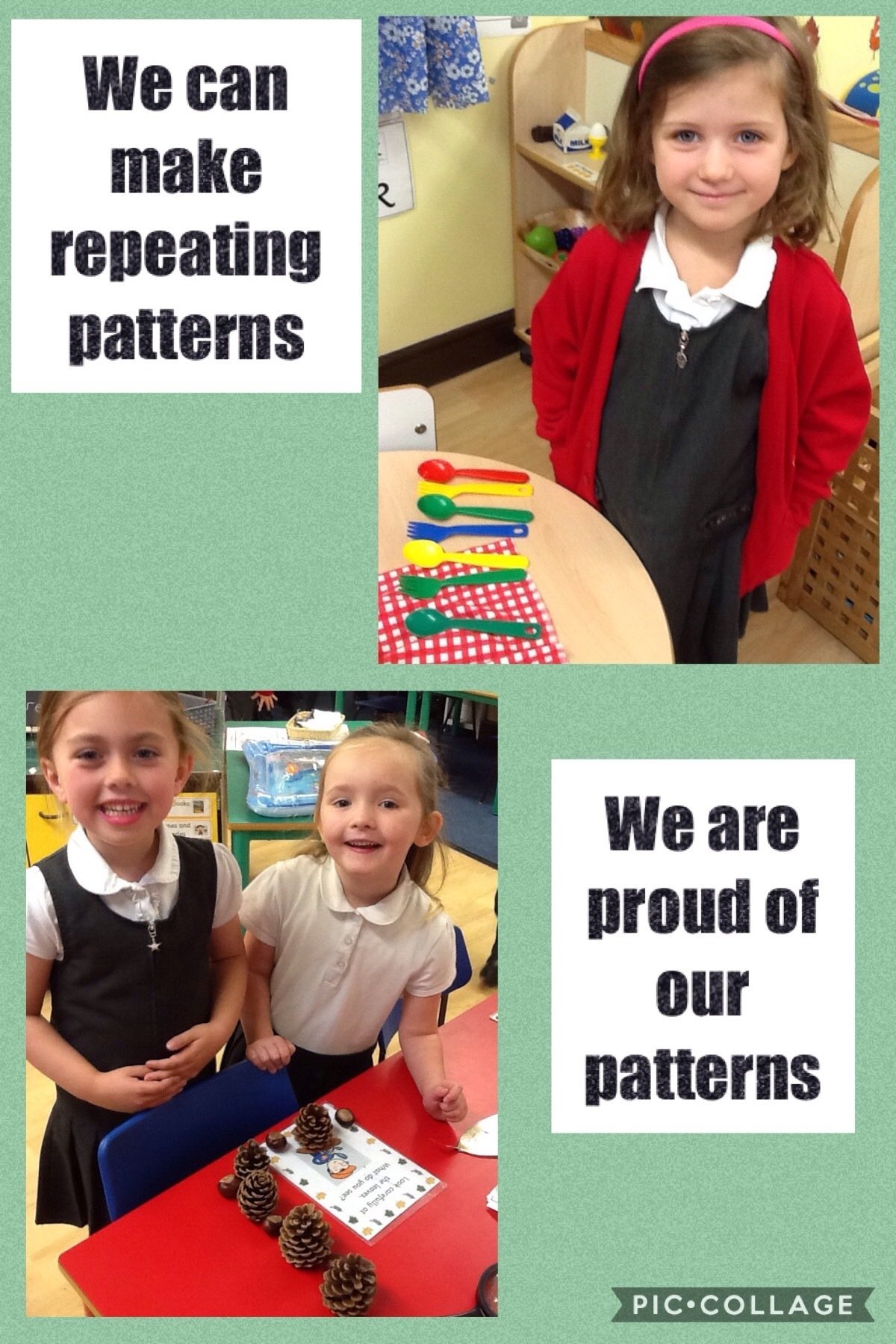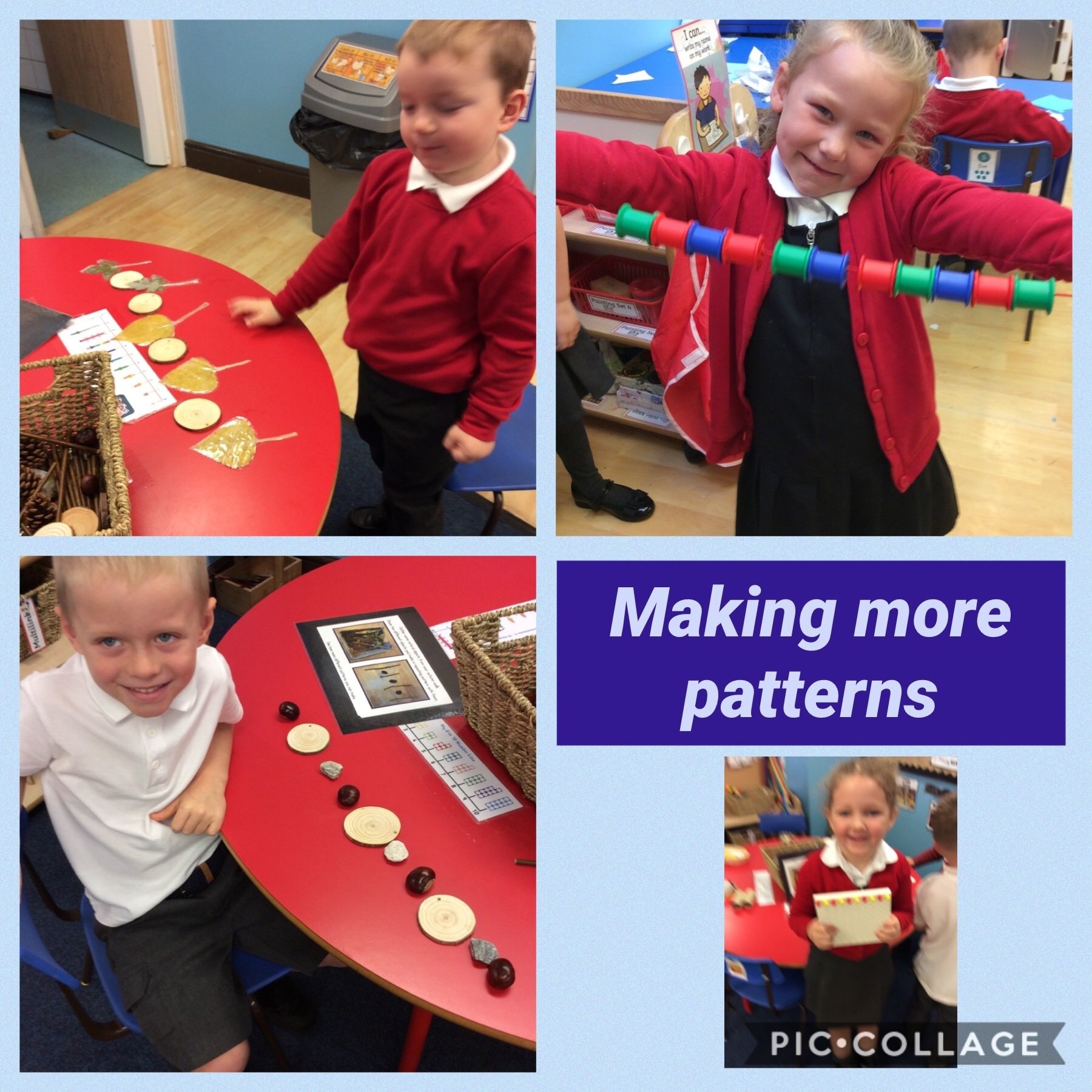 We have also compared amounts using 5 Frames to identify which is more and less.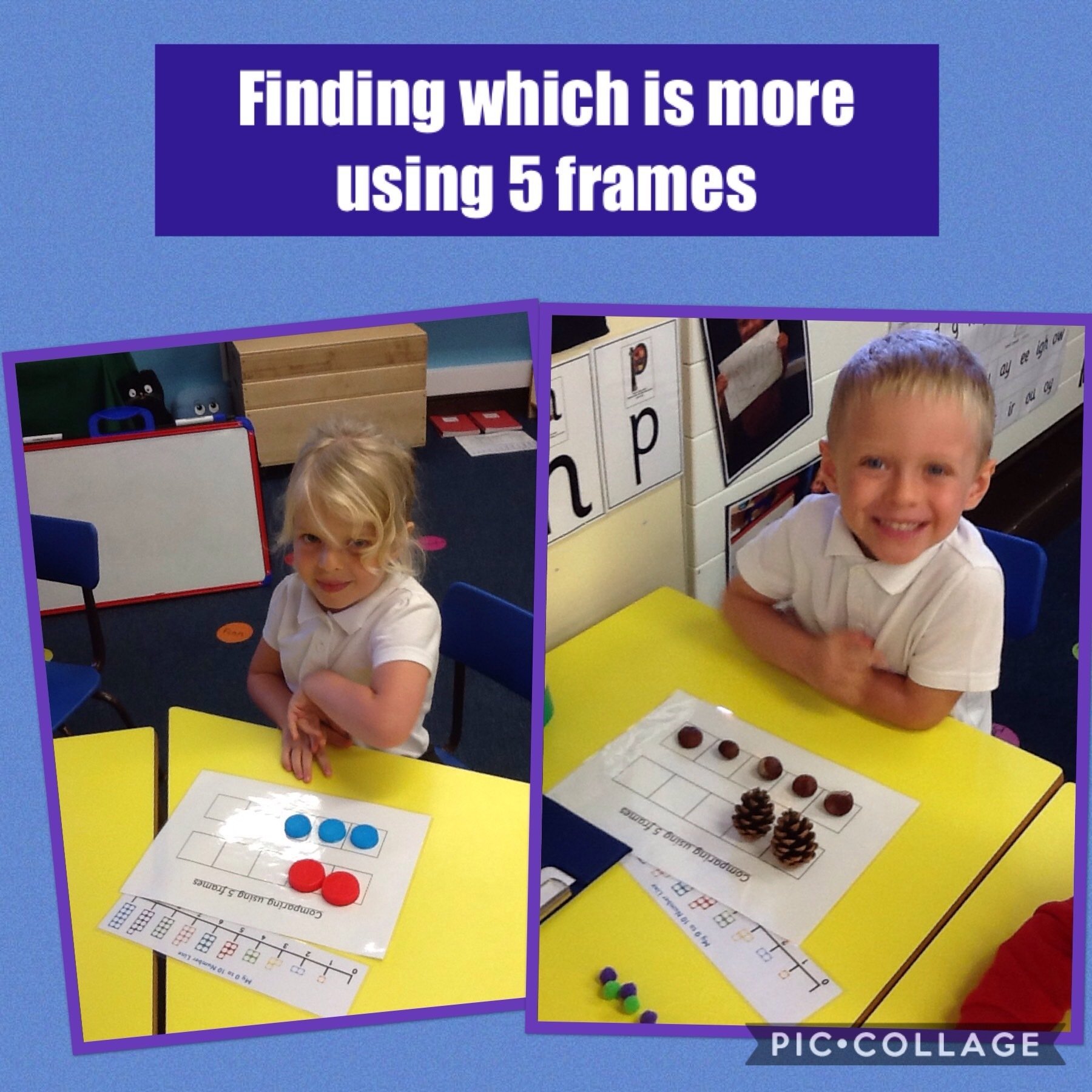 We are exploring with numbers 1, 2 and 3 so we can identify different representations of each number and begin to subitise (recognise without counting).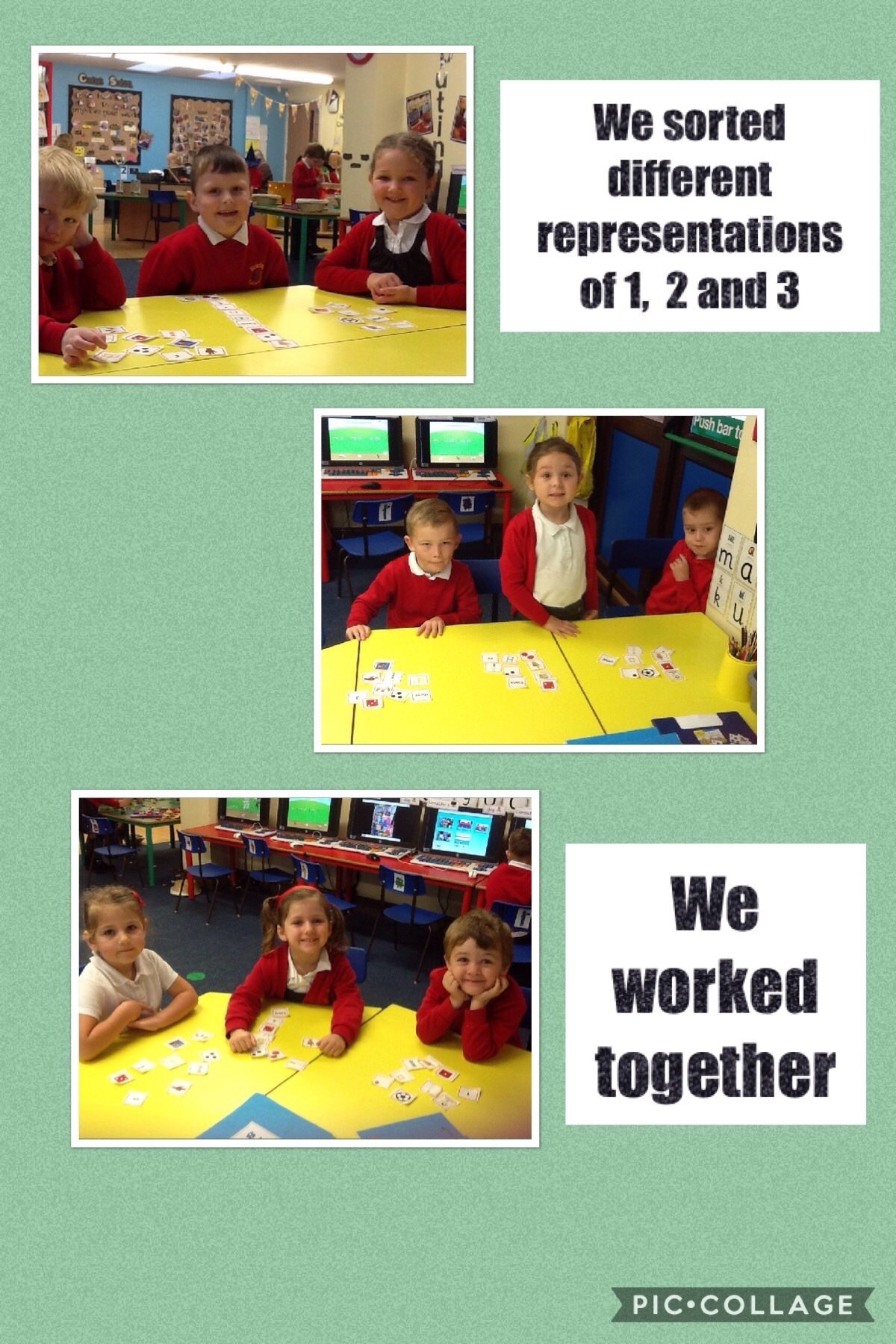 Baking in FS2
Baking provides the children with opportunities to work together and take turns. They must listen carefully and follow instructions. Children develop their mathematical skills of measuring, recognising numbers and counting as well as build up their knowledge of changing states of matter. Children are always proud of what they have made and how they made it.
We made bread and watched how yeast made the dough rise. We also noticed how baking the dough in the oven changed it further.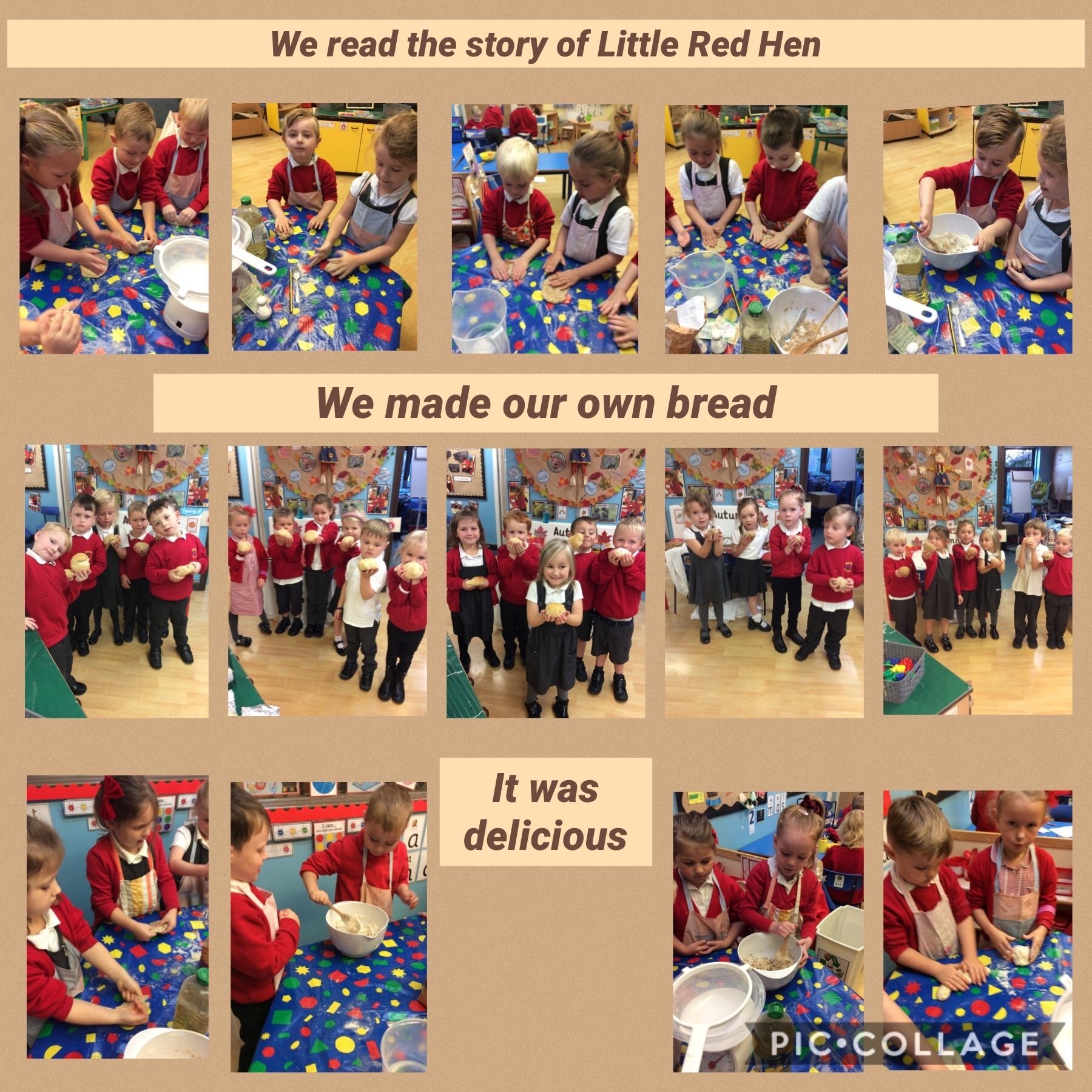 Computing in FS2
Children have access to computers and iPads throughout tWehe day in FS2. They are encouraged to navigate independently around the different programmes and help each other. We use computers as a source of information and as a tool to practise and develop our skills and knowledge in all areas of the curriculum. Max is currently our 'Computer Expert' and is showing others how to shut down the computers correctly. Thank you Max!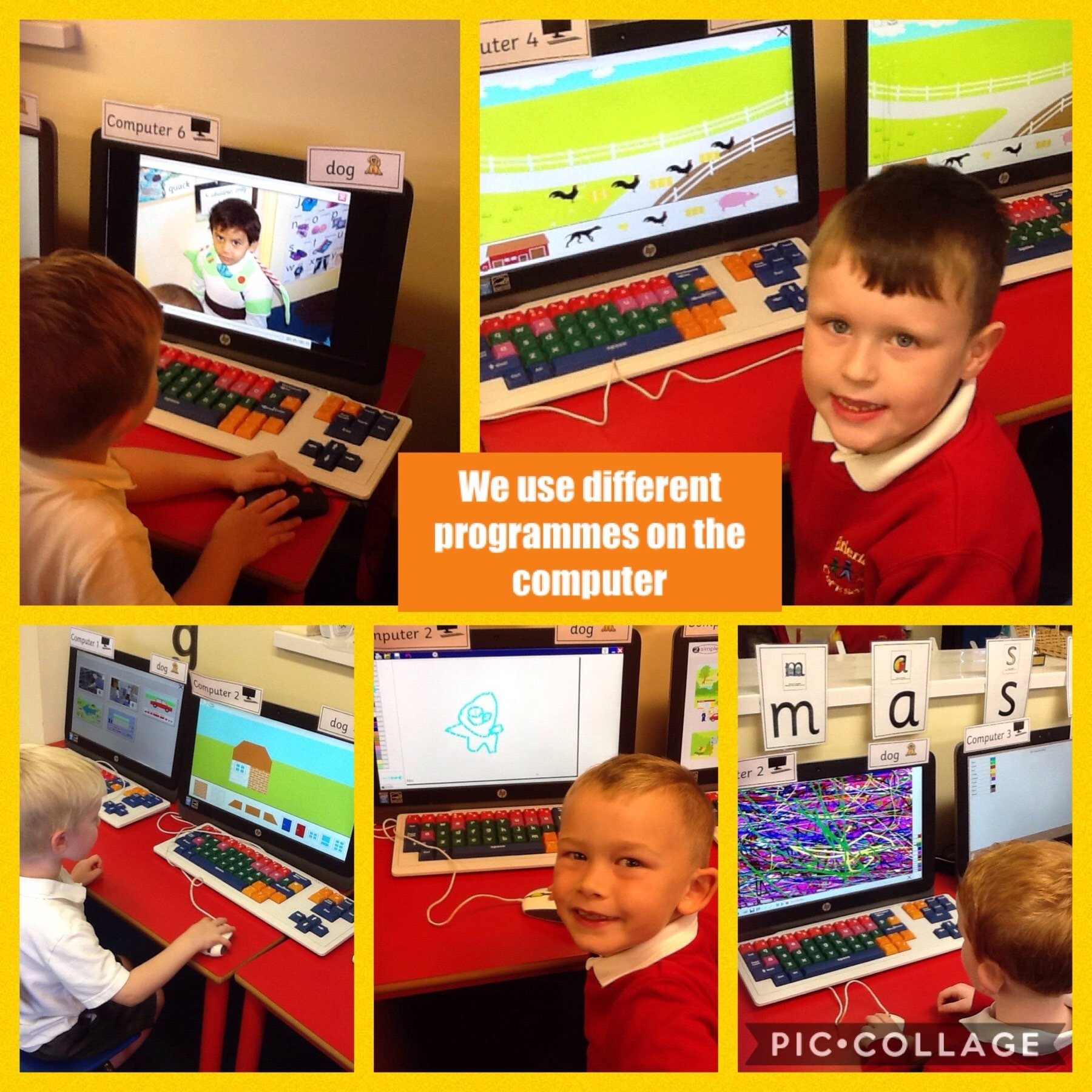 Discovering and Learning in FS2
At Brierley we promote independence and choice in our FS2 unit. We encourage all our chidren to be confident and responsible learners. We provide them with opportunites to practise and develop their skills throughout the continuous provision areas both inside and outdoors. They build up their knowledge and understanding in these areas of our curriculum. Our areas are language rich and encourage social interaction. Staff model and encourage play, language and social behaviours.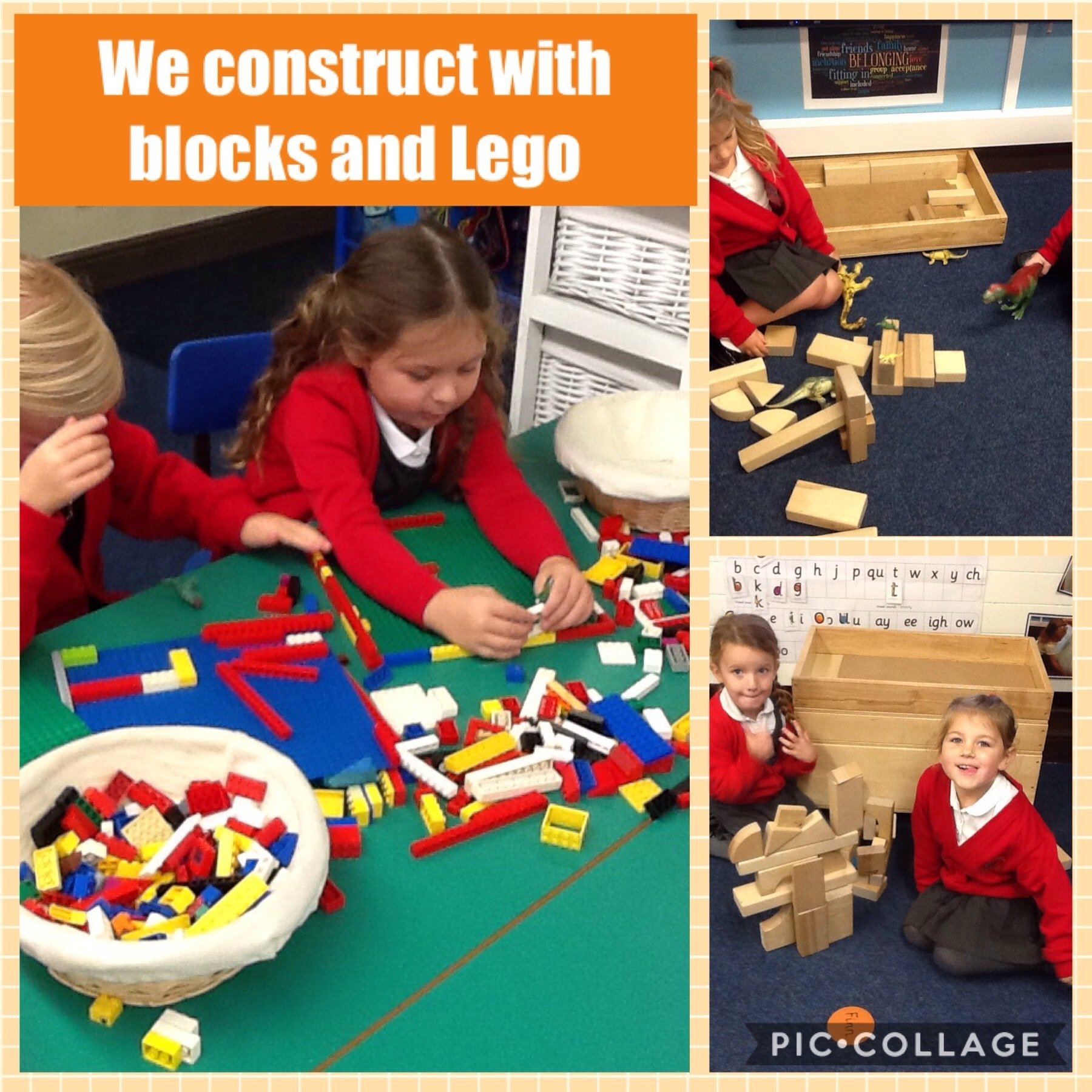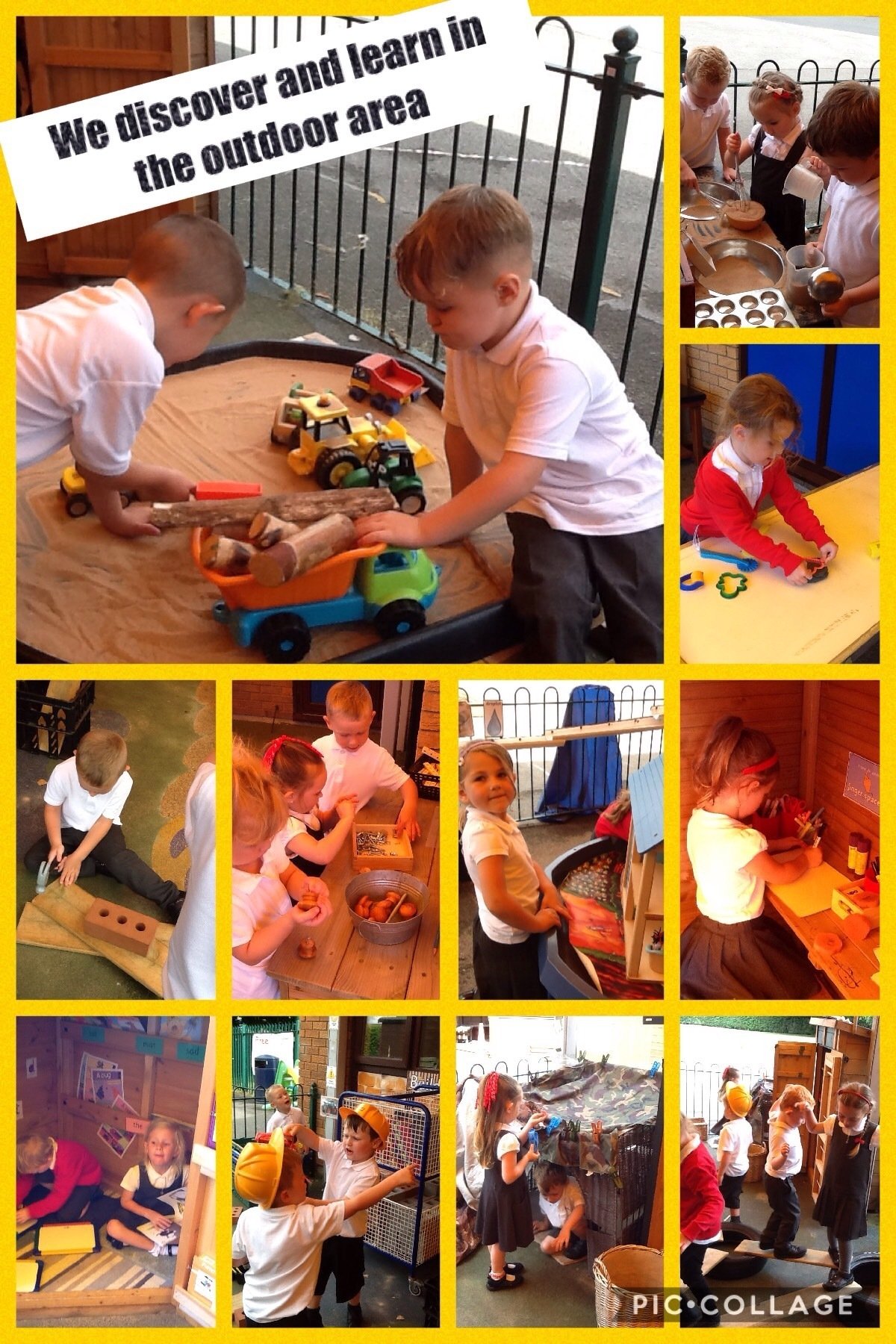 CONGRATULATIONS
Each week Mr Pickles chooses his star pupil from his P.E. lesson. He looks for children who work hard and keep on trying even when things are tricky. He choses someone who shows good sportsmanship and support others. Well done to this Half term's winners!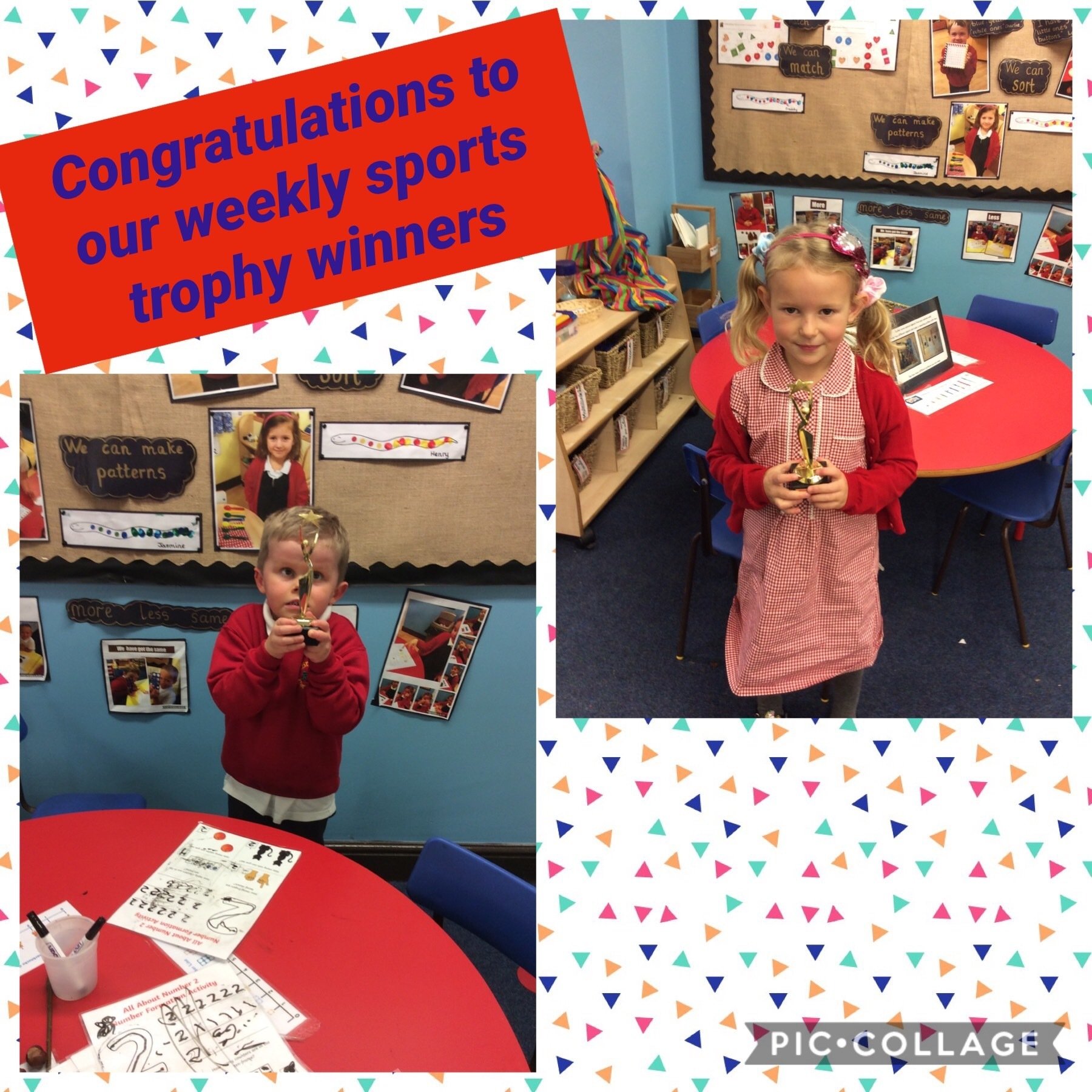 Each week our Dinner supervisor choses two children to sit on the top table on a Friday lunch time to eat their dinner. She chooses children for good manners, good listening, friendly and helpful behaviour. Well done to this half term's winners!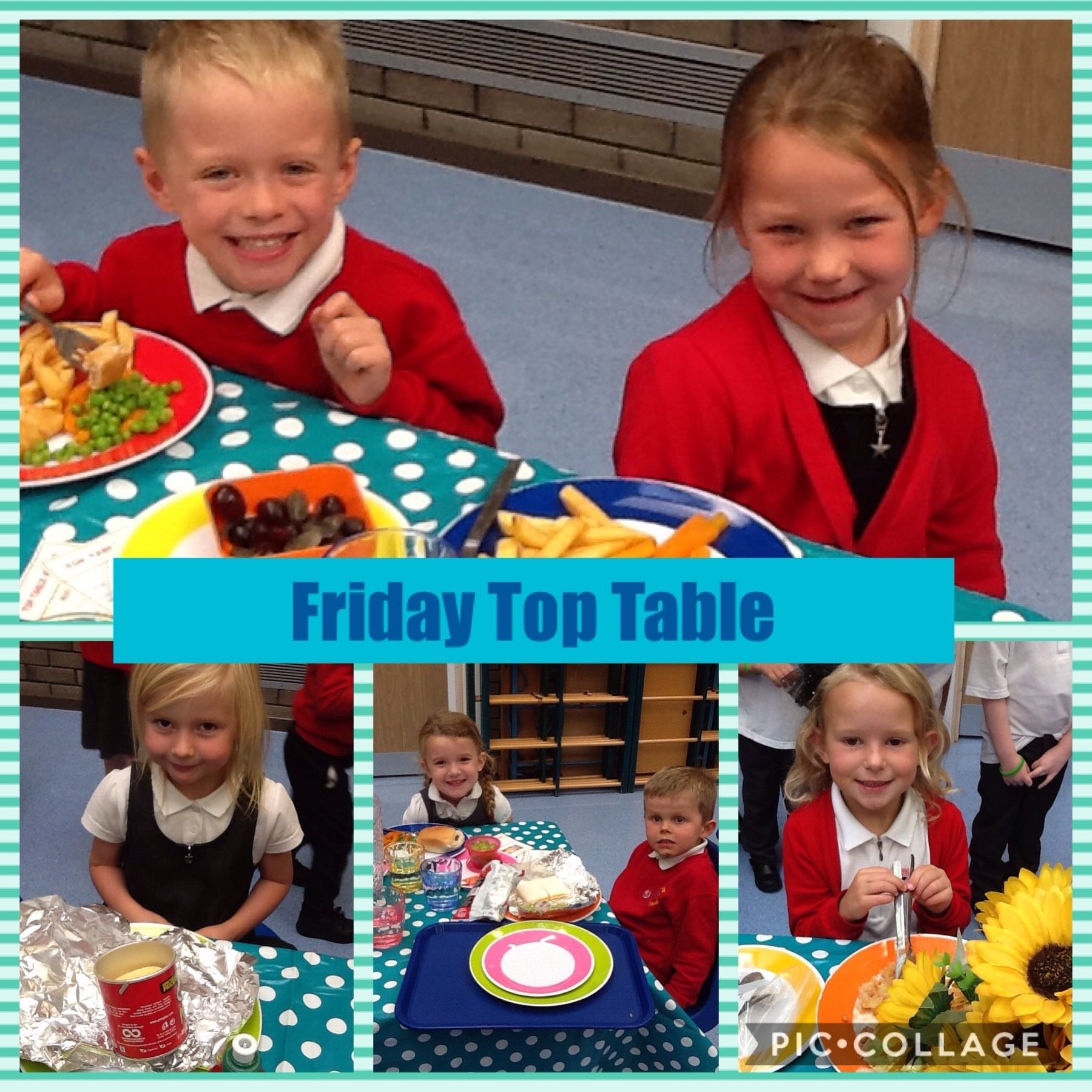 Curriculum Information 2020/21
Please click on the link below for the learning in Class Donaldson:
Autumn 1 Class Donaldson 2020 Curriculum Letter to Parents
Autumn 2 Class Donaldson 2020 Curriculum Letter to Parents
Spring 1 Class Donaldson 2021 Curriculum Letter to Parents
Spring 2 Class Donaldson 2021 Curriculum Letter to Parents
Summer 1 Class Donaldson 2021 Curriculum Letter to Parents
Summer 2 Class Donaldson 2021 Curriculum Letter to Parents
'Contactless Homework' in Class Donaldson
Our home work will be completed through google classroom. Homework will be set on a Friday and is due the following Wednesday. Please do not return any sheets to school but photograph them and upload on to Google Classroom. Thank you.
For how to access home learning please click the link below:
End of Term Activities and Celebrations
Congratulations to the children in Class Donaldson who received attendance and star pupil awards.
Our Goodbye song for Year 6.
We wish you lots of luck as you continue your learning journey at your new school.
We had a great time at our school picnic and loved the visit from the ice-cream van!
Our final half term in Class Donaldson has been very busy with all our learning. Our topic is 'Rainforest Adventures.
We have created model zoos and rainforests with wooden blocks, cared for our bean, tomato and pepper plants and watched them grow. The flowers are now on the plants and we can't wait until the fruit and vegetables grow so we can taste them.
We designed then created our rainforest animals from junk materials.
Our Bible story this term is Noah's Ark.
We have learned how God wants people to be good, kind, caring and helpful. God sent the rainbow as a promise He would never send a flood to destroy everything again.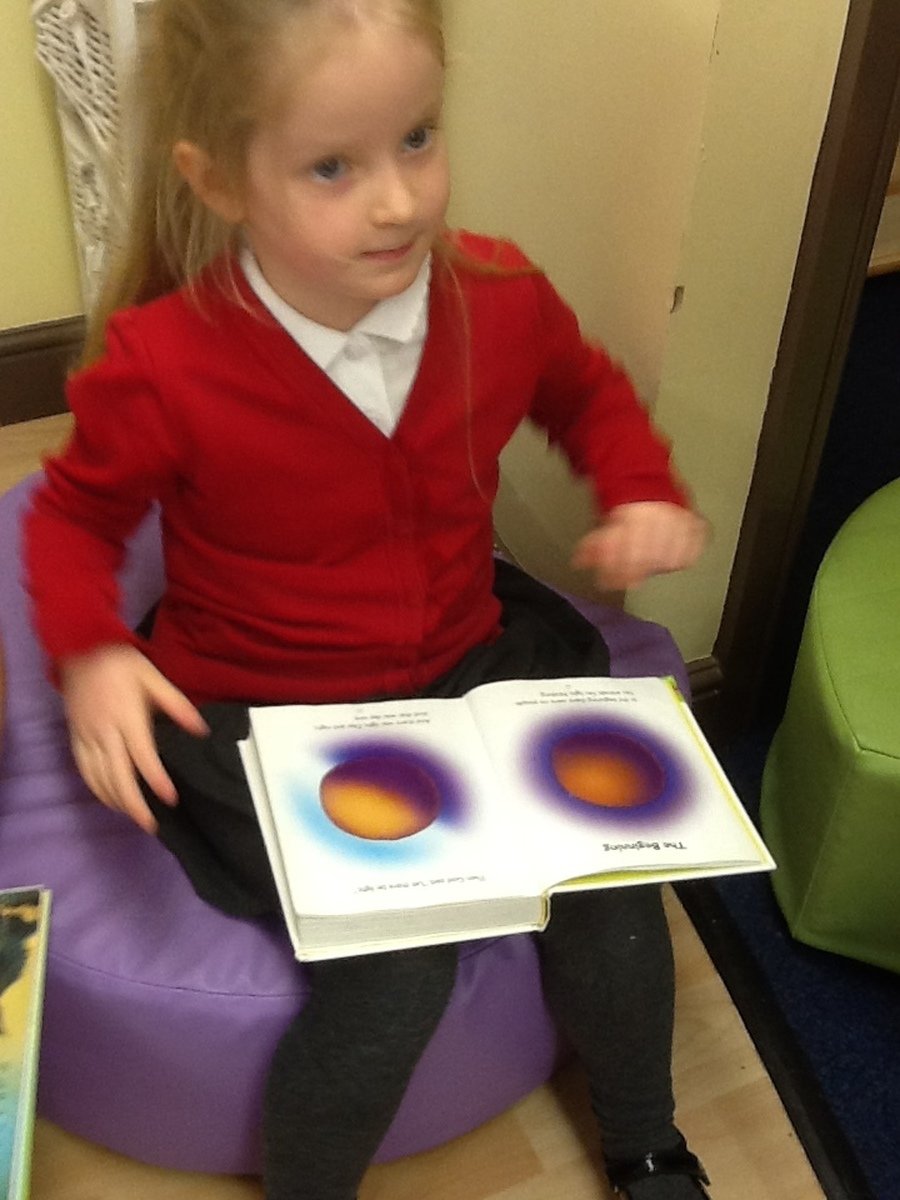 We embed our learning and develop our skills further whilst we discover and learn in the different indoor and outdoor areas.
We are developing our physical, communication and language and social skills whilst we play.
Class Donaldson worked really hard on our topic of 'Beautiful Brierley'. Here is some of the work on display that we are proud of.
We collected frogspawn from the school pond and are now enjoying watching the tadpoles change into froglets. When they become frogs we will return them to our pond.
We have studied the artist Jackson Pollock and produced our own paintings in his style. We dropped, splashed, flicked and squirted different coloured paint to create our adventure paintings.
Easter Art and Lenten Promises.
We explored the question: "Why do Christians put a cross in an Easter Garden?"
We recreated Palm Sunday when Jesus entered Jerusalem.
Wellness Wednesday's during Lockdown:
Fair Trade
Chinese New Year
Nature - Birds
We are fantastic at Maths and can now write numbers calculations to match a story.
We would like to thank the Barnsley Museum Services for the craft boxes they provided. Children in Class Donaldson really enjoyed making the different things.
Class Donaldson Nativity
This year our Christmas celebrations have been a little different to usual due to the restrictions that are in place. However, Class Donaldson have learnt all about the Christmas story and the birth of baby Jesus. We have put together a little Nativity performance for you to show you why we celebrate Christmas. We hope you enjoy it.
Could we please ask you follow safeguarding procedure and not record or share any of the videos below. Thank you
We would like to take this opportunity to say a big thank you for your support during this term. The children have settled into school life really well and have made a super start to their learning journey here at Brierley. We are all so proud of them!
We hope you have a wonderful Christmas and a happy and healthy new year.
Mrs Hopkinson, Mrs Charlesworth, Miss Bretton and Class Donaldson
Class Donaldson have been thanking God for harvest time.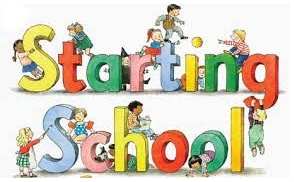 We are very excited to be welcoming 30 new children into our Reception Class throughout September. We can't wait to meet you and for you to begin your learning journey here with us at Brierley CE Primary School.
Here is some information about a football programme for girls in Barnsley:
2020-2021 Poster for Wildcats and Teams.docx
Starting back in November 2020
For children who do not have any siblings in school, their start time will be 9.05am, lining up on the right hand side of the barrier gate. The finish time will be 3.05pm, where you can collect your child from the pathway down Beech Close at the front of school. Your child will be escorted when crossing the road to meet you. For all other Reception children, the start time will be slightly different and this will be on your individual letter that was sent out on 10.07.20. These staggered start and finish times are in place to minimise congestion and contact with other bubbles of children.